Final-round drama ends with Max Homa's victory at Farmers Insurance Open
Southern California native begins the last round five strokes off the lead at Torrey Pines Golf Course in La Jolla but rallies for a two-stroke victory in his sixth PGA Tour win.
Max Homa entertained and enlightened CBS viewers when he was mic'd up for one hole during the third round of the Farmers Insurance Open at Torrey Pines Golf Course in La Jolla.
Choosing him to debut the new feature was easy, given that Homa has a half-million followers on Twitter.
"Everybody else calls me the social media guy," Homa said. "I still think I'm a pretty darn good golfer. ... I like to say dumb things and make dumb jokes and observe weird stuff and tweet about them.
"But when I work, when I practice, when I play tournaments, this is what I love. I love what today was. It was incredible."
Get the La Jolla Light weekly in your inbox
News, features and sports about La Jolla, every Thursday for free
You may occasionally receive promotional content from the Rancho Santa Fe Review.
Homa shot a 6-under-par 66 in the fourth and final round Jan. 28 to overcome a five-stroke deficit at the beginning of the day and beat Keegan Bradley by two shots.
Collin Morikawa finished third at 10 under par for the tournament.
The victory was Homa's sixth on the PGA Tour, four of them coming in his home state. He was born in Burbank, went to high school in Valencia and earned a degree from UC Berkeley.
Homa, who went into the Farmers as the world's 16th-ranked player, has the word "relentless" tattooed on his right arm. This was his fourth victory that required coming from behind.
"It's a beautiful game," said Homa, who won $1.566 million for the Farmers title. "Sometimes you're just one good swing thought from being good again."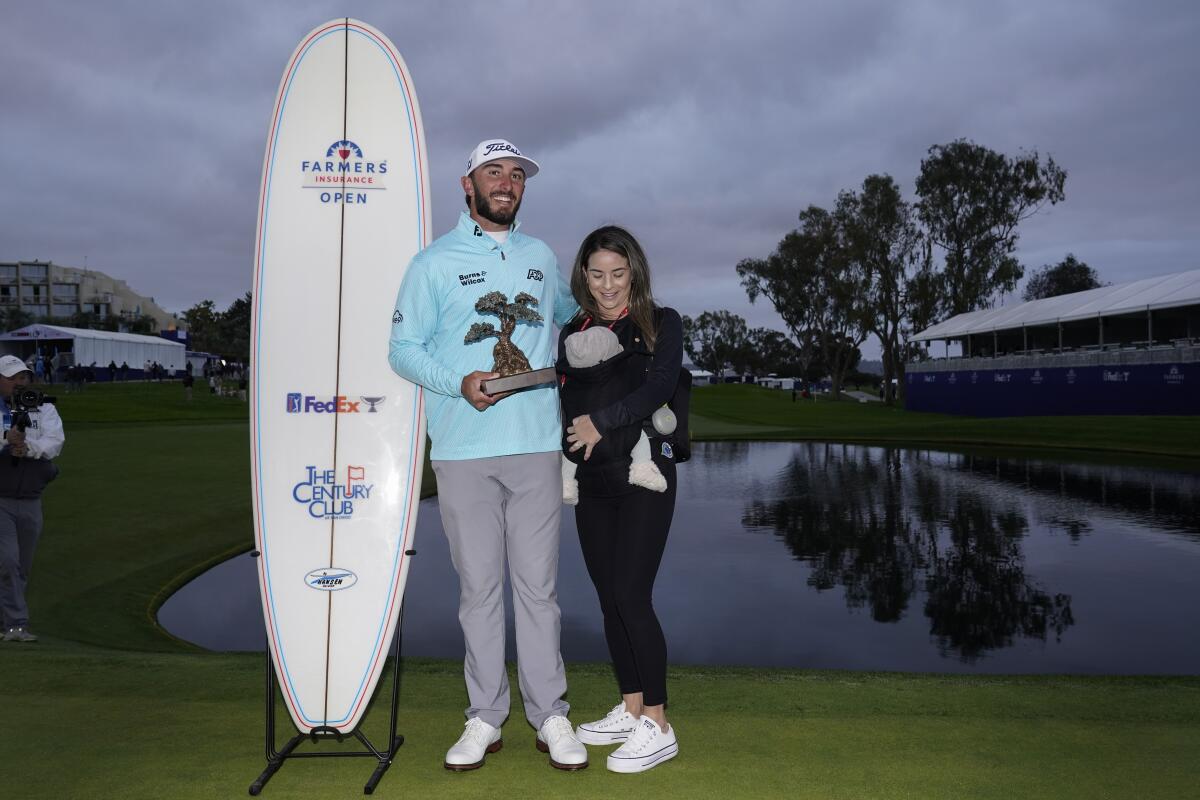 One man's joy is measured against another's disappointment. Sam Ryder shared the first-round lead and was alone atop the leaderboard after the second and third rounds.
In the final round, Ryder was four holes from potential victory when things unraveled. A double bogey on the par-4 15th hole dropped him out of the lead. Ryder finished tied for fourth, four shots behind Homa, after carding a 3-over 75.
"It's a very fine line between par and double bogey out here on this course," said Ryder, whose struggles on the 15th came while ankle-deep in Torrey's infamous rough. "[I] battled a lot, but hopefully there's going to be more opportunities."
Ryder was bidding for his first PGA Tour victory. He also could have become the Farmers' first wire-to-wire winner since Johnny Miller in 1982.
"There was definitely a lot of new pressure, but it was fun," Ryder said. "I was trying to just enjoy it. Like, you know, it was a good experience for me and I think it's only going to feed me.
"No matter what happens, there's going to be positives to take away. It's hard to swallow right now, but that's what I'm telling myself."
Whatever butterflies he may have experienced on the first tee — where he put his drive into a fairway bunker — were set free when Ryder hit his second shot 13 feet from the pin and nailed the birdie putt.
When playing partner Jon Rahm bogeyed the hole, Ryder suddenly had a four-shot lead.
The third member of their threesome, Tony Finau, found trouble at the par-3 third hole, where a slight hook and a head wind guided his tee shot out of bounds . A bogey there left him six strokes behind.
Rahm had even more trouble at the fifth hole, where a cart-path bounce created problems that led to a double bogey. It dropped him six shots back, and thoughts of winning his third consecutive tour start all but disappeared.
Rahm finished tied for seventh with a 2-over 74. Finau tied for ninth after a 73.
As those threats faded, other challengers emerged.
Hideki Matsuyama, the 2021 Masters champion, shot a 6-under 30 on the front nine to get within a stroke of the lead at minus 10. But he gave away three shots on the back nine and fell to ninth with Finau after a 69.
Two-time Farmers champion Jason Day got to 8 under on the front — three shots behind Ryder — but couldn't get any closer. Day's 68 left him tied with Rahm.
Bradley, rising quietly on the leaderboard, made a move when he birdied the par-5 13th hole to get within three shots of the lead. But three more birdies on the back weren't quite enough.
Homa, playing one group ahead of Ryder, made a steady climb up the leaderboard with four birdies on the front nine. When Ryder bogeyed Nos. 6 and 7, Homa saw an opportunity.
A 7-foot birdie putt fell on the ninth hole, and Homa found himself with a share of the lead. He fell behind briefly with a bogey on the 14th hole, but flipped into the lead a hole later when Ryder double-bogeyed the 15th.
Bradley birdied the 17th to get within a stroke of the lead.
But Homa didn't flinch, capping his victory with a 4-foot birdie putt on the final hole.
His wife, Lacey, was waiting behind the 18th green. A TV camera captured her excitedly jumping up and down as the putt fell, then checking to make sure she didn't disturb young son, Cam, who was strapped to her chest.
Homa said his first victory as a father had extra meaning.
"I work hard at two things now," he said. "So it feels a little bit more difficult, but it's a million times more rewarding. To see them behind the 18th green knowing I was probably about to win a golf tournament was cool. ...
"[Cam] has no idea what I did, but I will tell him this story ad nauseam and he will probably think I'm the worst for it. But this will be my corny dad story that I will tell every Thanksgiving or something."
— La Jolla Light staff contributed to this report. ◆
Get the RSF Review weekly in your inbox
Latest news from Rancho Santa Fe every Thursday for free
You may occasionally receive promotional content from the Rancho Santa Fe Review.