Local Princeton soccer player Lucy Rickerson named Scholar All American
Rancho Santa Fe native Lucy Rickerson recently earned United Soccer Coaches Scholar All-America third-team honors. A senior at Princeton University, Rickerson was one of 40 players selected across all of Division I and was the only Ivy Leaguer recognized. She was also named first-team All-Ivy League for the second time, capping off four years of All-Ivy honors.
Part of two Ivy League championship teams and three NCAA tournament teams, Rickerson played defender in 65 games overall, making 61 starts and helping the team keep a season-long goals-against average below a goal a game in all four years of her career.
She served as a captain during the 2021 season, where the Tigers ended the year ranked #17 in the nation. Across the 18 games Rickerson played, Princeton allowed just 15 goals and turned in 10 shutouts.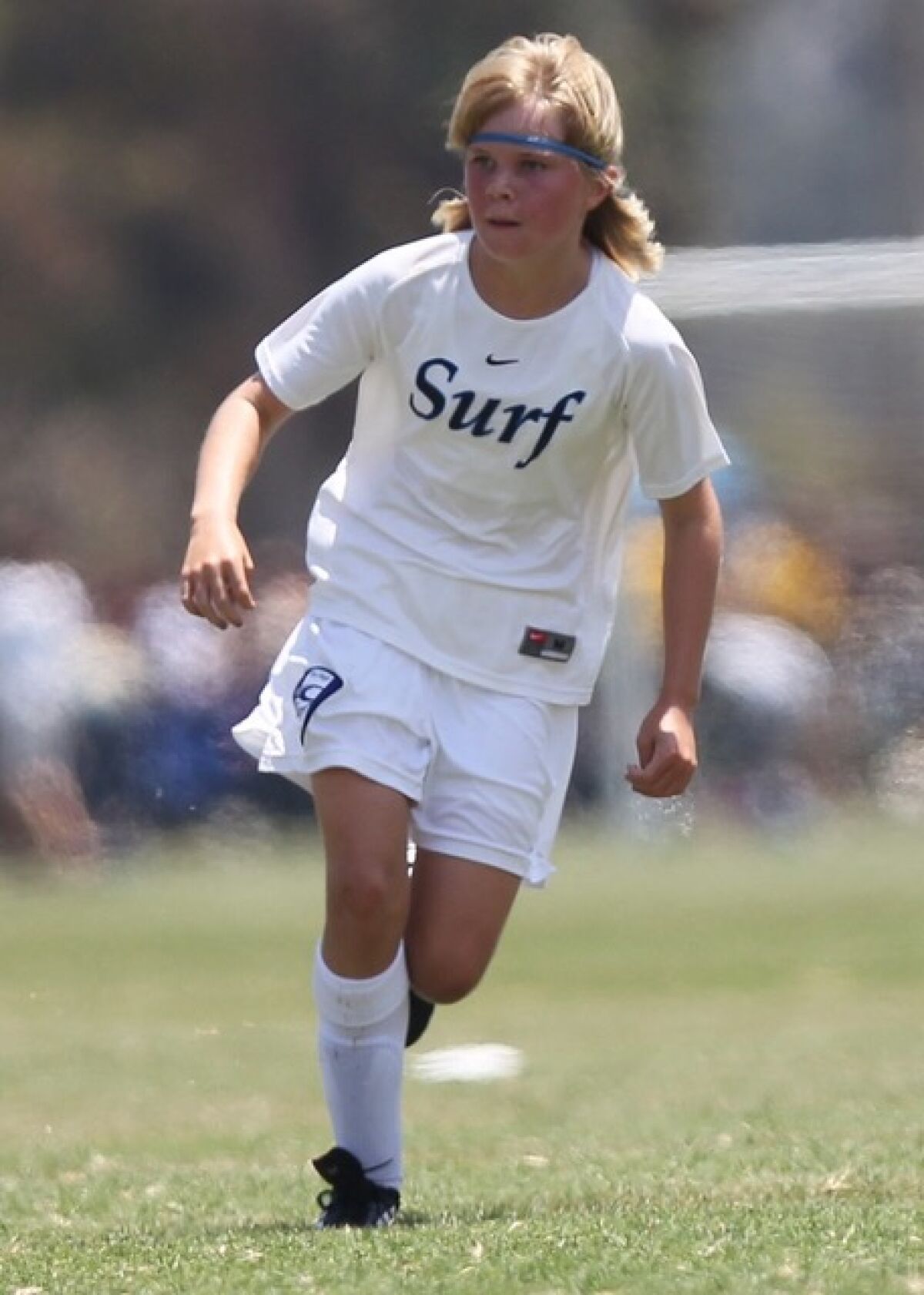 A politics major, Rickerson grew up in Rancho Santa Fe and attended R. Roger Rowe School. She played in the Rancho Santa Fe Little League and was the only girl in the majors division until she aged out. In eighth grade, she transferred to The Bishop's School, where she graduated high school.
During her youth soccer career, she co-captained her Surf Soccer Club team, which had an impressive five-year run at the national level. More than 20 players from that team earned scholarships to Division 1 colleges to play soccer all around the country including UC San Diego, Stanford, Texas, Montana, Washington State, Georgetown, North Carolina State, USC and Santa Clara.
A Q&A with Lucy Rickerson:
How does it feel to receive this recognition from the United Soccer Coaches plus four years of All-Ivy honors?
It's been incredibly flattering to be recognized not just this year, but over the course of my college career. I think that, especially this year, it was especially satisfying because it kind of represented a culmination of my time as a part of the Princeton Soccer program, and it was amazing to end on such a high note with my team. It's not easy to go 15-3-1 with the kinds of teams that were on our schedule this year, so the fact that we were able to do so well and have so many people on our team be recognized either with Ivy or United Soccer Coaches Honors really just shows how prepared and fired up everyone was to come back after having our season cancelled in 2020.
After taking a gap year last year, I was definitely concerned that the time off would affect my individual performance, as well as detract from how well we were able to mesh as a team, so to do so well was really a testament to the personalities on our team, and how much each and every player was channeling all of their energy into each minute that they stepped on the field.
What was most memorable about your years playing for the Tigers? (and did you have to adjust to cold weather?!)
It's hard to talk about favorite moments without mentioning our double overtime, golden goal win against UNC in the Sweet Sixteen my freshman year. It was one of the most special moments that I've had on a soccer field, and the fact that we were able to do it on UNC's home field made it extra satisfying. Of course, every season there were a handful of games and goals that I'll never forget. Coming from behind this year to beat Rutgers 4-3 on their home field comes to mind (as well as Grace Barbara's PK save that game to keep us in the running), being able to travel to UCLA my freshman year and play in a stadium that I had grown up attending games, Olivia Kane's overtime game winning goal against Dartmouth my junior year, Natalie Grossi becoming the all time leading shutout holder in the Ivy League (mens or womens) in that same game, Tatum Gee taking advantage of the single mistake that the Harvard defense made against us to put us ahead 1-0 this past season, and of course, my freshman year, playing our first round NCAA game against Monmouth in 20-degree weather.
Of course, I grew up playing in San Diego, so I was used to perfect weather year-round. The worst condition that I had played in was rain, and even then, things weren't that cold. I didn't have to adjust to cold weather as much in my day to day life, because realistically when it's cold here you just throw on more layers, and it sucks, but it's not terrible, but playing soccer is another animal, since you can really only wear Under Armour and gloves while still trying to functionally move all your body parts and battle other people who are also freezing cold. I think I dissociated for most of that Monmouth game because my body shut down, but I remember specifically how hard it was to kick a ball when you couldn't feel your legs, and any impact stung. My clearest memory from that whole game was sitting in our team room at half time, hugging a heated blanket, and being in disbelief that playing in the cold was 10x worse than playing in the dry heat that I would frequently have to play in back home when we would have games in Temecula, or Los Angeles, or god forbid, Lancaster.
What do you remember about your time in Surf and how did it impact your college career?
The biggest thing I remember about my time at Surf was how many amazing players I had the honor of growing up with. I truly don't think I would have made it to collegiate soccer if it hadn't been for the amazing athletes that I got to practice with every single day starting in second grade. I might not have realized just how talented all of them were back then, but their desire for greatness even when we were young was a huge part in making me want to keep playing, and keep getting better.
The transition to college soccer definitely wasn't easy, since I was playing against older, faster, and more experienced players, but I do always say that the change from club to college soccer was probably on the easier side relative to a lot of other people since I was had already defended the best players in the country by the time I was 18. Even now, I attribute a lot of my success as a defender to offensive players like Catarina Macario, Julie Doyle, Taylor Kornieck, Arlie Jones, Chloe Frisch, and so many more people on my team who I would have to mark in practice every single day. They pushed me so hard, but, looking back, I was defending some of the best attackers in the country.
Though everyone on my team was working to make it to the college level, it was such a supportive group of people, and some of my favorite soccer memories were spent with them in random hotels in random cities just hanging out, taking ice baths, watching MTV, and talking about all of our plans for the future. The fact that I got to watch so many of them dominate in their collegiate programs, and now there's a handful of them I get to continue to watch as they begin their professional careers is such an amazing thing, and I'm so proud that they're doing what they love.
What's next for you?
I've known for a while that I don't want to keep playing soccer at a high level after college. The sport has been a huge part of my life, and I've met my best friends through it, but it's always been something that I love, not something that I feel like is a job, and I worry that if I tried to take my career further it would feel like an obligation. After having such an amazing season this past year with my team, I knew that it was definitely the note that I wanted to end on, with a group of 28 women who had amazing chemistry and who always uplifted and encouraged one another.
As I look to find a job, I know in the back of my mind that I'll most likely join a YMCA league, or something to that caliber just to keep doing the thing that makes me the happiest, but I'm so excited to start the next adventure in my life, and I know that I have this sport, the people that I have met as a result of this sport, and the doors that this sport has opened for me, to thank for whatever comes next.

Get the RSF Review weekly in your inbox
Latest news from Rancho Santa Fe every Thursday for free
You may occasionally receive promotional content from the Rancho Santa Fe Review.