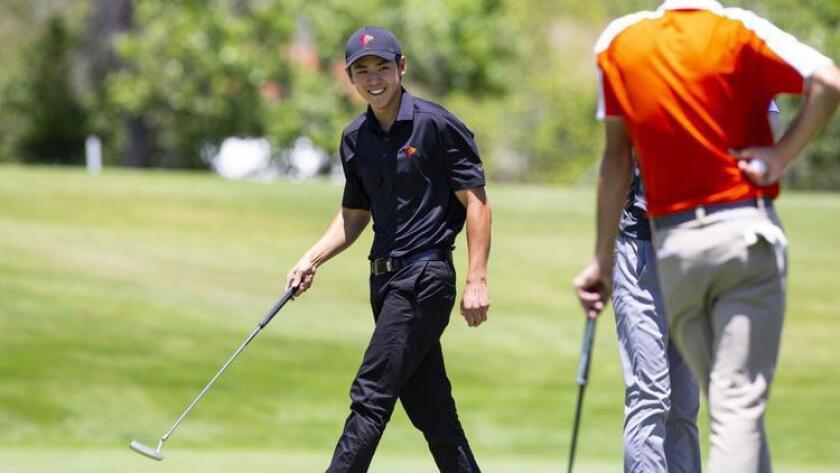 As a sophomore two years ago, James Song played for Torrey Pines High when senior teammate Kaiwen Liu set the San Diego Section record in winning the boys golf championship. Then Song pondered doing the same before graduating.
"Definitely, I considered it, but I knew I had to work at it," Song said. "My game at that time, I wasn't anywhere close to it. I just had to keep working, and hopefully, one day everything would go right for me. That's what happened."
Indeed, Song fired consecutive rounds of 63 for an 18-under-par 126 to break Liu's old mark (130) by four shots while claiming the title by seven strokes at Admiral Baker North on Wednesday, May 16.
The one-round record also fell as Song improved by one shot on the first-round 64 two years ago by Liu, also his future college teammate at Cal.
"When you're on the course, you try to keep your mind off the score as much as possible," Song said. "That's what I did, taking it one shot at a time. I've been working on my swing a little bit, and it's gotten to the point where I'm really confident with it."
Song, who only missed one green for the tourney, helped the Falcons win their third straight overall team crown (694) by 50 shots over La Costa Canyon (744).
Valhalla senior Cameron Sisk, who tied for second in the state last year, fired a 65 in the same group with Song to finish second (133) after starting the day in a fourth-place tie five shots back.
"We fed off each other," said Sisk, who eagled his ninth hole on No. 18 in the shotgun start and then recorded five straight birdies. "I was on a roll, but I couldn't catch him. Two 63s are tough to beat."
Along with the top two teams, the 12 leading individuals from other schools qualified for the Southern California Regional tourney at Brookside Golf Club in Pasadena on May 24. The state championships are scheduled for May 30 at San Gabriel Country Club.
Sisk completed a sweep by reaching the regional in all four prep seasons. His twin brother, Parker, also advanced for the second straight year (144).
Defending champion and La Costa Canyon junior Kento Yamawaki (137) placed third. Next (138) were Carlsbad senior Tommy Stephenson and Torrey Pines sophomore Andi Xu, a transfer from Steele Canyon, who qualified for the regional as an individual last year.
In all, 10 players finished under par, compared with 16 during Liu's record-setting year.
Also pacing Torrey Pines were junior Luca Martinez (139), sophomore Caden Fioroni (145) and freshman Jackson Rivera (145), who already has committed to USC for college golf.
Glae Thien is a freelance writer for The San Diego Union-Tribune
---