May 24: Week in Sports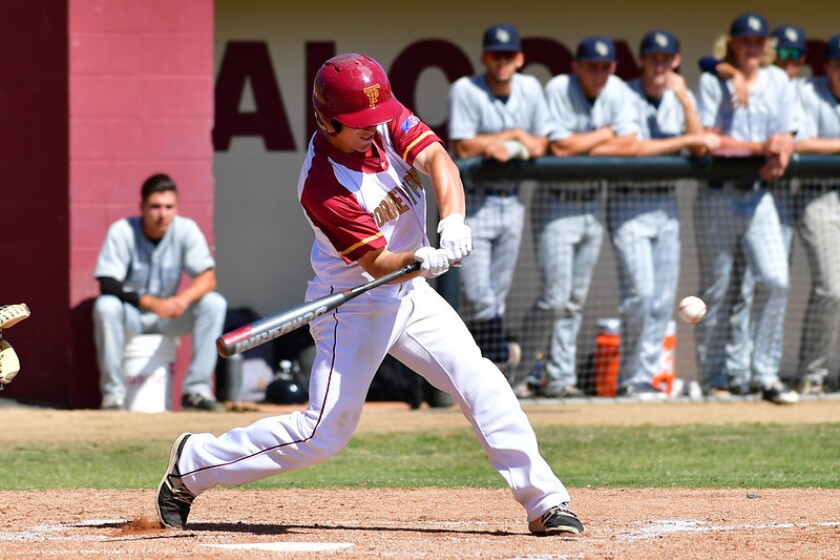 Torrey Pines clinched the Avocado League West title as the Falcons defeated La Costa Canyon 2-0 in a regular season finale for both teams on May 15. Joe Magrisi pitched a two-hitter to lead the Falcons. Magrisi struck out 12 and walked none.Nathan Smolinski had a double and one RBI to lead the Falcons offensively. The Falcons improved to 13-2 in league and 25-6 overall for the season.The Mavericks fell to 12-3 in league and 21-8 overall for the season.
Cathedral Catholic won its best-of-three series with St. Augustine as the Dons extended their winning streak to four games with an 8-6 victory on May 16.Michael Welch had a triple and two RBI and Cade Brown had a double and one RBI.St. Augustine won the first game between the two teams 7-6 on May 7.The Dons bounced back with a 3-2 victory when the series resumed on May 14.Brown pitched a five-hitter in which he struck out seven and walked none.Jacob Allred had two hits and two RBI to lead the Dons offensively. The Dons improved to 10-2 in league and 19-8 overall for the season.
Santa Fe Christian defeated La Jolla Country Day 3-0 in a Coastal League finale for both teams on May 17. The two teams finished league play tied for first place. Ethan Paulson pitched a two-hitter in which he struck out five and walked one to lead the Eagles. The victory followed an eight-inning 1-0 loss to LJCD two days earlier in which Tyler Thornton pitched a gem for SFC.Thornton struck out 11 and walked four in 6 2/3 scoreless innings of six-hit ball.The Eagles improved to 6-3 in league and 19-7 overall for the season.
Canyon Crest Academy defeated San Dieguito Academy 7-1 in an Avocado League West finale for both teams on May 15.Brent Peluso, who was credited with the victory, struck out nine and walked one in four innings of five-hit ball in which he gave up one run.Cole Colleran homered and drove in two runs to lead the Ravens offensively. Holden MacDonald had a hit and two RBI and M.J. Metz, Arjun Nichani and Gavin Navarro each had two hits.Wyley Sharp had two hits including a triple to lead the Mustangs and Nick Sando added two hits.The Ravens improved to 9-6 in league and 22-10 overall for the season.The Mustangs fell to 2-13 in league and 11-17 overall for the season.
San Diego Jewish Academy ended a 13-game losing streak as the Lions defeated Army-Navy 12-8 in a nonleague game on May 17.The Lions hadn't won since May 8.Ruben Veinbergs had three hits and three RBI to lead the Lions and Mason Leistein and Jose Galicot each had two hits.The Lions improved to 3-15 overall for the season.
Top-seeded Cathedral Catholic extended its winning streak to 18 games as Dons pitching standout Megan Faraimo pitched a perfect game in a 1-0 victory over No. 5 Bonita in a second-round Open Division playoff game on May 19.Faraimo had 15 strikeouts, raising her season tally in that department to 379 in 172 1/3 innings.Faraimo doubled twice to lead the Dons offensively. Abby Tanuma had one hit and one RBI.The victory followed a 3-0 first-round win against Bonita Vista three days earlier in which Faraimo tossed a one-hitter in which she struck out 17.Sara Rusconi had two hits and two RBI and Angelina Hicks, Jacey Bourgeois and Kaelene Walter each had two hits.The Dons improved to 25-3 overall for the season.
No. 10 Torrey Pines lost to No. 7 Ramona 4-2 in a Division I first-round game on May 15.Freshman Kaili Aqui had two hits to lead the Falcons. Haley White, who took the loss, struck out seven, walked one and gave up eight hits and four runs (three earned) in six innings. The Falcons fell to 15-12 overall for the season.
A tough schedule didn't kill Cathedral Catholic. It seems to have made the Dons stronger.The No. 5-seeded Dons defeated No. 2 Eastlake 3-1 (25-21, 25-20, 22-25, 25-18) in the San Diego Section Division I championship game on May 19.The Dons limped into the playoffs with a pedestrian 8-18 record. Their improbable playoff sends them to the Division II SoCal Volleyball Championships with a 12-18 overall mark.Mike Madden had 20 kills to lead the Dons and Timmy McLoughlin had 12 kills.
---
Get the RSF Review weekly in your inbox
Latest news from Rancho Santa Fe every Thursday.
You may occasionally receive promotional content from the Rancho Santa Fe Review.