No. 1 seed Torrey Pines, Santa Fe Christian reach Saturday's CIF volleyball finals
Two defending CIF girls volleyball champions—Torrey Pines in the Open Division and Santa Fe Christian in Division I—are returning to the finals and will be looking to go back-to-back this Saturday, Nov. 3, when the 2018 Championship Finals are hosted at Cathedral Catholic High School. Both are seeded No. 1.
Coach Brennan Dean's Torrey Pines squad, 31-3 on the season, will meet No. 2 seed Cathedral Catholic (28-6) for the third time in the contest for the Open title. First serve is set for 6:15 p.m. The teams split two encounters earlier this year but Dean doesn't know how much should be drawn from that pair when evaluating Saturday's rubber match.
"This will be the first time we've played each other with full rosters," he said. "We defeated them when they didn't have everyone available and they did the same to us. We're expecting a very tough match."
Torrey cruised past eighth-seeded Del Norte in a straight set quarterfinal victory and then recorded a 3-0 decision over No. 4 seed Scripps Ranch in Wednesday's semi-final round. That one was a little tougher as the Falcons got a Halloween night scare before prevailing. Scripps Ranch, sporting a 31-5 mark, was up 17-10 in the first set and had set point at 24-21 before Dean's charges got things turned around with five consecutive points. The veteran coach said there was value in the way things developed early on .
"In the big picture, I think that first set was helpful in that we got challenged and were able to respond," said Dean, who has won six CIF crowns in his seven-year tenure at the Torrey Pines helm. "We were making a lot of uncharacteristic errors and I just reminded them to play our style, play loose and have fun.
"We stopped making so many mistakes, put the ball in the court and played good defense. You do that and things have a way of working out."
Junior Maya Satchell led a balanced attack with 10 kills and the Falcons posted a solid .302 team hitting percentage. Senior Kendra Ham had seven kills and three blocks. Torrey launched 10 aces, three by senior Emily Fitzner, and their passing (one error on the night) was exceptional.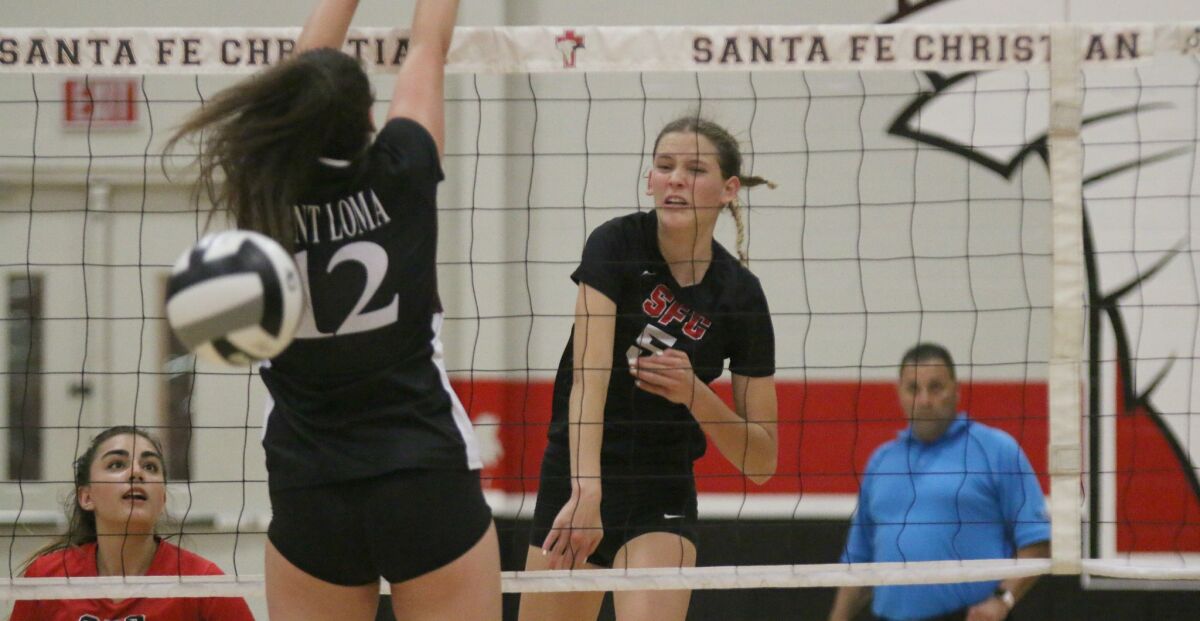 Cathedral Catholic also reached the finals with a pair dual shutout wins, topping seventh-seed Canyon Crest in the first round and No. 6 Bishop's in the semi-finals. Dean knows that containing the Dons' talented junior Madison Endsley, who had a match high 14 kills to lead Cathedral to a 2-0 triumph when teams most recently collided.
"This could come down to how well we can control Endsley," said Dean. "She's a big player with a massive arm. We've got to slow her down and hope we can contain their other options."
At 4:15 p.m., in the match preceding the Open Division battle, Santa Fe Christian (25-11) will square off against No. 3 seeded Westview (18-15) for D-I supremacy. Both teams were extended to five sets in the semi-finals, Westview grinding past Eastlake while SFC managed to bounce back from a 2-1 deficit to upend Point Loma. SFC Head Coach Amanda Miles was working the sidelines and huddles hard when her team trailed, but afterwards professed that she wasn't too worried about her own side.
"The only concern I had was how well Point Loma was playing and they were putting a lot of pressure on our offense," said Miles. "They were just scrapping and then coming right back at us—it was a matter of us being able to just grind a little bit more.
"The amazing thing about this team, though, is that we are incredibly unified. These girls play for each other and know they can rely on each other. That gives them the confidence to just play, point-after-point."
With their season on the line, the Eagles raced out to a 7-2 lead in the fourth set but Point Loma clawed back to trail just 8-7. From that point it was all Santa Fe Christian. They won nine of the next 12 points to build a 17-10 advantage and closed it out at 25-19. In the critical 15-pt. final set, the two adversaries were knotted a 12 when SFC sophomore Anna Aubele was blocked in the middle but the Eagles transitioned and given a second chance, Aubele buried the ball to make it 13-12. Senior Abby Phillips followed with an ace to bring the Eagles to within a point of victory and the final was 15-13.
Abby's sister, sophomore Kate Phillips and senior Sara Jones led Santa Fe Christian with 11 kills each, followed by Aubele with 10 but Abby Phillips was perhaps the inspirational star of the night. Struggling with an illness, the 5-foot-8 co-captain soldiered on nonetheless, collecting eight kills and two aces while providing a variety of contributions in the defensive and leadership departments.
"When you're lacking in one area, like trying to be vocal and energized, which I didn't really have tonight, you try to pick it up in another," said Phillips afterward. "I tried to do little things like going up to teammates individually to encourage them and letting them know I have them covered.
"Early on, I think we all got frustrated and made mistakes because we weren't really playing together as a whole which is one of our strengths. We started working on playing for the person next to us and verbalizing how much we wanted this and needed this. Things got a lot better—the unity was there."
While the Eagles will be going for their second straight D-I crown in a row, they'll actually be going for a third consecutive CIF title since the 2016 team won the Open Division. Miles feels that previous experience is beneficial when her charges find themselves up against the wall like they were against Point Loma.
"It helps that they've been there and there is an attitude about winning, a winning culture," said Miles. "But each year, they know they still have to put in the work throughout the year on a match-by-match basis." Abby Phillips and her coach are on the same page with that concept.
"I think being in a championship final the last two years provides this team with motivation in that we know we can do it," she said. "That gives us confidence, but we still have to earn it.
"It feels really good to know we're back in the championship match. I didn't feel good tonight but I should be ready to bring my "A" game Saturday. It's my senior year and I want to finish strong."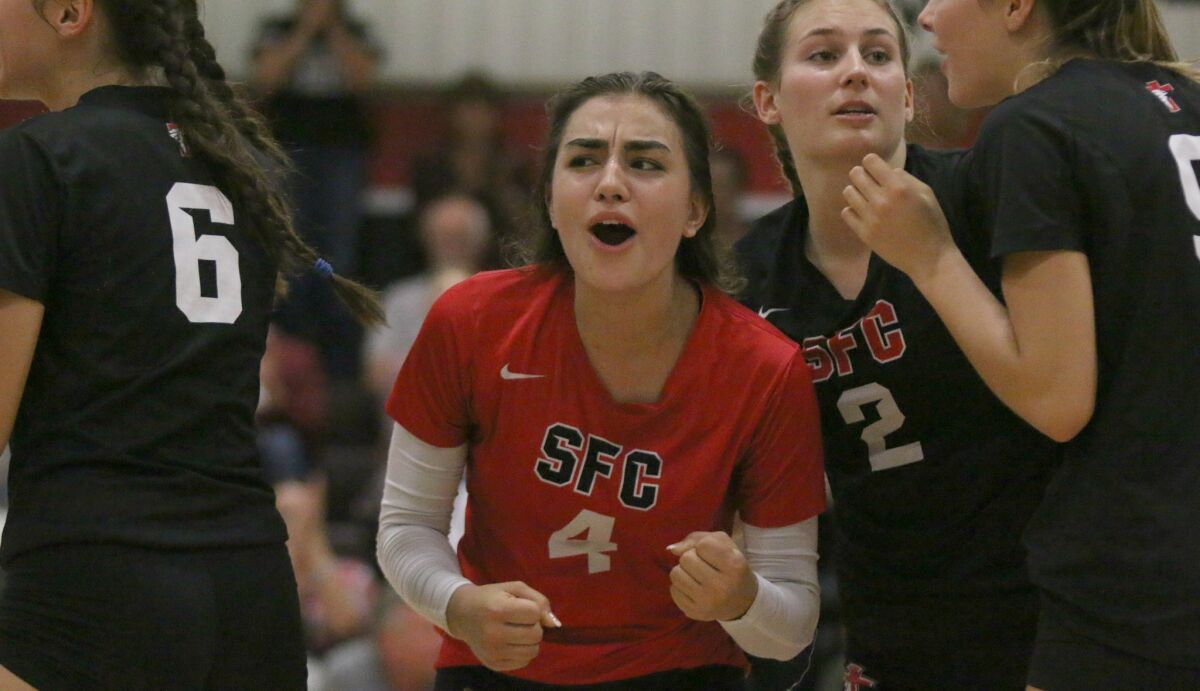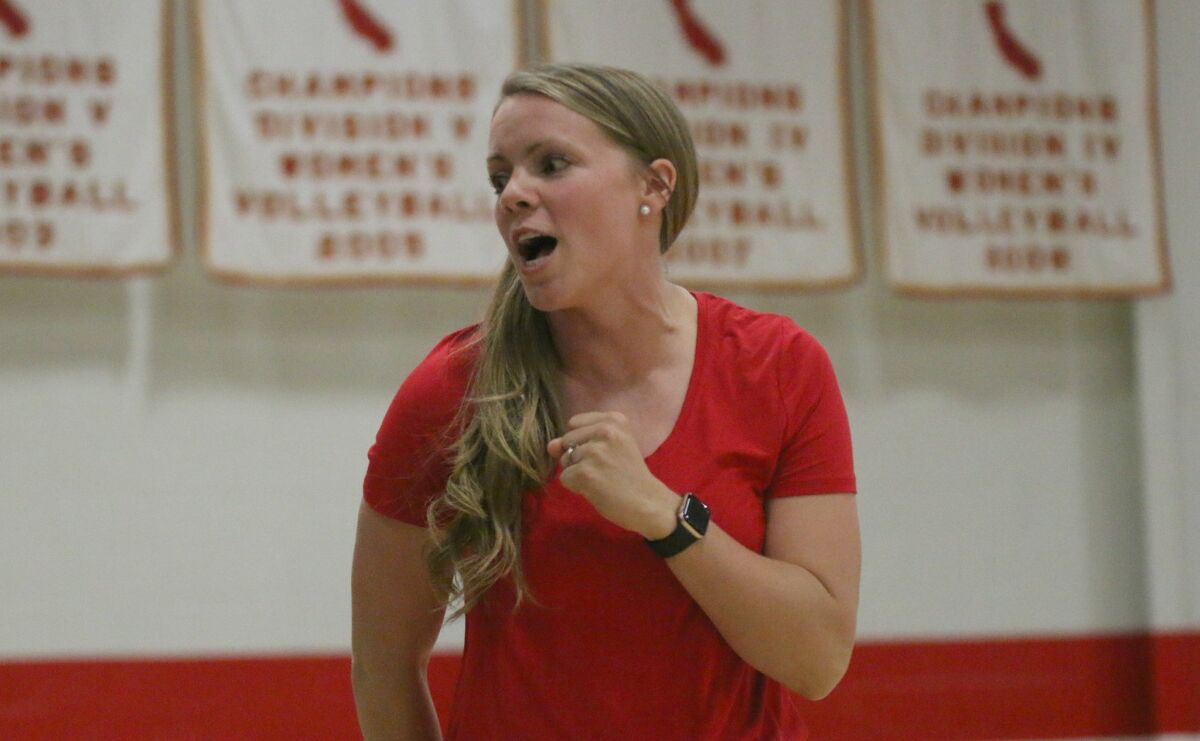 Get the RSF Review weekly in your inbox
Latest news from Rancho Santa Fe every Thursday for free
You may occasionally receive promotional content from the Rancho Santa Fe Review.