CCA volleyball standout helps others on and off the court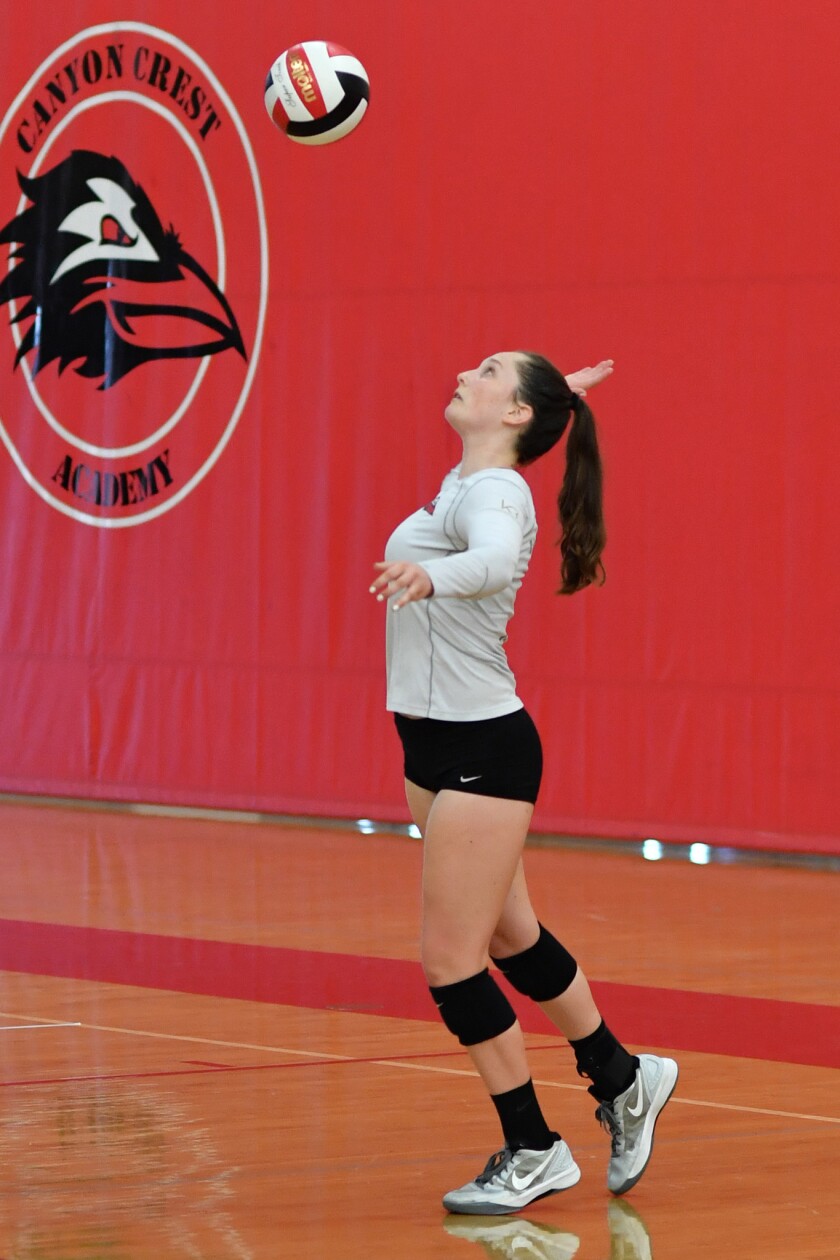 Building homes under a hot Tijuana, Mexico sun can be grueling work.
Vivienne Franke knows this from personal experience.
The incoming junior Canyon Crest Academy volleyball standout has spent time off the court the last few years as a volunteer for Casas de Luz, a Solana Beach-based social justice-minded group that builds homes and community centers for residents in impoverished Tijuana.
The group sends teams of 30 or so volunteers at 7 a.m. on Saturday mornings, who stay overnight and return Sundays. She finds the work fulfilling but admits isn't easy.
"It's fun though," she said. "I love it."
Her work ethic has paid off in her athletic endeavors, too.
Franke, who plays libero, made the roster of one of the region's most competitive program two years ago as a freshman.
She's emerged as an unheralded star on a team that last season went to the Open Division finals, Ravens coach Ariel Haas said.
"She's a consummate team player," Haas said. "She's not concerned with individual attention. She really is all about working really hard at her game and trying to make her teammates look better."
Flying under the radar suits Franke just fine.
"I kind of like to surprise people," Franke said. "I'm not necessarily a big name, but I kind of like knowing that and proving people wrong."
Franke started playing youth volleyball in fifth grade. She'd been playing softball since she was practically a toddler and played both sports through middle school.
Franke was already a polished volleyball player by the time she arrived at CCA. Coaches took notice of her work ethic, aptitude and intangibles.
"With her attention to detail, and how she treats others around her, on top of her skills and her technique, she was kind of able to force her way onto the court," Haas said.
Franke led the team last season with 266 digs and was second with 42 service aces.
She was a first-team all-tournament selection in last season's Hudl Southern California Invitational Volleyball.
Franke's ability to handle pressure has set her apart.
"She's very cool, calm and collected," Haas said. "If you look at her on the court, and it may be the most stressful time, it may be the CIF finals, she looks like it's any other day, she's focused, and she doesn't ever seem to get rattled."
Franke wants to play collegiately but is early in the recruiting process. She's interested in studying architecture, which isn't widely offered.
She'll be attending a camp for aspiring architecture students over the summer at UCLA.
"It definitely limits my options" for volleyball, Franke said, "so I kind of want to make sure that's what I want to do."
Franke learned about Casas de Luz from a friend when she was in middle school. She started volunteering as part of a requirement for a humanities class in seventh grade.
She joined the Casas de Luz club at CCA as a freshman. She's now the club's president.
Franke has done four weekend "builds" and attends the group's annual Christmas parties in Tijuana.
She's become part of a group that's established relationships with the Tijuana community it serves. Neighbors typically help out with the builds and express their gratitude.
Seeing kids in Tijuana playing soccer on dirt fields has made Franke appreciative of what she has in coastal San Diego County, where state-of-the-art arenas and football fields abound.
"Just being down there, it makes you realize how much you have," Franke said. "Those days when you're annoyed about little things, I just think back to that and it just reminds me how grateful I am for what I have."
Franke credits her work with helping her develop leadership skills that have paid off on the volleyball court.
"Working towards a common goal definitely helps," she said.
As a libero, responsible for quarterbacking the defense from the back row, Franke has had to take on a leadership role.
Although unassuming, Haas said Franke leads by example.
"She has been vocal, but she really just leads by the choices she makes and her behavior with her teammates," Haas said.
"She really just tries to outwork everybody. She's a kind-hearted soul, very generous and she'll do anything she can to try to do her best at all times."
---
Get the RSF Review weekly in your inbox
Latest news from Rancho Santa Fe every Thursday.
You may occasionally receive promotional content from the Rancho Santa Fe Review.