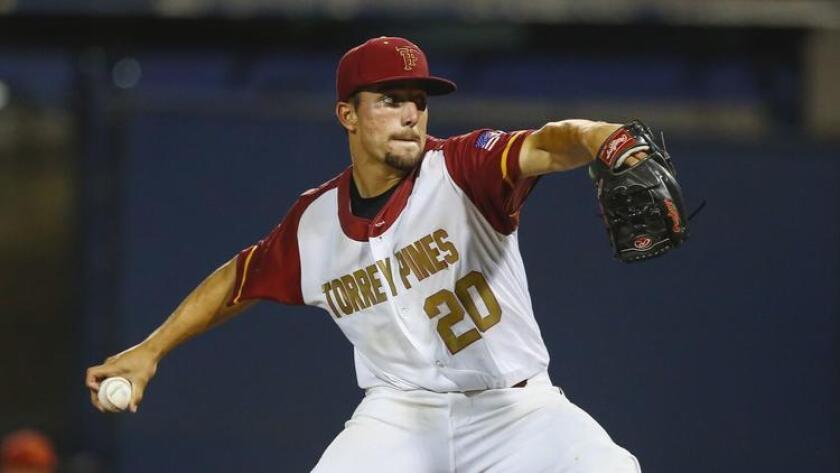 Joe Magrisi's magical senior season at Torrey Pines High has come to a fitting end, being named California's Mr. Baseball by Cal-Hi Sports.
"I'm ecstatic about this," Magrisi said. "I'm so honored."
Mark Tennis of Cal-Hi Sports said Magrisi won the award over Cole Winn of Orange Lutheran, Ryan Daugherty of Capistrano Valley and Sean Mullen of Bakersfield Stockdale.
Magrisi is the 12th player from San Diego to be named Mr. Baseball — symbolic of the state's Player of the Year — since the award was established in 1899 by Cal-Hi Sports, which has chronicled high school athletics in the state for decades.
"Obviously, my plan at the start of the season was to have a good year," Magrisi said. "Within that plan was to do all I could to contribute to the team, help us reach the CIF finals. I didn't care if that was pitching, hitting or both."
Magrisi delivered on all fronts.
He batted .303 with eight homers and 28 RBIs.
It was on the mound, however, where he shined.
The 6-foot-1, 210-pound right-hander, who is committed to Cal State Fullerton, was 12-0 with an 0.75 ERA. He struck out 130 batters in 93 innings.
He made headlines around the state with a scoreless streak of 542/3 innings that included six straight shutouts.
The state record for consecutive scoreless innings is 591/3.
Magrisi capped his season with four scoreless innings in the San Diego Section Open Division title game as Torrey Pines (29-6) edged Poway 2-1 in a 10-inning thriller at USD's Fowler Park for the championship.
"That was a perfect finish to a great year," Magrisi said. "Then I threw two scoreless innings in the San Diego All-Star Game in Petco Park. That was such a great experience.
"We all can't thank the Padres enough for putting that game together."
Magrisi isn't playing this summer. After 95 innings, he said the coaches at Cal State Fullerton shut him down.
"I'll start throwing again July 15 and report to college in August," he said.
San Diego players honored as Mr. Baseball by Cal-Hi Sports:
Joe Magrisi, Torrey Pines, 2018
Mickey Moniak, La Costa Canyon, 2016
Brady Aiken, Cathedral Catholic, 2014
John Drennen, Rancho Bernardo, 2005
Matt Bush, Mission Bay, 2004
Eric Chavez, Mt. Carmel, 1995 and '96
Terry Forster, Santana, 1970
Bob Boone, Crawford, 1965
Deron Johnson, San Diego, 1954
Duane Pillette, San Diego, 1940
Ted Williams, Hoover, 1935
Brick Muller, San Diego, 1918
The Mr. Baseball list includes no fewer than 70 major leaguers, including:
Mike Moustakas, Chatsworth, 2007
Sean Burroughs, Long Beach Wilson, 1998
Derrek Lee, Sacramento El Camino, 1993
Bret Saberhagen, Reseda Cleveland, 1982
Darryl Strawberry, Los Angeles Crenshaw, 1980
John Elway, Granada Hills, 1979
Rickey Henderson, Oakland Tech, 1976
Robin Yount, Woodland Hills Taft, 1973
Don Drysdale, Van Nuys, 1954
Frank Robinson, Oakland McClymonds, 1953
Jackie Jensen, Oakland, 1944
Bob Lemon, Long Beach Wilson, 1938
Joe DiMaggio, San Francisco Galileo, 1931
Walter Johnson, Fullerton, 1905
--- John Maffei is a reporter for The San Diego Union-Tribune
---