Torrey Pines cagers storm into CIF semi-finals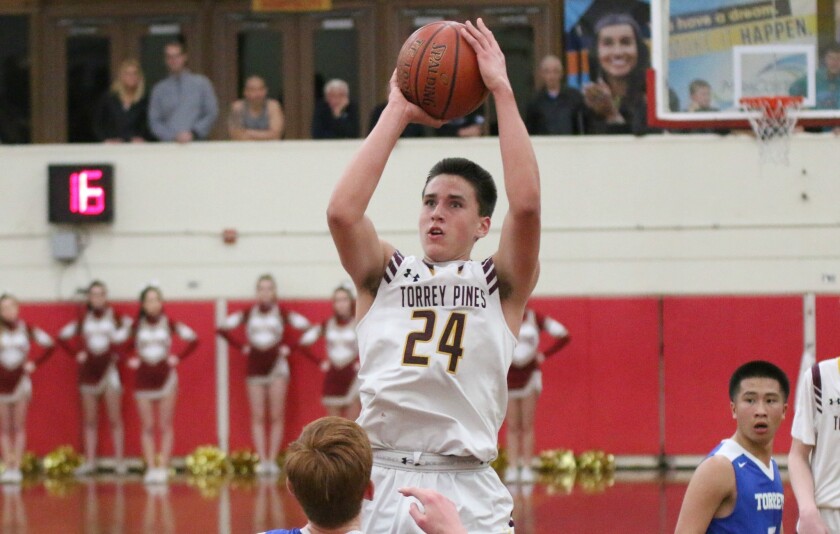 Powered by senior Finn Sullivan's 20 first quarter points, Torrey Pines jumped all over visiting La Jolla Country Day from the opening tip and romped to a 92-66 CIF Open Division Quarterfinal victory Friday night. The win earned Coach John Olive's second-seeded Falcons a semi-final home date next Wednesday against No. 3 seed Mission Bay (25-5), which slipped by sixth seed Vista, 45-41. The win improves Torrey Pines to 28-2 while LJCD's season concludes at 21-9.
Torrey Pines scored the game's first 11 points and was never truly threatened by the Torreys. Junior Michael Pope amplified Sullivan's first quarter offense with an 18-point second quarter binge of his own, helping lift the Falcons to a 23-point margin at halftime. Sullivan and Michael Pope finished with 32 and 30 points respectively and Michael's twin brother, Bryce, contributed another 12. For Olive, it was pretty much a perfect playoff debut.
"I thought both offensively and defensively, we played very well," he said. "I was more concerned about the defense because La Jolla Country Day can be a very explosive offensive team but we defended them pretty well."
(Michael Pope) liked what he saw from an offensive standpoint and felt the Falcons' playoff opener displayed one of the characteristics most important to their success. "For our first game of the tournament, it went really well," said Pope. "We came out firing in the first half and sustained it pretty well in the second half, I thought. Defensively, we executed our game plan which was to help on their top scorer, No. 33 (Ryan Langborg) and rotate—I thought we did a good job of that."
"What separates us as a team is that we don't have just one or two options. There are at least three guys that can go off any night. We love each other and love playing with each other."
Torrey seemed to basically have its way offensively but when queried about his team's proficiency, Olive again deferred to the defense. "Before the game we had talked about the fact that our defense and rebounding could lead to early offense," said Olive. "Our guys take pride in their defense.
"When we had a little lull in the middle of the season and weren't playing as crisply as we should, we kind of honed in on the defense and started executing better on that end in practice. It re-started our push to where we are now."
As for Sullivan, who was averaging 17.7 points, 8.4 rebounds and 5.5 assists per contest coming into Friday night's tilt, Olive just smiled and shook his head when asked about what he got from his 6-foot-5 point guard against Country Day.
"We've come to expect things like that from Finn and he does things like that—he's an explosive player," said Olive, whose team came into the playoffs on the heels of a undefeated run to the Avocado League West title. "He can score with the three, off the dribble or take a rebound and go the length of the court. He's a handful to defend."
Now, it's on to Mission Bay, a team ranked No. 1 in the section early in the season. "It's going to take a big effort," predicted Olive. "They're a very talented team, very physical and have a tremendous D-I prospect in (Rejean) 'Boogie' Ellis. I've seen them and they're a handful." The Buccaneers reached the quarterfinals of last year's CIF Division I tournament, while Torrey Pines lost in the Open Division championship final. The winner of Wednesday's match-up will face either No. 1 seed Foothills Christian or No. 5 Mater Dei Catholic, March 2, at SDSU's Viejas Arena for the CIF Open Division crown.
THIS WEEK'S CIF SCHEDULE (North Coast teams):
Boys Basketball (all games 7 p.m. tip)
Tue., Feb. 27 Mission Hills @ Santa Fe Christian (D-I)
Wed., Feb. 28 Mission Bay @ Torrey Pines (Open)
Wed., Feb. 28 Brawley @ Carlsbad (D-II)
Girls Basketball (all games 7 p.m. tip)
Tue., Feb. 27 Carlsbad @ Vista (D-II)
Wed., Feb. 28 La Costa Canyon @ Mt. Miguel (Open)
Wed., Feb. 28 Valley Center @ San Dieguito Academy (D-IV)
Wed., Feb. 28 La Costa Canyon @ Torrey Pines (Open) 5 p.m.
Wed., Feb. 28 San Marcos @ Cathedral Catholic (Open) 6 p.m.
Tue., Feb. 27 Scripps Ranch @ La Costa Canyon (D-I) 5 p.m.
---
Get the RSF Review weekly in your inbox
Latest news from Rancho Santa Fe every Thursday.
You may occasionally receive promotional content from the Rancho Santa Fe Review.