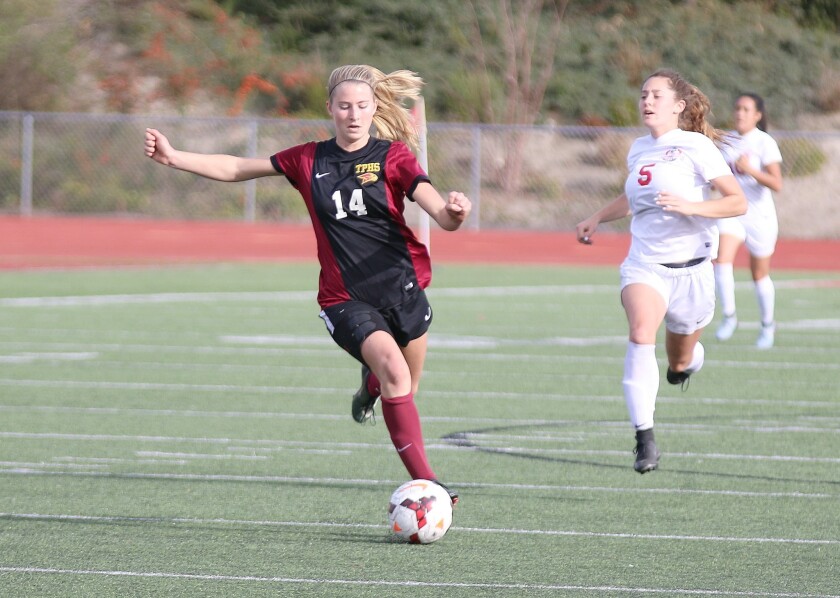 CIF San Diego Section Playoffs begin this week in boys' and girls' basketball and soccer and Torrey Pines figures prominently in three of the eight-team Open Division brackets.
Coaches Andy Hargreaves (boys' soccer) and Martyn Hansford (girls' soccer) both saw their teams grab No. 1 seeds and will begin play at home this week. The Falcon girls, 16-1-6 on the season, host eighth-seeded West Hills (9-10-4) Tuesday followed by the Wednesday clash between the Torrey boys (21-0-4) and eighth-seed Eastlake (14-4-4). Both matches kick off at 5 p.m.
On Friday night at 7 p.m., Coach John Olive's second-seeded boys' basketball team (27-2) will tip off at against visiting seventh seed La Jolla Country Day (21-8). Olive's cagers went undefeated in winning the Avocado League West title, finishing off the job with a 72-56 triumph over host La Costa Canyon last Friday night. Junior Bryce Pope racked up 26 points in that one and senior Finn Sullivan chipped in with 24. Ironically, Torrey Pines faced the exact same match-up in last year's CIF opener and defeated LJCD, 60-52. The Falcons went on to reach the 2017 championship game, falling, 47-44, to St. Augustine. Foothills Christian is this year's top seed in the boys' Open Division.
While the boys' basketball and soccer squads got just the seeding they expected, the selection of Hansford's side for the No. 1 slot came as a mild surprise. Carlsbad had finished ahead of the Falcons to capture the Avocado League West crown and a week prior had topped the power rankings. Both teams closed the season with 4-0 wins, but apparently Torrey Pines earned enough more points for its win over third place La Costa Canyon than Coach Dean Balent's Lancers did for defeating sixth place Sage Creek to allow them to slip past the Lancers. Carlsbad is the No. 2 seed and opens at home against Steele Canyon. Whatever the reasoning, Hansford didn't attach much significance to the switch.
"I'm not complaining, but as long as you're No. 1 or 2, it's pretty much the same—these are the top eight teams in this tournament and they're all pretty good," said Hansford. "One of the things we've tried to do is 'manage' the squad and have everyone available when we get to this point of the season.
"We're OK in that department and I think we'll be ready. This is knockout football and we're excited to get it started." Hansford's girls are two-time defending CIF Open Division champs and defeated West Hills, 2-1, in the third game of the season.
The Torrey boys' soccer team has not lost a game since the opening round of last year's CIF Playoffs when, as the No. 3 seed, they were upset, 2-1, by No. 6 Oceanside. This year's squad, which Hargreaves calls "the deepest I've ever had," clearly has the talent, versatility and experience to go all the way. One team that will be standing in its way is local rival Canyon Crest Academy. Coach Tom Lockhart's Ravens are a sterling 18-1-6 and tied Torrey Pines both times the two teams squared off. They host neighbor Cathedral Catholic in their first outing.
North Coast teams in CIF action:
Boys' Basketball (first round games on Tue., Feb. 20, 7 p.m. except where noted)
La Jolla Country Day @ Torrey Pines Fri., Feb. 23
Cathedral Catholic @ Helix (D-I)
Lincoln @ Canyon Crest (D-I)
La Costa Canyon @ Rancho Bernardo (D-I)
Kearny @ Santa Fe Christian (D-I)
Valley Center @ San Dieguito Academy (D-III)
Girls Basketball (first round Open Division games on Sat., Feb. 24; all others on Wed., Feb. 21; 7 p.m.)
La Costa Canyon @ Santa Fe Christian (Open)
Cathedral Catholic @ La Jolla Country Day (Open)
Rancho Bernardo @ Torrey Pines (D-I)
Canyon Crest @ Vista (D-II)Monte Vista @ San Dieguito Academy (D-IV)
Boys' Soccer (first round games Wed., Feb. 21; all games 5 p.m. except where noted)
Eastlake @ Torrey Pines (Open)
Cathedral Catholic @ Canyon Crest (Open) 3:15 p.m.
La Costa Canyon @ Poway (Open)
San Dieguito Academy @ Helix (D-II)
Santa Fe Christian (bye, D-V)
Girls' Soccer (first round games Tue., Feb. 20; all games 5 p.m.)
West Hills @ Torrey Pines (Open)
Poway @ Cathedral Catholic (Open)
La Costa Canyon (bye, D-I)
Canyon Crest @ San Pasqual (D-II)
Mt. Carmel @ San Dieguito Academy (D-III)
---