Torrey Pines knocks off San Marcos 35-28, faces Cathedral for CIF football championship
The Torrey Pines football team was tested in just about every way Friday night, Nov. 9, and in the end, the No. 1 Falcons came up with the right answers, taking down third-seeded San Marcos, 35-28, in the CIF Open Division semi-final at Ed Burke Field.
In a battle of the top two seeds, the undefeated Falcons (10-0), champions of the Avocado West League, will now square off against once-beaten City Western League kingpin Cathedral Catholic (10-1) for the 2018 CIF title. The Saturday, Nov. 17, game between the two schools that sit less than two apart on Del Mar Heights road will take place 30 miles away at Southwestern College. Kickoff is slated for 7 p.m.
Over the course of the evening, Torrey had to deal with predicaments in all three phases of its game offense, defense and special teams) and trailed for much of the contest, but somehow was able to come up with solutions.
"I think we just persisted," said Torrey Pines Head Coach Ron Gladnick when it was over. "We kept staying within our personality and made some really good halftime adjustments to get things turned around."
Senior quarterback Jason Heine, whose late touchdown run ultimately proved to be the difference, said his team's confidence never wavered. "We have a bunch of seniors on our team, a great group of guys with a ton of heart," he said. "We always knew we could pull it off."
Torrey Pines hit the scoreboard first with senior Mac Bingham racing 48 yards for his 24th touchdown of the season, capping a two-play drive following the opening kickoff—but by the end of the first quarter, San Marcos owned a 17-7 edge. The Knights' senior quarterback Miles Hastings, who transferred to San Marcos from Torrey Pines, tossed two early touchdown passes, the first following a one-yd. whiffed punt by the Falcons.
Early in the second quarter, Heine kickstarted a Falcon drive with an 11-yd. run from his own 11, almost breaking it up the sideline. Moments later, at the 10:14 mark, fellow senior Evan Galluzzi did break one, sweeping left and sprinting 54 yds. to the end zone, cutting the deficit to 17-14.
The San Marcos offense continued to threaten. The Torrey Pines defense stiffened to hold the Knights to a field goal and then blocked a subsequent field goal attempt. They saw a drive of their own drive stalled by two holding penalties and the visitors went into halftime with a 20-14 advantage.
Less than three minutes into the second half, a 59-yd. Stallings to Jalen Bainer TD strike, followed by a two-point conversion run by Zach Frost, gave San Marcos its biggest lead of the evening, 28-14, and it felt like Torrey Pines might be one score from seeing the game slip away.
But the resilient Falcons hit right back. Keyed by several critical Bingham runs (he totaled 155 yds. on 19 carries) and helped along by a huge San Marcos holding penalty, Torrey Pines pushed to the one-yd. line. Heine covered the final 36 inches on a keeper, bringing the margin back to seven with 5:12 left in the third period.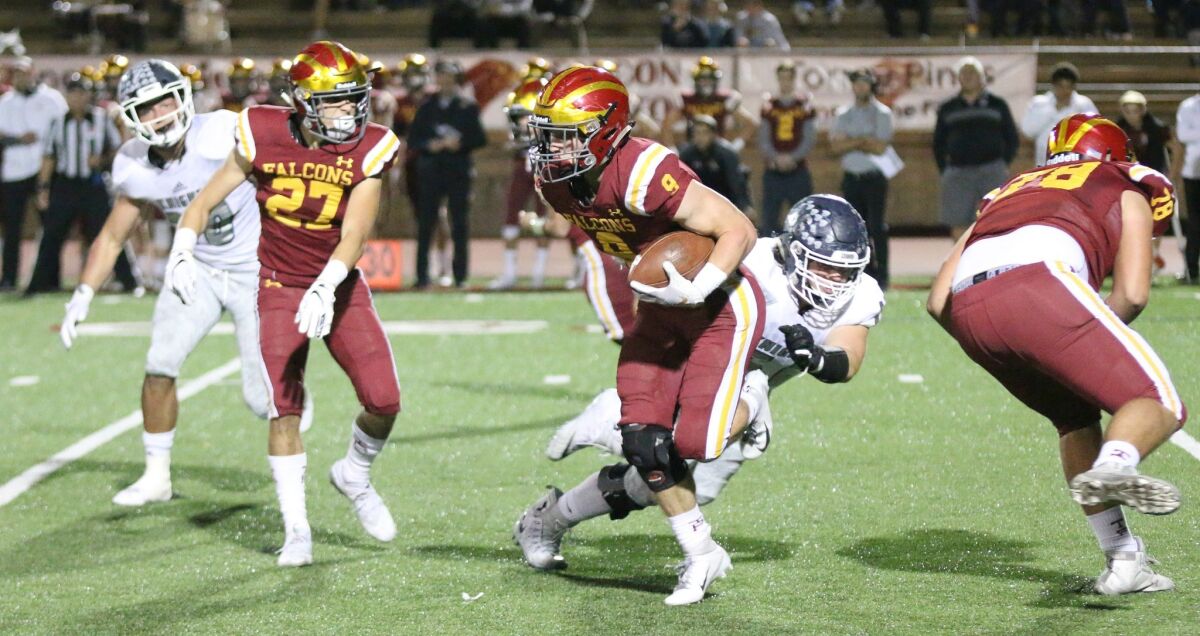 The biggest play of the game happened on the quarter's final play. The Knights had the ball at their own 41 courtesy of a Torrey Pines fumble. Bingham, a two-way player for Gladnick, forced Hastings to fumble the ball. It was recovered by senior Sebastian Carpenter and the 6-foot, 220-lb. senior carried it 59 yards for the first TD of his career. Ted Merrifield's extra point tied it at 28 heading into the fourth quarter.
"I was playing the line of scrimmage, saw the ball and there was no one around," recalled Carpenter afterwards. "I just picked it up like we always practice and kept running. I don't know how I made it—I didn't look back
"It was a great experience, all of my teammates coming and supporting me. It was unreal—my greatest football moment." He also had Gladnick's support.
"Seb's touchdown return was the turning point of the game," said the TP coach. "I was running with him every step of the way, not as fast as he was though. We knew this was going to be a game of big plays and that was one of the biggest."
There were still 12 minutes and a lot of work left to do but Gladnick felt the momentum had already started to shift early in the second half.
"Defensively, we kind of ramped it up, came with some zone blitz stuff, got some pressure and started getting home," said Gladnick. "We were able to put them in a lot second and third and long situations where we could really come after them. I think we got to the quarterback five or six times in the second half."
The score was still deadlocked with 6:15 to go with the home team pinned down inside its own 10. On a second and 12, Heine hit senior Luke Mikolajewski to get to the 23. Forty-five yards later, the Falcons found themselves on the San Marcos 32-yd. line with 4:26 remaining in regulation.
Heine, who rushed 17 times for 61 yards and threw for another 121, utilizing the incredible sleight of hand skills that makes the Falcon wing-T offense go, got himself to the left edge and bolted 32 yards to put his squad ahead for the first time since the opening quarter.
"It was the perfect play call from the sidelines," said Heine. "We'd run it earlier in the game and they just barely stopped it. Basically, it was a double fake, I just pulled it back in and took it to the outside—it was wild."
San Marcos, now struggling offensively, refused to concede and manufactured the makings of a potential game-tying drive. But with 1:23 to go, another fumble bounced right up into the arms of Torrey linebacker Shad Bruce and the senior rumbled 55 yards to the goal line. A penalty negated the touchdown and brought the ball back out to midfield where the Falcons ran out the clock to clinch Saturday's date with Cathedral Catholic.
"It's an amazing feeling, to know that we're undefeated and going to the championship game," said Heine of the outcome. "This is something that Torrey Pines hasn't done in a long time—one more to go."
For Gladnick, it was an outcome determined by the work put in. "We have great character kids and that's an ingrained part of our culture," he said. "We focus on a lot of things that have nothing to do with football and as a result we get a lot of good football."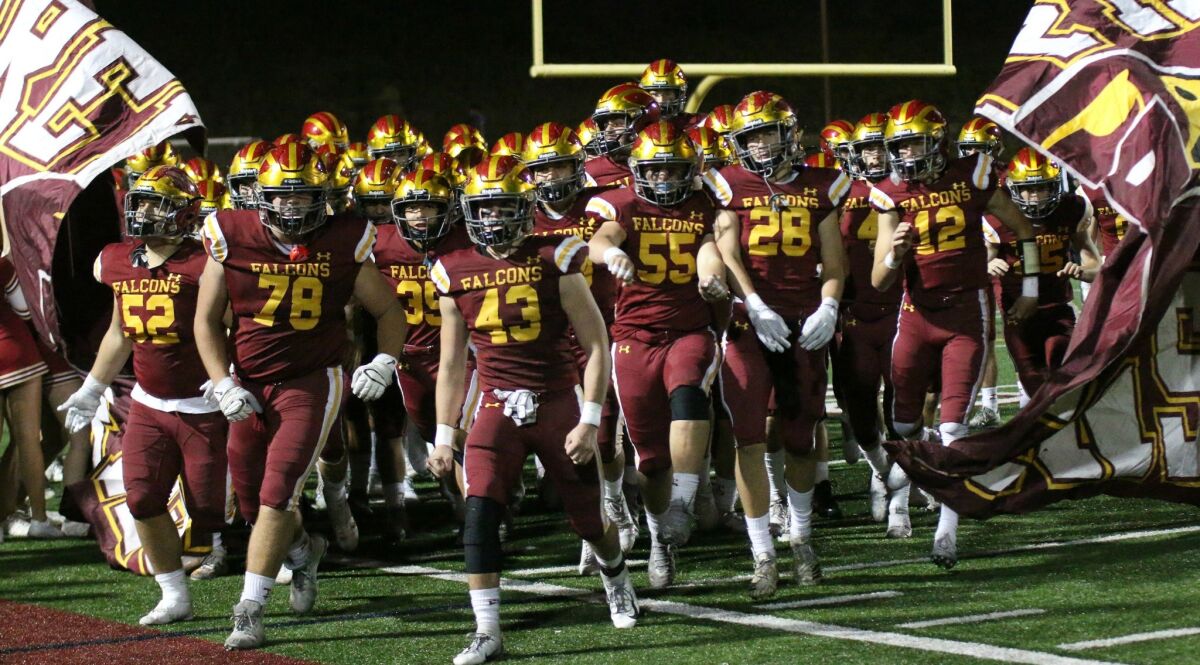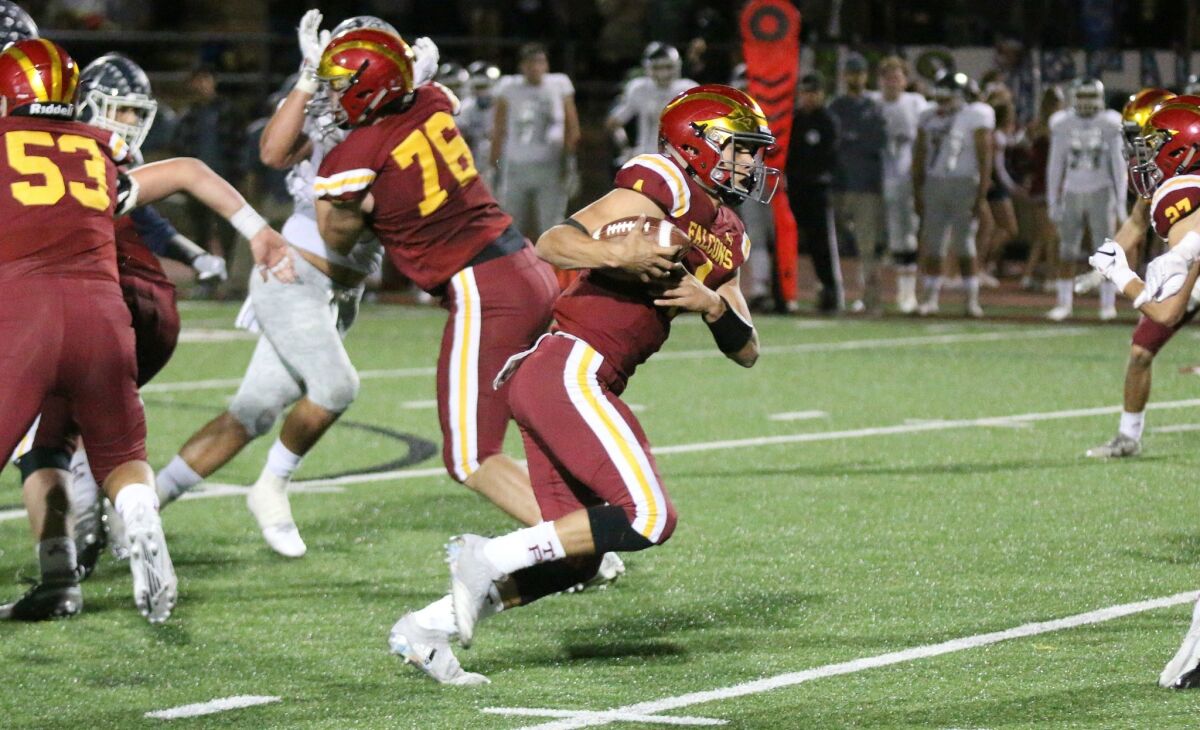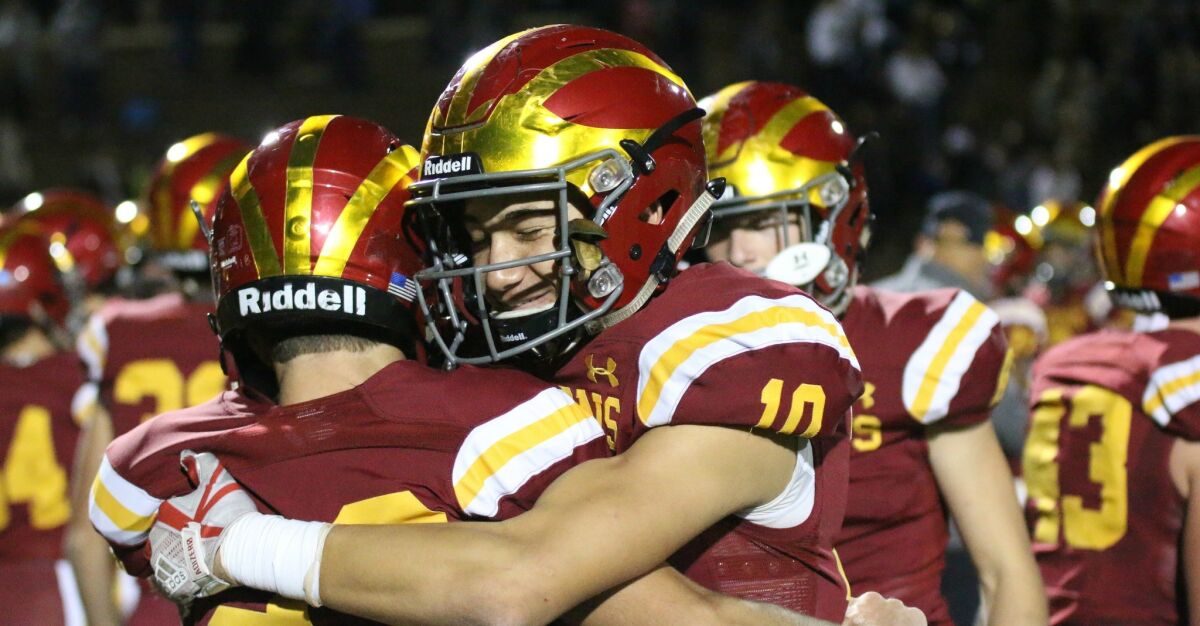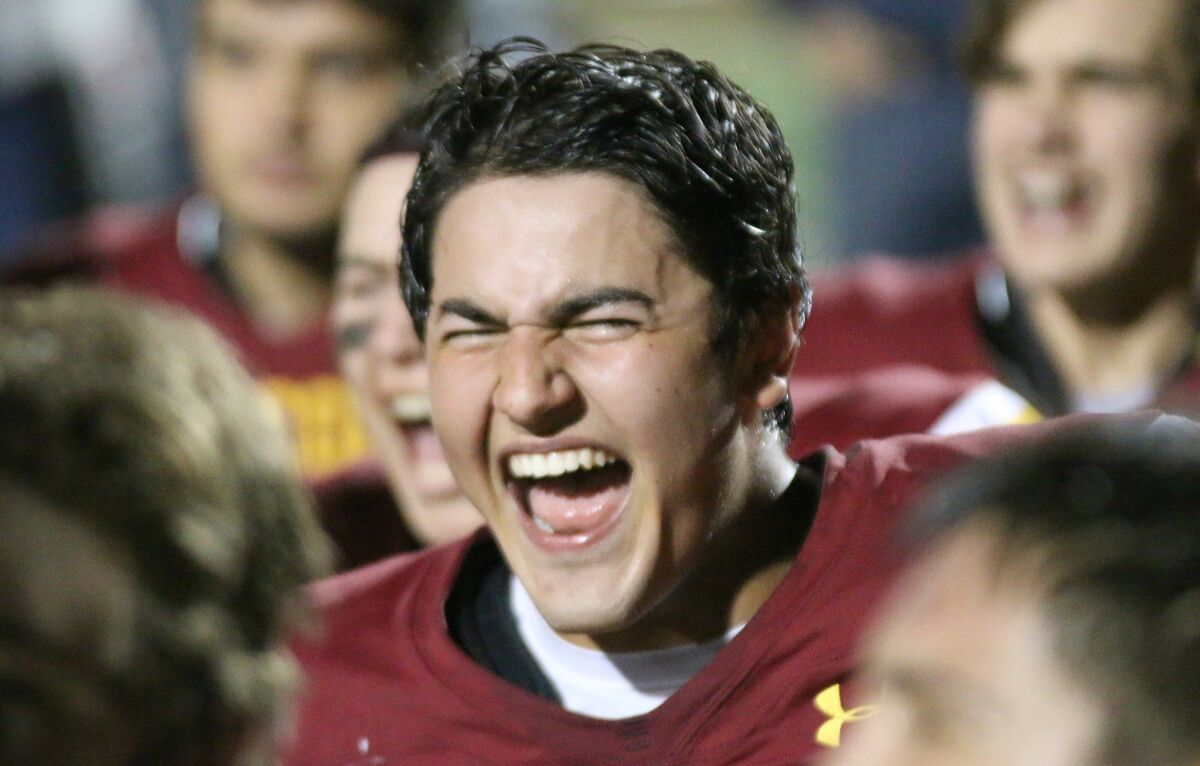 Get the RSF Review weekly in your inbox
Latest news from Rancho Santa Fe every Thursday for free
You may occasionally receive promotional content from the Rancho Santa Fe Review.