Torrey Pines girls, boys extend CIF swimming and diving championship streaks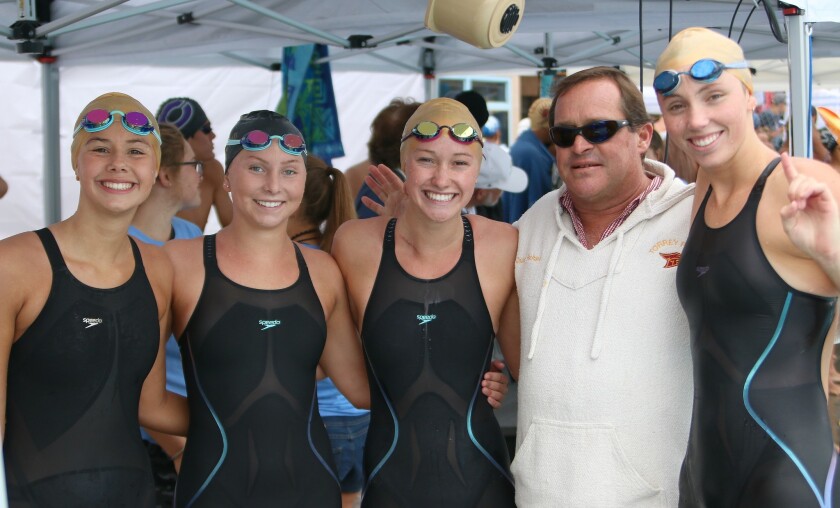 Entering Saturday morning's CIF Division I Swimming & Diving Championships at Granite Hills High School as eight-time defending champs, the Torrey Pines girls team wasted little time in letting their opponents know how serious their designs were on capturing their ninth straight.
The foursome of Natalie Boese, Dani Rosenthal, Leah Coffin and Kira Crage not only won the meet's opening event, the 200 medley relay (1:45.34) by nearly three seconds, they broke the San Diego section record in the process. And that was just the beginning.
The Falcon girls swept all three relays, won three individual races and outscored runner-up Carlsbad by over 200 points (534-334.5) to win going away (local rival Canyon Crest was seventh). They showcased their depth by having multiple championship finalists in six-of-the-seven individual contests.
"Being able to win all three relays (which are worth double points) put us in a position that's going to be a lot for any other team to overcome," said Head Coach Richard Contreras. "We have a lot of fast kids but to be able to win all three speaks to not only our speed but quality depth."
Junior Kira Crage was the centerpiece for the Falcons, repeating as the gold medalist in both the 50 (23.41) and 100 (50.06) freestyles and anchoring the first place 200 medley and 400 freestyle relays. She went into her first race, the 50, self-assured but not cocky and was pleased with the outcome.
"I was pretty confident but I knew there were a lot of fast girls and a lot of freshmen in the 50," she said after the medal ceremony. "So, I wasn't ignoring the possibility of someone busting out a super-fast time. Phoebe (runner-up Phoebe Betts of Canyon Crest) was not too far behind so it was a good race." She came back to claim the 100 by 1.4 seconds over teammate Mia Cragh and two other Torrey Pines swimmers—Jordan Naughton and Megan Woelkers—were in the top six.
Coffin led wire-to-wire to defend her 2017 victory in the 100 butterfly. It was decided in the first 50 as the Falcon junior opened up a body length advantage and easily held off Carlsbad's Lindsay Turner. "I went out pretty hard and that's what I typically like to do," said Coffin. "In the 100 fly you're probably going to 'die' anyway so you might as well go fast in the beginning." Later in the day, despite registering a school record time of 56.47, she was unable to match last year's double victory performance, getting touched out by Carlsbad star Anna Brooker in the 100 backstroke.
The girls' fourth titlist was another back-to-backer Amelia Cho. The junior had to hold off her classmate Rosenthal to do it, clocking 1:04.72 to take the top spot by just .05 seconds.
Even with all the individual heroics, the highlight of the day probably came in that first race, as Coffin described. "There might have been more pressure in that relay because you want to do well not only for yourself but your team," she said. "We've been trying to get that record since my freshman year so we're all pretty happy now."
The girls weren't the only standouts Saturday. Led by senior Jordan Blitz, the Falcon boys grabbed a fifth straight section crown, out-pointing Poway, 355-236, with Carlsbad third. It wasn't as easy as it looked. Unlike the girls' team, the TP boys were the one's getting a message in the first race.
The Falcons were .05 seconds short at the wall in the opening 200 medley relay, beaten by a Poway team clearly not sold on the notion that there wouldn't be competition for the team championship. The Cornell-bound Blitz, unhappy with his anchor leg on that relay, got back up on the blocks minutes later in the 200 freestyle and in a business-like manner re-set the tone by winning that race for the third-year-in-a-row, posting a time of 1:39.70.
"I wasn't too happy after the relay, I dove in weird and lost it for us," said Blitz. "I felt bad but knew if I worried about it I wouldn't do well in the 200, so I just had to clear my brain and start over.
"There was definitely pressure in terms of winning a third straight, but I think it's a privilege to feel pressure. It means you've done well before and expect to do well again." Blitz came back later to make it a double three-peat, breezing to a 10-second triumph in the 500 free (4:31.12).
"Jordan was his usual fantastic self, we're going to miss him" said Contreras, now in his 23rd year at Torrey Pines. "The fact that he's so fast, so reliable and just a great member of the team is hard to replace.
"Two other Falcon boys nailed down individual victories—juniors George Wythes (100 backstroke/52.40) and Kaito Koyama (100 breaststroke/57.31). Wythes has been one of the steady, background standouts for Torrey and Koyama got his first CIF title, nipping Patrick Henry's Carlson Temple by a mere .03 seconds. The foursome of Eric Workman, Koyama, Wythes and Blitz combined to win the 400 freestyle relay.
With Blitz the only 2018 point-scorer graduating on either team, you can count on Torrey Pines being right near the head of the class again next spring. For Contreras, it's a script that never gets old.
"It doesn't," he said. "It's always fun to watch the kids perform and I woke up Saturday morning like a kid on Christmas.
"Keeping our streak going can become a little obsessive. We all know it's going to end sometime but while we're on one, we're going to do everything we can to keep it going. We've had so many great kids come through the program and continuing to be successful is a way to recognize and honor the legacy that they've built."
---
Get the RSF Review weekly in your inbox
Latest news from Rancho Santa Fe every Thursday.
You may occasionally receive promotional content from the Rancho Santa Fe Review.