Torrey Pines girls swim team wins at Mission Viejo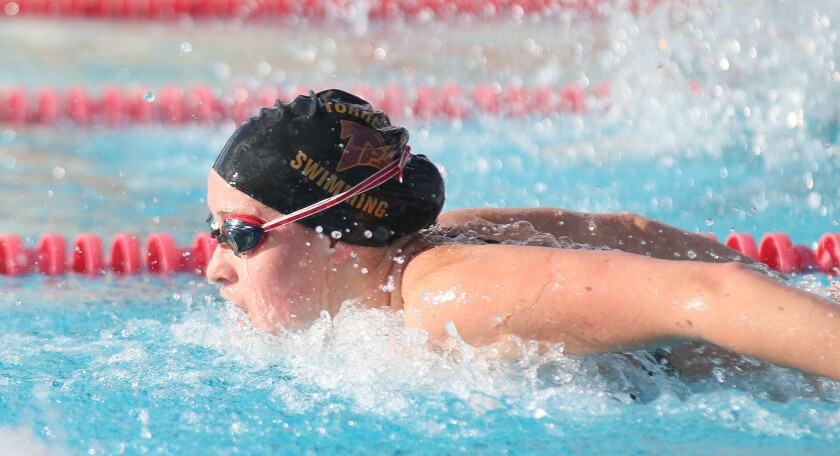 Last spring, the Torrey Pines' girls swimming and diving team won its eighth consecutive CIF Division I Championship, outscoring runner-up Carlsbad by 123 points. Veteran Torrey Pines Coach Richard Contreras has some bad news for would-be challengers.
"This year's team may be even better," said Contreras, now in his 23rd year at the school. "We didn't lose that many seniors and have a class of six freshmen girls that's dynamite."
The Falcons vouched for that optimism by winning the 46th edition of the prestigious Mission Viejo High School Invitational Saturday, March 24, at Woollett Aquatics Center in Irvine. The meet drew all of the top programs in the Orange Country area as well as a handful of premier teams from Central and Northern California. The Torrey Pines girls, who have won the event twice in the past but not since 2012, racked up 567 points with Campolindo (Moraga) taking second at 437. Contreras's boys squad placed a very solid third but it was the ladies getting the headlines.
Torrey Pines touched the wall first in three of the 11 swimming events. They captured both the 200 medley (1:46.54) and 400 freestyle (3:38.18) relays and after placing fourth in the 50 freestyle, sophomore sprinter Kira Crage took the gold in the 100 free, clocking 50.73.
Versatile junior Leah Coffin grabbed third in the 100 butterfly (56.34) and sixth in the 100 backstroke (59.46) and junior Amelia Cho went 1:06.25, good for fourth in the 100 breaststroke. Every one of Contreras's 16 swimmers accounted for points in individual races.
"We had star power and depth," said Contreras in retrospect. "From 1-to-16, our girls were fast and I felt we were the best girls' team there all day." Amazingly, not a single one of Saturday's 123 points was earned by a senior. Highlights from the aforementioned freshman class included a sixth place swim by Natalia Boese in the 200 individual medley (2:10.15) and point-scoring performances by Mia Kragh in both the 50 and 100 freestyles.
Coffin summed up the team's feelings following the win. "We were really excited," said the defending CIF title holder in both the 100 butterfly and backstroke. "Every year since I was a freshman, we have been trying to win this, so when we did, it was a big deal."
The Falcons will be prohibitive favorites to make it nine straight at the CIF Championships slated for May 9 (prelims) and 12 (finals) at Granite Hills High School and after the Mission Viejo outcome, may be looking for more.
"I think after winning at Mission Viejo last weekend, a lot more girls will want to go to the CIF State Championships (May 18-19 in Clovis)," said Coffin, knowing that the dates often conflict with club commitments. "Not everyone always makes it, but we've never won it before and it feels like there's going to be added emphasis this year."
Torrey Pines faces Avocado League West rival La Costa Canyon in a dual meet, Saturday, March 31, at the San Dieguito Boys and Girls Club's Pardee Aquatics Center in Solana Beach. The first event is set for 4 p.m.
---
Get the RSF Review weekly in your inbox
Latest news from Rancho Santa Fe every Thursday.
You may occasionally receive promotional content from the Rancho Santa Fe Review.