Week in Sports: Dec. 6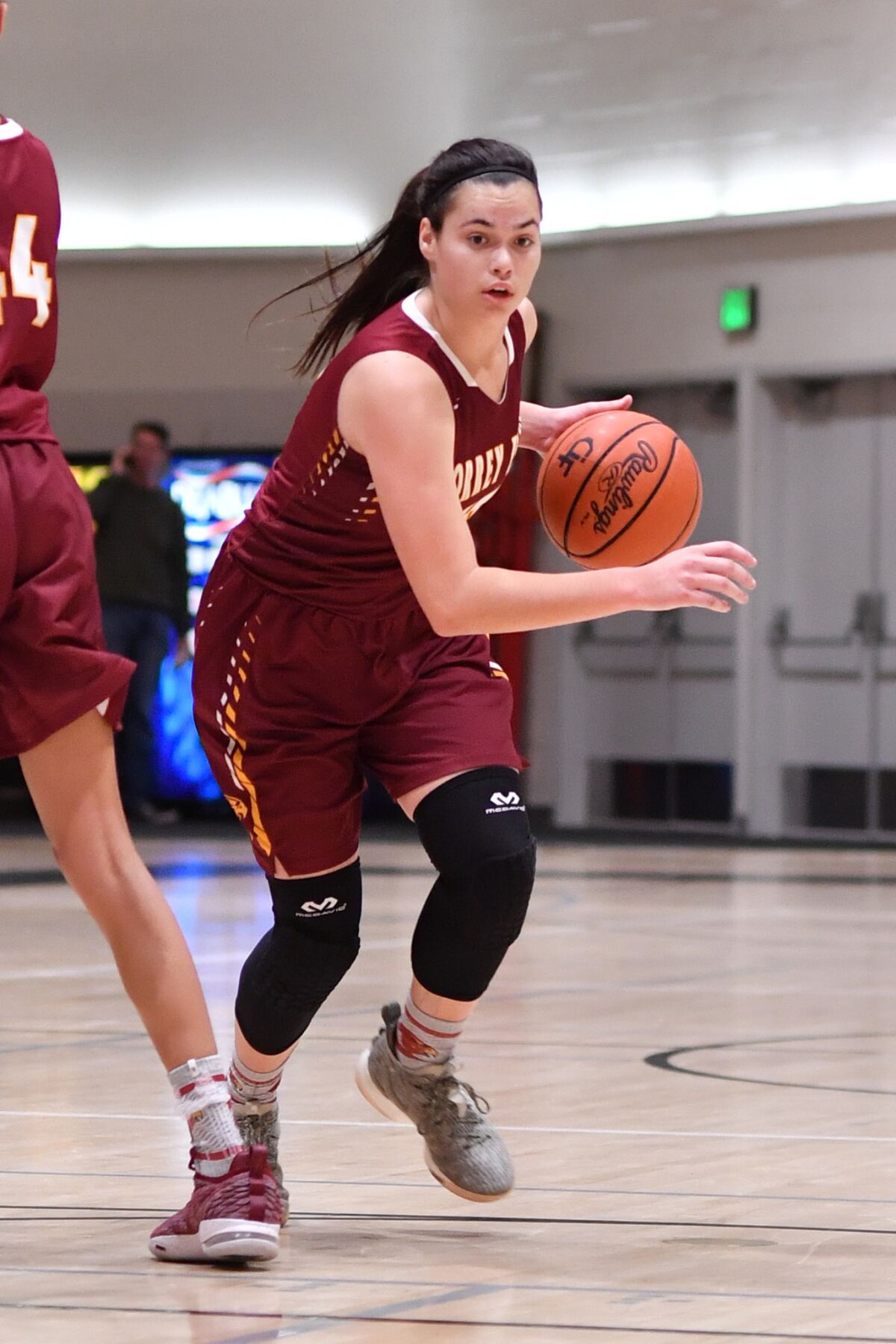 The Torrey Pines girls basketball team defeated West Hills 55-17 on Nov. 26.
Canyon Crest Academy girls basketball knocked off Division 1 opponent Rancho Bernardo High School Dec. 3 by a final score of 57 to 51. The Ravens were led in scoring by Andrea Behar with 17 points, Renza Milner with 11, and Elaine Wang with 10.
The Canyon Crest Academy girls basketball team is off to a great start so far this season. The team improved to 6 wins and only 1 loss so far.
Cathedral Catholic had its season-opening five-game winning streak snapped as the Dons lost to Francis Parker 62-61 in a Titan Challenge tournament game on Dec. 1.
Sophomores Thomas Notarainni and Obinna Anyanwu led Dons scoring 16 and 15 points, respectively.
Anyanwu also had 13 rebounds.
Alex Wade and Dillon Wilhite (also sophomores) each added nine points. Wade had seven assists and Wilhite had seven rebounds.
The loss followed a 74-38 win against Mission Hills in the same tournament four days earlier in which A.J. Maisano led the Dons with 17 points.
Notarainni added 15 points, and Wade and Anyanwu had 13 and 11 points, respectively.
Anyanwu also had 14 rebounds, Wilhite had eight rebounds, and Wade had five rebounds, six assists and five steals.
Another week, another championship, and another shot at a state title for Cathedral Catholic.
A week after defeating previously unbeaten Torrey Pines to win the San Diego Section Open Division title, the Dons defeated Narbonne of Harbor City 24-21 in the Southern California Regional Division 1-AA championship game on Nov. 30.
The Dons will play an opponent to be determined on Dec. 14 at Cerritos College. They'll make their third state championship bowl appearance since its inception in 2006.
The Dons in their two previous state bowl appearances defeated St. Mary's of Stockton in 2008 and 2016.
Shawn Poma rushed for 248 yards and two touchdowns on 27 carries to lead the Dons to their 12th consecutive victory. The Dons are unbeaten since experiencing a Week 1 loss to La Costa Canyon on Aug. 17.
The Dons broke a 21-21 tie on Dean Janikowski's 40-yard field goal with less than two minutes remaining in the fourth quarter.
Jalen Dye was the defensive hero with an interception in the end zone in the closing seconds, ending a potentially game-winning Narbonne drive.
La Costa Canyon standout Kristin Fahy took first place in the 40th Foot Locker West Regional at Mt. SAC.
The Stanford-bound senior ran the 5,000-meter course in 17 minutes and 52.8 seconds.
She and Darren Fahy, the 2011 winner, are the only siblings in regional history to win individual regional titles in one of the nation's most prestigious races.
Santa Fe Christian went 1-3 in the Excalibur Classic.
After opening the tournament with a 49-36 loss to Westview on Nov. 28, the Eagles defeated Fallbrook 42-34 the next day.
Freshmen Claire Kikkawa and Ruby Valasek led the Eagles, scoring 13 and 11 points, respectively.
Grace Dabasinskas added 10 points.
Anna Bliss scored four points and led the team with 14 rebounds.
The Eagles closed out the tournament with a 54-44 loss to Poway on Dec. 1 in which Valasek led the Eagles with 14 points and Kikkawa added 11 points.
The Eagles fell to 1-5 overall for the season.
Cathedral Catholic was 1-0-2 in its season-opening Cup tournament game through Dec. 1.
The Dons were scheduled to play St. Augustine in the semifinals on Dec. 3.
The Dons played to a scoreless tie with Carlsbad in their tournament opener on Nov. 28 and a 1-1 deadlock with Del Norte on Dec. 1.
The Dons defeated San Diego 4-1 on Nov. 30 for their first win of the season.
Sam Hazel, Matthew Goddard, Leo Castro-Guerrero and Aidan Hallinan each scored one goal for the Dons.
Jackson Kiil and Adrian Zimmerman each had one assist.
Aidan McSweeney had two saves for the Dons and Aidan Cerveny allowed one goal and had one save.
Torrey Pines kicked off its state title defense with a 2-1 victory over Granite Hills in a nonleague opener for both teams on Nov. 28.
Sydney Sanchez scored one goal and Tatum Lenain had one assist to lead the Falcons.
Cathedral Catholic opened its season with a 5-2 nonleague victory over Carlsbad on Nov. 28.
Sophomore Sophia Aragon scored two goals and had two assists to lead the Dons.
Kelsey Oen, Audrey Covington and freshman Mia Adams each scored one goal, and Kennedy Rawding and Marie Temprendola each had one assist.
Get the RSF Review weekly in your inbox
Latest news from Rancho Santa Fe every Thursday for free
You may occasionally receive promotional content from the Rancho Santa Fe Review.