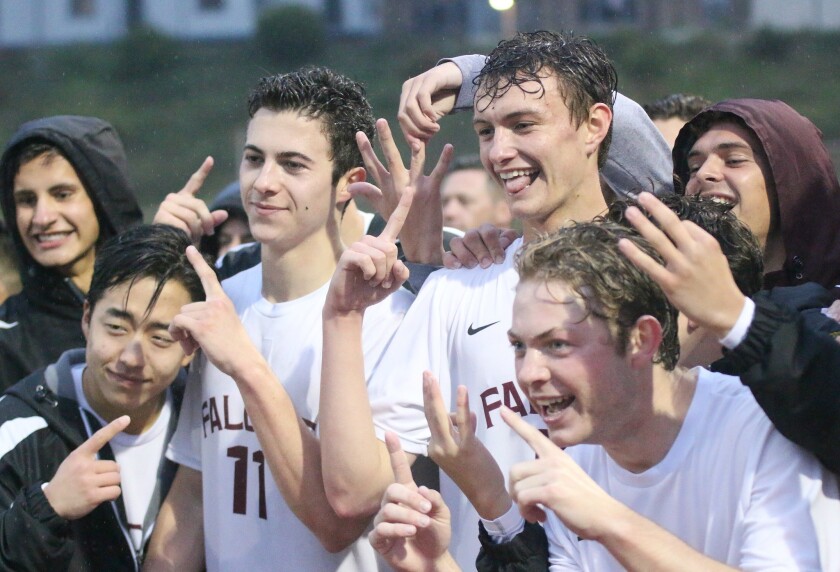 Saturday's CIF Division II Southern California Regional Boys Soccer Championship game was played under dreary skies and a stubborn rain that never let up for the nearly two-hour duration of the contest. Fortunately for the home fans, Coach Andy Hargreaves' Falcons were as persistent as the weather, scoring two goals in the game's final seven minutes to defeat Sotomayer (Los Angeles), 3-1, and capture their first regional title.
The triumph concluded a practically perfect 26-1-4 season, marred only by a 3-2 CIF San Diego Open Division semi-final defeat at the hands of rival La Costa Canyon—a squad that Torrey Pines had beaten twice and tied once during the regular season. Still, for a team ranked No. 1 in the state much of the campaign, winning the final game made it feel complete.
"It's amazing," said defender Connor Wood, one of 16 seniors on the Torrey roster. "After all four years seeing many teams that didn't do as well or get this close, to have this group come together and do this is the best thing ever."
Torrey Pines needed to beat nearby Cathedral Catholic in a play-in game just to qualify for the main bracket. They knocked out Arlington (Riverside), 3-1, in the quarterfinals before topping a pesky Montebello squad, 1-0, on a late score by senior Ryan Turek in the semi-finals.
With junior forward Michael Mines doing the legwork, the Falcons got on the scoreboard first Saturday. Sent into the game just minutes before, he won a contested ball about 35 yards out on the right side, made a nice run to be positioned for a clear, but tough angle shot. Instead of pulling the trigger, he laid off a beautiful crossing pass to oncoming senior Greyson Lerose who volleyed it back across the keeper and into the net at the 20-minute mark.
Sotomayor (22-4-3) answered back quickly as speedy Victor Carranza broke free up the middle and after almost losing the ball in the slick conditions recovered to beat Falcon keeper Paul Bartlett one-on-one at 18:20. That's how it stayed through halftime and three quarters of the second half. But as they had Wednesday vs. Montebello, Torrey was able to finish it in the final stages.
In the 74th minute, a tussle in front of the Wolves' goal resulted in the ball coming out to Cooper Geffen just beyond the box. The senior defender, who hadn't scored a goal all season, returned a low shot that found its way through the crowd and past an at least partially screened Sotomayer goalkeeper. Less than three minutes later, Torrey Pines put the icing on the cake when a high, spinning, free kick from distance by junior Ali Demiralp went off senior Santiago Majewski before hitting the ground propelling itself into the goal. It's a scenario that Hargreaves has watched play out with some regularity late in the season.
"We've been chasing a lot of games, trying to score goals early and when we don't we've gotten a little frustrated," said the veteran head coach. "So we tried to settle down, regroup and then go after them. Today, I think we showed a lot of discipline and just kept wearing them down—that was the difference."
The Regional trophy will be added to the Falcons' undefeated Avocado League West crown and helped take the sting out of the CIF section defeat. "I think we're always going to think about that moment, our only loss of the season," said Wood. "But this was a great game to end on." He felt that it was more than just talent that created the 2017-18 possible.
"Not only do we have great soccer players, but we are also really close. That's what made us a great team." Putting the season in context, Hargreaves' thoughts echoed those of Wood's.
"This was a really good group," he said. "They're good soccer players and play a style, moving the ball, that's good to watch but more importantly, they were very dedicated—always here, never off a practice.
"They're good guys on and off the field—and that's a big one. If you don't have that, you can't make a moment like this happen."
---