First round upsets leave CIF soccer brackets in disarray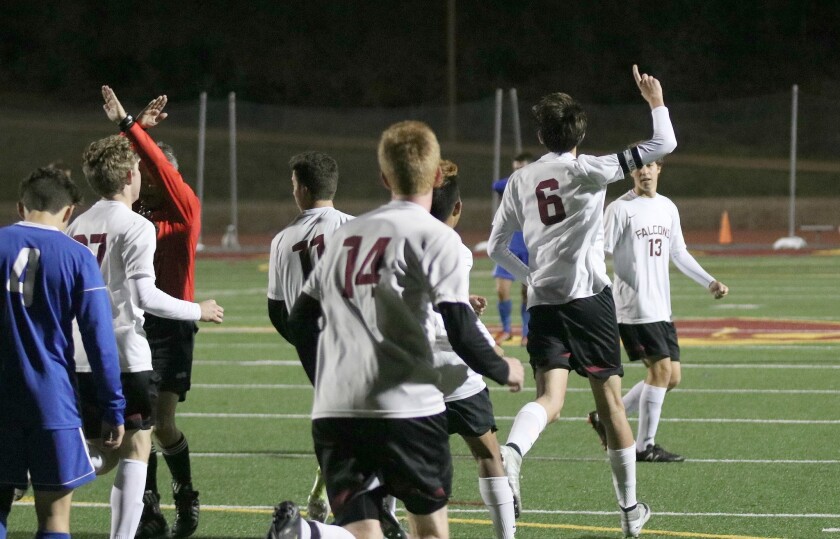 So much for the statistics, numbers and expertise that go into creating the power rankings used to select and seed the eight teams for the 2018 Open Division brackets for girls and boys soccer. On the girls' side, the top three seeds were all eliminated in Tuesday night's quarterfinal (first round) action and 24 hours later, that trio was joined on the sidelines by three of the top four boys seeds. Right in the middle of the craziness were a slew of highly-regarded Avocado League West squads.
One of the few favorites that advanced was the No. 1-ranked Torrey Pines boys' team (22-0-4) which knocked off visiting eighth seed Eastlake, 3-1. But with nearly three quarters of that contest gone, it looked like Coach Andy Hargreaves' Falcons might get swept up in the carnage. Down, 1-0, to a talented, aggressive Eastlake club, Torrey struck for two goals in less than two minutes to take control and leave the Titans asking what hit them.
In the 49th minute, Falcon senior Santiago Majewski got pulled down just outside the box on the left side. Majewski took the free kick himself, sent a low liner right in front of the goal and forward Denzel Sepeda lightly re-directed it in with his foot to knot things up at one. Then with 21:19 left in regulation, from distance, rock solid senior center back Erik Herrera sent a free kick into the box. The 6-foot-3 Majewski got his head on the end of it and, just like that, the Falcons were on top, 2-1, and headed to the semi-finals.
A phenomenal individual effort by Sepeda provided an insurance marker with 11:09 on the clock. The shifty midfielder dribbled through several Eastlake players, was tripped up and lost the ball inside the left edge of the box, battled to retrieve it, beat yet another defender along the end line and played a pass inside to fellow junior Ish Uno who pretty much had his choice with a short range volley. From Hargreaves' vantage point, it was simply a matter of getting his team playing its game.
"We started slow and didn't settle the game, which we never do, and then gave up a goal when we didn't expect it," said Hargreaves. "I think we kind of said 'whoa' and responded by getting after it a little bit. We scored and that changed the game. It might have a been a little of a confidence thing. I think they were a little nervous." Majewski, typically a more defensive-minded player, was the central figure in the comeback and a slight tweak by Hargreaves seemed to open the game up for the Falcons.
"We freed him (Majewski) up a little bit but that's who he is," said the veteran head man. "He runs and runs and runs and never stops. He's amazing.
"If we put him in the back, he slows up the game. If we put him in the middle, he runs the game. If we put him up front, he's on top of the ball." Majewski felt the two goals were quite different scenarios.
"The first one, I just tried to keep the ball low and hoped someone would flick it or tip it and that's just what happened," he said. "On the second, I was just trying to get my head on it and somehow it floated into the upper left corner. Honestly, I don't know what happened."
The Falcons will now lock horns with a familiar foe, fifth-seeded La Costa Canyon, an impressive, 3-0, victor over fourth seed Poway on the road. Coach Craig Dean's Mavericks (12-6-6) finished third behind Torrey Pines and Canyon Crest in the Avocado West.
The two sides have already met three times this season with Torrey Pines winning the first two by one-goal margins before seeing the third meeting result in a 1-1 draw just last week. Dean's club, which seems to be getting some of its swagger back after a brutal late January slump, handled a solid Poway team on both ends of the field. "I'm very happy," said Dean, who has a group that, when in form, can play with anybody. "We really took control from the beginning, knocked it around, worked off the ball and made smart choices. They had a few chances but overall, our defense smothered them."
Senior Collin Wagstaff scored a first half goal, then shortly after the interval, midfielder Brandon Lopez converted a PK and Dane Bruhahn finished off a Ryan Leonard rebound to complete the scoring. So will the fourth time be the charm next week? "That's the idea," said Dean. "It's too bad it's at Torrey. I was hoping we could get them in the finals, but I know we'll be up for it."
Hargreaves expects to see a more characteristic version of his team in the Feb. 28 semi-final. "Yeah, it is," he said, when asked if the first game of a one-and-out tournament like this might be the most difficult. "You come in out of system, kind of on the run. When we play LCC, we'll have had a week to prepare, four or five sessions to fine tune."
Not as fortunate as Torrey Pines and La Costa Canyon was Coach Tom Lockhart's Canyon Crest crew. On their home field, in their first-ever Open Division playoff game, the second-seeded Ravens (17-2-7) saw a superb season come to a shocking, abrupt end in a 1-0 overtime loss to backyard rival Cathedral Catholic. Coach Nate Hetherington's seventh-seeded Dons, well-organized and quick on the close out, controlled midfield and kept CCA's vaunted counterattack in check. The Ravens had beaten Cathedral, 2-0, on Jan. 23 and from Hetherington's viewpoint, "this was a similar game in that I thought we tried to play our brand of soccer and dictated the play. Last time, they caught us on two counters—that didn't happen today."
The game-winner came with 8:10 to go in the extra period. Off a set piece, senior captain Kane Barton sent a 30-yd. drive into the box. A couple of Dons tried unsuccessfully to flick it but the wind and front-of-the net scrum conspired, allowing the ball to find its way directly into the goal. The score came just five minutes after Canyon Crest nearly ended it, only to see Cathedral freshman Finn Mahoney sweep a loose ball off his own goal line from inside the net.
The outcome may have been more reflective of who wasn't on the field than who was. Anyone wondering just how important senior Danny Najifian is to the Canyon Crest attack got their answer Wednesday. With the creative, jet-quick Najifian, the team's leading scorer, sidelined by injury protocol, the Ravens had trouble getting their offense untracked. "We missed him—he's just a different level player," said Lockhart. "We just couldn't get our rhythm. I thought we were kind of flat at first and they played well. We won 17 games and only lost two, an outstanding season—but in the playoffs, everyone comes in equal and anything can happen."
Cathedral Catholic will face No. 3 seed San Marcos, a 1-0 winner over San Pasqual, in the the semis. In other first round boys' action featuring North Coast squads, Carlsbad fell, 1-0, to Granite Hills in D-1 and San Dieguito dropped a D-II play-in game at Helix, 3-2.
In the girls bracket, the top two seeds—No. 1 Torrey Pines and No. 2 Carlsbad, both from the Avocado West—were victims of penalty kicks on their home grounds. Coach Martyn Hansford's Torrey squad played visiting West Hills, a foe they had defeated early in the season, to a scoreless draw in the first half. The Falcons had the better of it in the last 40 minutes but surrendered a penalty kick early in the second session that proved to be their undoing.
"I felt confident going in and thought we'd found our form and were playing well after a little dip at mid-season," said Hansford, whose team is the two-time defending Open Division champion. "But as I've said before, we have a relatively inexperienced team and the occasion may have gotten to us.
"We didn't take our chances when we had them and this was one of those games where you felt the first team that scored was probably going to win. We had enough time to get it back and threw everything at them but couldn't get the equalizer. All-in-all, it was a brilliant season, we only lost two, and in some respects may have actually over-achieved."
Meanwhile, over at Carlsbad, Coach Dean Balent's Lancers looked like winners twice against Steele Canyon, only to have the rug polled out from under them in the end—seeing a 1-1 tie settled by penalty kicks. Following a scoreless first half, Carlsbad hit the scoreboard five minutes into the second. After a solo run up the left flank, junior Gabi Enciso laid a nice ball off to the Lancers' leading goal-scorer Lexi Wright. The magnificent freshman battled through the last defender, measured the keeper and scored her 17th of the season from a tough angle.
But Steele Canyon which drove much of the action and was on the Carlsbad end a majority of the game, broke through to level the count in the 48th minute. The contest eventually went to overtime and just over midway through the 15-minute golden goal period, Wright was pulled down in the penalty area. Lancer senior Molly Kube promptly buried the PK but it was waved off by the center official who had not blown his whistle to initiate the sequence. The Cougars' senior keeper Alyssa Warner stopped Kube's second attempt and the verdict came down to a penalty kick phase which was won by Steele Canyon.
Balent, whose team struggled early, appeared to be the better side in the late stages. The first-year head coach was philosophical afterward. "Certainly, the girls are disappointed, but they had a great season," said Balent. "Avocado West champions, No. 2 seed in the Open Division—they have a lot to be proud of.
"We have a young roster and this was a good learning experience. We plan to be back here next year." Also in Open Division action, third seed Cathedral Catholic was downed, 2-1, by No. 6 Poway.
Other local results in the girls' division included Canyon Crest's, 2-1, triumph over San Pasqual (D-II) and a 1-0 loss by San Dieguito against Mt. Carmel. La Costa Canyon, seeded No. 2 in D-I, earned a first round bye and will face Oceanside at home Friday night.
---
Get the RSF Review weekly in your inbox
Latest news from Rancho Santa Fe every Thursday.
You may occasionally receive promotional content from the Rancho Santa Fe Review.