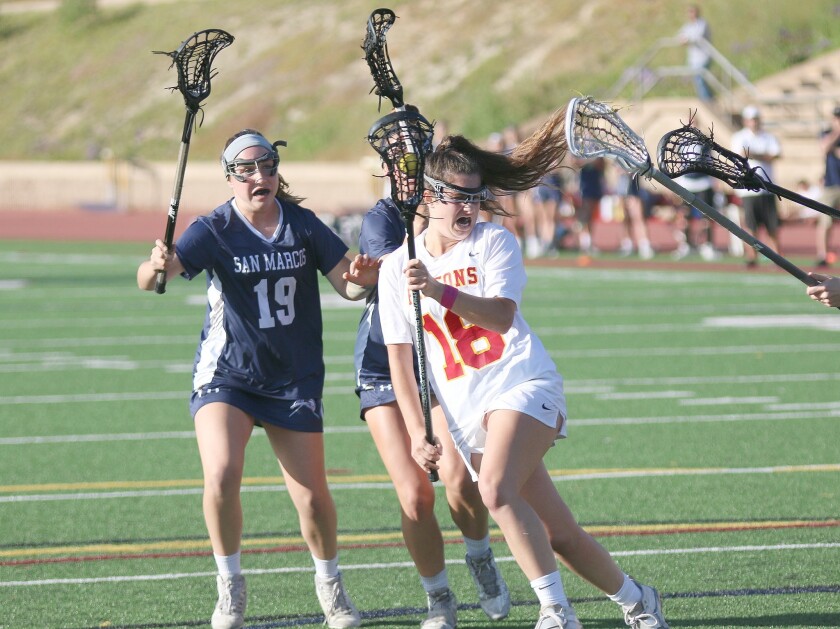 It was the match-up everybody wanted and now they will have it. No. 1 seed Torrey Pines (21-2) against No. 2 seed La Costa Canyon (21-3) in the CIF Open Division Girls Lacrosse Championship Saturday, May 12, at San Dieguito Academy. Game time is 5 p.m.
The pre-season expectation was that these two teams would be in this very spot and it has all the makings of an epic collision. The two teams represent the last six CIF championship winners (Torrey Pines the past two years and LCC the four prior). They've split their two regular season games in 2018, La Costa Canyon taking a 10-5 decision March 7 and Torrey Pines prevailing by the same score on April 24—and by the looks of things in Wednesday night's two semi-final contests, both sides will be ready to bring their best in the title tilt.
Coach Katilin Doucette's Torrey Pines squad got multi-goal performances from four players in knocking off fifth-seeded San Marcos, 12-8. The host Falcons were up 7-4 at halftime and pushed the margin to six goals late in the game. Doucette liked what she saw.
"There were little things I wish we would have done better, things we'll have to clean up for Saturday, but overall, I feel good," she said. "The defense looked good, they were closing space, and offensively, we had a bunch of different players scoring. They were face-guarding Arielle (Shahrabani), one of our top scorers, but we were able to adjust and get opportunities for other players." Mia Kohn and Courtney Wayland collected three goals apiece for Torrey Pines while seniors Addie Stewart and Kelli McKinnon chipped in with a pair each. Stewart talked about the difference in her team since that early season loss to LCC.
"Just our team chemistry," she said. "We're a very new team and the first LCC game was practically the first game we'd played together—we just didn't know each other. In the beginning, it was kind of hard to know your place on the team but now we all work together so well.
"You could see the difference on the field tonight, how comfortable we are together, how we back each other up and how much trust we have in each other."
Two hours later, La Costa Canyon punched its ticket to the championship, using a nine-goal second half blitz to level third-seeded La Jolla, 15-6, in a contest that seemed much closer than the final score. LCC senior Tessa Bass scored the game's first goal but the Mavericks wasted a number of good scoring chances and La Jolla took advantage, rattling off four straight goals, and appeared poised to potentially blow the game open.
LCC's comeback was a largely a tour de force by Bass, who put the Mavericks on her back when things looked grim early. The senior attacker, who racked up six goals on the night, tallied twice to pull La Costa Canyon to within one at 4-3. Her fourth tied it at five with 2:12 remaining in the first half. Junior Sarah McLean's marker a minute and 26 seconds later sent the Mavs into halftime with a 6-5 advantage, providing the framework for a second half barrage that caught even LCC Head Coach Casey Rector by surprise.
"Everything happened pretty fast and I looked up at the scoreboard and thought 'how did we get a six-goal lead?'" said Rector. "I think we were just hungrier. At halftime we knew we had 25 minutes to go out and prove something---to be the team that deserves to go to the championship game and not just barely squeak in.
"And they went out and just dominated. It was awesome." Rector had huge praise for the catalyst of the comeback. "You could really see some senior leadership on the field and Tessa really took charge," she said. "She's that kid who's so hungry. She says 'give me the ball, I'll go.' She puts a lot of pressure on herself but she gets it done." Seniors Caitlin Jones and Lina Savage netted two goals apiece as did McLean and her sister, Ari. Junior Lexi Likins was a dangerous, connective presence in the midfield.
So the stage is set for Saturday and the coaches anticipate a skirmish that could go either way.
"The teams are both well-coached and have great players," said Doucette. "We need to finish—finish the job—and it's got to be a fill field effort.
"We're going to need our defense to step up as it has been doing, Sophia (Lerose) to be on in goal, making saves, and our offense has to have a good amount of productivity from more than just one or two players."
Rector feels her club is peaking at the right time. "I feel like we're training and playing real well right now and we're so excited that it will be Torrey Pines on the other side Saturday," she said. "The playoffs have heightened our focus. Our seniors were freshmen on the last LCC team to win CIF—they know what it feels like to win and what it feels like to lose.
"It's awesome to have the two best teams out there and I think it's going to be a very close game. Nothing's going to matter but who shows up."
The significance of the game is not lost on the Falcons' Stewart and her teammates. "It's so important for us to finish this job," said Stewart Wednesday night, echoing her coach. "I think we can't even focus on the other team, just focus on ourselves and just push as hard as we can.
"Saturday will be the last game of my lacrosse career. It's been so special. For the seniors, I think it's about going out and playing the 'best last game of our lives.'"
---