Torrey Pines, Canyon Crest girls impress at CIF Golf Championships
Torrey Pines and Canyon Crest finished third and fourth respectively in the 2018 CIF Division I Girls Championship, contested Monday, Oct. 29, and Wednesday, Oct. 31, at San Diego's Admiral Baker Golf Course. The two squads were fourth and fifth in the section when all divisions were factored in.
The top five teams in the Division I competition were exactly the same as last year with Rancho Bernardo's 36-hole total of 43 over par grabbing first. Scripps Ranch and Torrey Pines actually tied for second with at +75 with the former garnering second place based on their sixth scorer (top five are used for team placement purposes). Canyon Crest came in at +82 with Point Loma fifth at +131. Mater Dei Catholic captured the Division II and overall county title with a blistering two-day total of just 10 over par.
"Mater Dei Catholic and Rancho Bernardo winning was kind of what we expected," said Torrey Pines Head Coach Chris Drake. "But for us to basically finish tied for second in D-I and tied for third in the county, we're really happy."
Canyon Crest was second and Torrey Pines fourth after Monday's first round. The Ravens rode the brilliant six-under par 66 turned in by Michelle Yi, which gave her the individual 18-hole lead. The sophomore carded eight birdies, six on the front nine, before slipping to eight over par on Wednesday, finishing in a tie for fifth at 146, best of all local participants.
"Michelle is really strong and long off the tee—her distance sets her apart," said CCA Head Coach Dustin Lackey. "Like all of our golfers, she's young, committed and has had her ups and down.
"This was a cool experience for her and gave everyone a chance to see what kind of potential she has. When she gets a little more experience and the mental component down, she has a chance to be a force in San Diego."
Yi was one of 11 players to better par in the first round when the Admiral Baker South Course was playing 5,519 yds. The South layout was stretched to 6,129 yds. for the second 18 and the scoring responded accordingly. Only two players were under par, one being individual medalist Brianna Navarrosa, whose 68 made her the only competitor to shoot two sub-par rounds. She finished at a seven-under 137, coasting to a six-shot victory over teammate Ivanna Montemayor.
Yi was followed in by four other North Coast players who placed in the top 25—the Torrey Pines trio of senior Yuree Huh (T12/+5), junior Summer Yang (T14/+6) and sophomore Libby Fleming (T18/+7), as well as Carlsbad freshman Meghan Royal (T14/+6). Ending up just outside the top 25 were the CCA duo of sophomore Miranda Xu (T29/+12) and freshman Sofina Firouzi (31st/+13).
The 5-foot-1 Huh earned praise from Drake. "She's a little warrior," said Drake with admiration. "She's had a lot going on and some tough times recently but she's playing the best golf of her high school career, especially today." Another Falcon shining Wednesday was Yang whose one-under performance pushed her up the rankings after an 8-over opening day outing.
Yi, Huh and Wang all secured invitations to the November 7 CIF Regionals, scheduled for Brookside Country Club in Pasadena.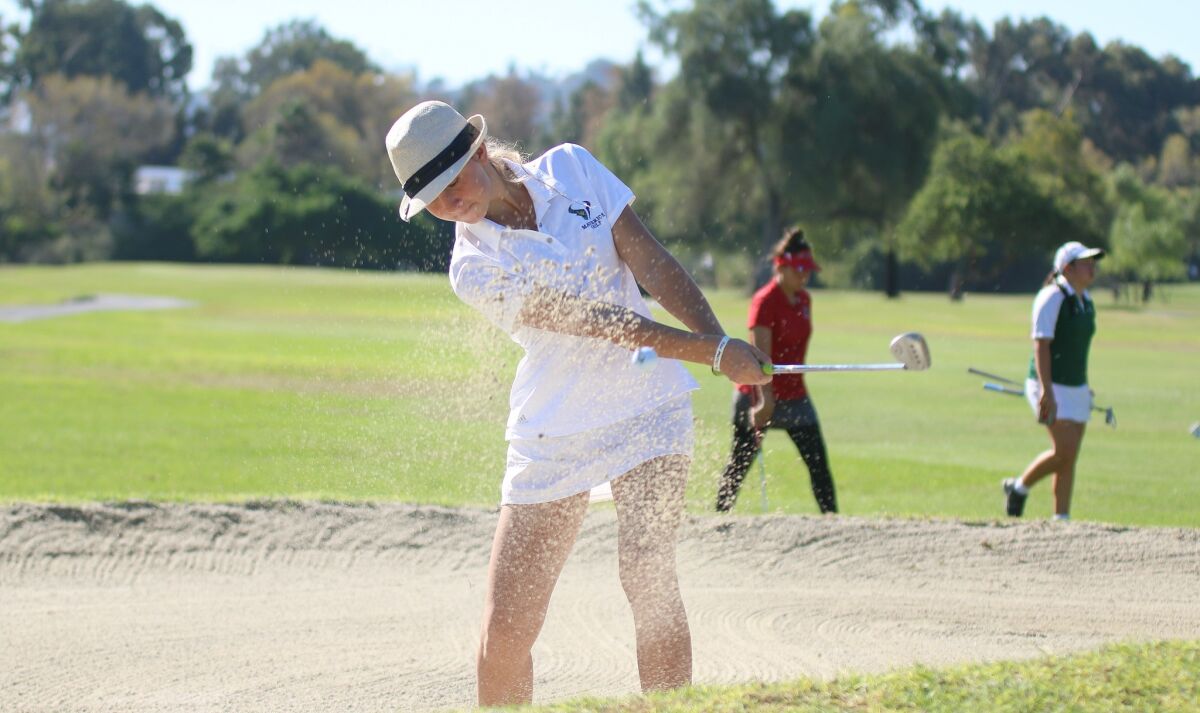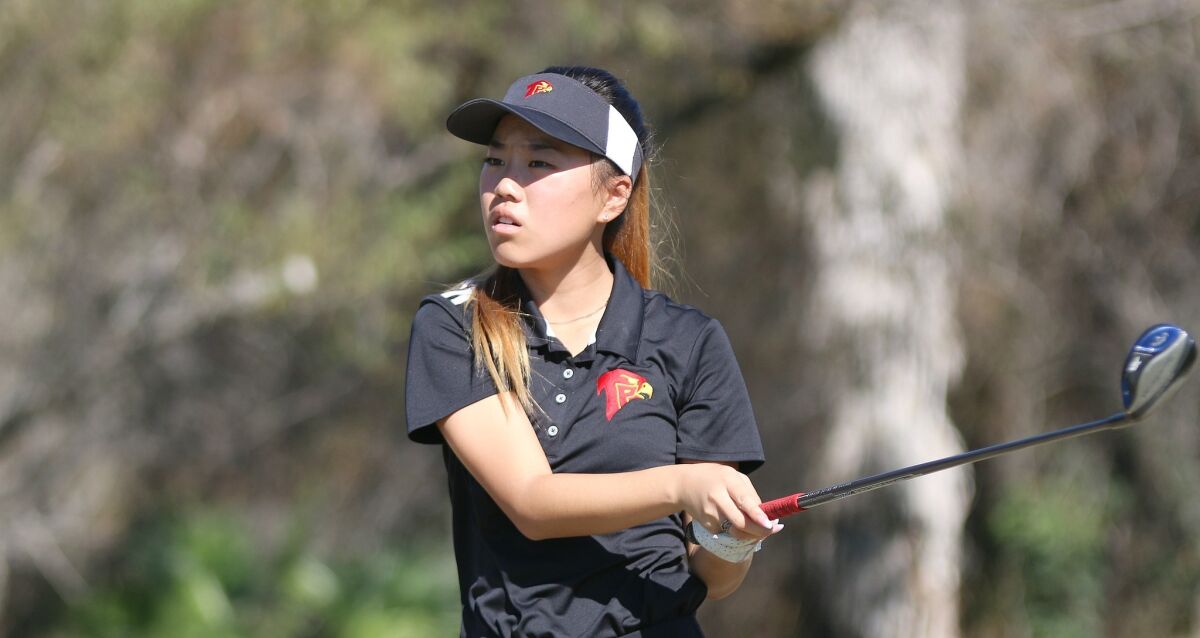 Get the RSF Review weekly in your inbox
Latest news from Rancho Santa Fe every Thursday for free
You may occasionally receive promotional content from the Rancho Santa Fe Review.