Crage, Torrey Pines girls looking to extend CIF swimming and diving dominance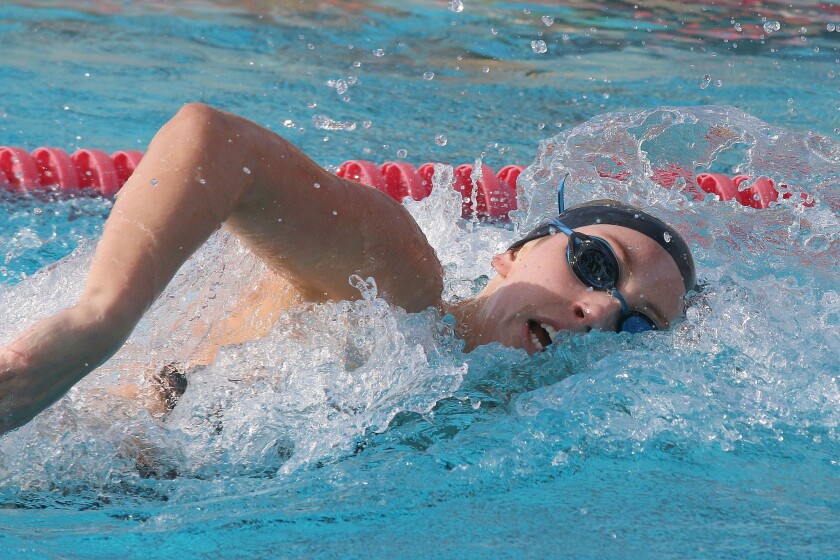 Just over a month ago, veteran Torrey Pines Coach Richard Contreras said that this year's girls swimming & diving team might be better than last year's CIF Division I champions. With the 2018 section meet looming May 11 at Granite Hills High School (prelims are May 9), it's a statement he's not backing away from.
"We have an incredibly fast returning crew and added five fast freshmen," said Contreras, whose squad finished 126 points ahead of runner-up Carlsbad last spring. "Of the 15 or 16 we enter, all of them could make it back to finals and, if that happens, it would be awfully tough for anybody to overcome."
The Falcons, who are trying to extend their CIF championship run to nine consecutive years, have returning gold medalists in five events and are defending titleholders in all three relays.
Juniors Kira Crage (50 & 100 freestyle) and Leah Chaffin (100 backstroke & 100 butterfly) were double winners as sophomores and another junior, Amelia Cho will be looking for her second straight crown in the 100 breaststroke. The talent level on Contreras's roster is such that Cho might not even be the fastest Falcon in her specialty.
Fellow junior Dani Rosenthal, who was second in both the 100 breaststroke and 200 individual medley at the 2017 meet, and Cho have been sharing the limelight this season. "I'm not sure who should be the favorite," said Contreras. "They've been touching each other out all year—one or the other, you never know."
Speaking of unknowns, despite the brilliance of his freshman class, Contreras is not quite ready to go too far out on a limb at a meet of this caliber. "It's hard to know with younger kids," he said. "Sometimes they come to this meet for the first time, see everybody there in one place and get a little awestruck—I've seen it a lot.
"Someone like Natalia Boese might have a chance to win. She could upset Leah in the 100 backstroke, but Leah's experienced. She's awful tough and savvy and that's the kind of thing that usually separates good swimmers in a big-time environment."
Torrey Pines' dominance also crosses gender lines. Paced by senior Jordan Blitz who is looking to close out his prep career by completing a three-peat in both the 200 and 500 freestyle, the Falcon boys are heavy favorites to secure their fifth straight CIF title.
Both teams will have what Contreras calls a "dress rehearsal" this Saturday in the Avocado West League Championships at the San Dieguito Boys and Girls Club's Pardee Aquatics Center in Solana Beach. Torrey Pines will square off against the likes of Carlsbad, once again likely to be the girls' closest CIF challenger, defending CIF Division II kingpin La Costa Canyon and Canyon Crest.
On a unit loaded with exceptional swimmers, Contreras points to Crage as a leader the others can turn to. The 5-foot-10 sprinter moved to California with her family from Florida prior to her sophomore year and had an immediate impact when she joined the Torrey Pines program, winning two individual and two relay events at the CIF Championship and setting school records in both the 50 (23.60) and 100 (50.73) freestyles.
"Kira is very competitive, she's racer," praised Contreras. "When she gets on the blocks, everybody stops and looks, she's the one who gives us our swagger and our girls rally around her.
"She's also a person who acknowledges her talent and works hard to make the most of it. She is 100 percent in for training and getting better—developing her talent. She appreciates her physical gifts.
With the biggest meets of the year fast approaching, Crage talked to this newspaper about her swimming background, what she loves about the 50 freestyle and her favorite class at Torrey Pines.
Q—How and when did you start swimming?
CRAGE—Well, I didn't start swimming seriously until I was about 12 but I'm pretty sure I learned how to swim before I could walk. My family was super water-oriented.
Q—What do you mean by "super water-oriented?"
CRAGE—I grew up in New Smyrna Beach, Florida (just south of Daytona Beach), we had a pool and lived on a lake near the beach. We also lived on a boat for eight months when I was 6.
Q—Can you expand on that last little detail?
CRAGE—We sailed across the South Pacific. My grandparents had a 42-ft. catamaran and circumnavigated the globe. My mother, father, older brother and I joined them from the Marquesas Islands to New Zealand.
Q—So, with all of that aquatic background, how is it that you didn't start swimming seriously until you were 12?
CRAGE—My mom (Wendy) was a collegiate swimmer at University of Miami and made the Olympic Trials as a breaststroker. She made sure my brother and I were good swimmers but she knew the difficulty and kind of commitment needed to be a high-level swimmer. Knowing that, she kept us out of the more organized aspects of swimming until we were older. I think that was a good thing because I know a lot of people my age who are burnt out.
Q—Were you involved in other sports?
CRAGE—I played a bunch of other sports. I was on a state championship U-13 basketball team, as a freshman in high school I played for the varsity tennis team that went to the state tournament and also played a lot of soccer.
Q—So back to swimming—how did you get your "serious" start and do you have any early memories?
CRAGE—I went to a summer camp for about a month in 2010 and a year later I joined a local club team. My coach was Steve Lochte, Olympian Ryan Lochte's father, and my first meet was the Ryan Lochte Invitational. He (Ryan) actually showed up. It was cool seeing him and he signed our bags. I swam the 50 breaststroke—it used to be my best event.
Q—What do you consider you best event and favorite event now?
CRAGE—I think the 100 freestyle is both my best and favorite event. I used to say the 50 freestyle because it's over so quickly, but now I think I do better and feel better in the 100.
I like racing it. I don't feel the 50 really gives me enough time to get into my rhythm and if I extend to the 200 freestyle, I die. The 100 works much better for me.
Q—Still, you are also the defending CIF D1 titlist in the 50 freestyle as well as the 100. Is it a love-hate affair with that race?
CRAGE—In the 50, every little thing matters and has to be perfect. Your start from the blocks, how you enter the water, your breakout, the number of dolphin kicks you take, no breathing, staying in stroke and your flip turn—they all have to be exactly right.
Having said that, I think there's something to be said about the "racing" aspect of it. Everyone is super-talented and if you get all the details down, I think a lot of times it's just whoever wants it the most—whoever is the most competitive.
I'm still trying to work it out. Every day, doing the same things. That repetition is what makes you technically perfect—trying to nail it every time.
Q—How much of swimming do you think is mental?
CRAGE—I just did a whole project about that for school. The mental aspect of swimming is so huge. Your belief in your capabilities is key—everyone has great physical capabilities.
Sometimes I surprise myself—just the commitment level of going to practice every single day—even as a 12-year-old, two hours a day, five days a week. It's a fun sport and you get very close to your teammates but it is really hard when you get serious.
Q—How are you approaching all of the high level high school meets on the horizon?
CRAGE—The Avocado West League is first. It's important to go and win but I won't be worrying about trying to get best times there, just win. CIF is very important, especially this year. We're the defending champions and always want to win from a team perspective, but since the college signing period for me is next fall, I'd like to better my short course marks and that will be the time to do it.
There's also the State Championships. We'd like to try to win it, but it's in Clovis (near Fresno) and doesn't end until 5:30 p.m. It falls on the same day as the Torrey Pines Senior Prom. We're still trying to work through that. We think we've got a good chance to win if everyone goes. I made the finals last year but didn't place very high. I want the team to do well and make the podium in my races.
Q—At the Avocado West League meet, you'll be going against your club teammate Rachel Rhee of La Costa Canyon in the 50 freestyle, an event where she's the two-time defending CIF Division II champion. How do you see that race going?
CRAGE—Rachel and I get along well and we train well together. We always push each other and she has definitely made me a better swimmer. She's tough competition so the 50 is going to be a good race.
Q—With its focus on individual performance, do you consider swimming a team sport?
CRAGE—I'd say swimming is a team sport, but I get that in some ways it isn't. When it comes down to it, you're on your own in the pool—the time on the scoreboard is yours. But when I'm swimming for my team, I feel like I go faster. I'm trying to win for Torrey Pines and myself. Also, the relays are the best part of high school swimming—we're all swimming as a team and for each other.
Q—People often say swimmers are not very good at land sports. Is there a land sport you think you might be pretty good at? Which one would be the most difficult for you?
CRAGE—With my background, tennis would probably be my second sport after swimming and maybe basketball.
A lot of swimmers are definitely not fit for land sports. For me, something like cross country, anything with a lot of running, would not be my forte. Even in swimming, I try not to go more than 200 freestyle.
Q—You've got a weighted GPA well over 4.0. What has been your favorite class so far at Torrey Pines?
CRAGE—I really like a class called AP Seminar with Ms. Callender. It's kind of like a research class. We talk a lot about current events and it includes speaking and writing. We discuss a lot of topics that really make you think. I think English, particularly writing, is my best subject in school."
Q—What kind of things do you like to do in your spare time?
CRAGE—When I'm not swimming or doing homework, I'm usually surfing with friends or family. I definitely like surfing in San Diego better than where we were in Florida—the waves are bigger, the water's a little cleaner and the surf scene is more popular.
We live in Cardiff, so Cardiff Reef is my favorite spot. I haven't tried Swami's yet. I'm a little scared—It's more crowded and I know it's like a super-localized spot. I don't want to mess with anyone, get on their bad side. I'll have to establish myself.
Q—Is there any swimmer that you've admired or modeled yourself after.
CRAGE—My mom. I think she's always supported me and I don't think I'd be where I am now if I didn't have that help. She's always been there to help me with my stroke and technique. I wear her University of Miami swim cap all the time.
Also, Olympians like Missy Franklin, Elizabeth Beisel (she went to Florida) and Dana Vollmer. I like all of them and pretty much any female or male making the Olympic Trials because I know the level of commitment and how much hard work it takes. They're all an inspiration.
Q—You mentioned college recruiting. What are your plans/hopes there?
CRAGE—I'm not sure. I've talked with a few Ivy League schools. If not a California school, I might go Ivy League. I'm looking for academics first with swimming coming right behind—the best school I can get into and still swim. I would be willing to make some adjustments but right now I have no idea where it's going to end up. I'm just trying to have options and figure out the best fit. I'll be as surprised as anyone else when the decision is made.
---
Get the RSF Review weekly in your inbox
Latest news from Rancho Santa Fe every Thursday.
You may occasionally receive promotional content from the Rancho Santa Fe Review.