Torrey Pines girls top LCC for third consecutive lacrosse crown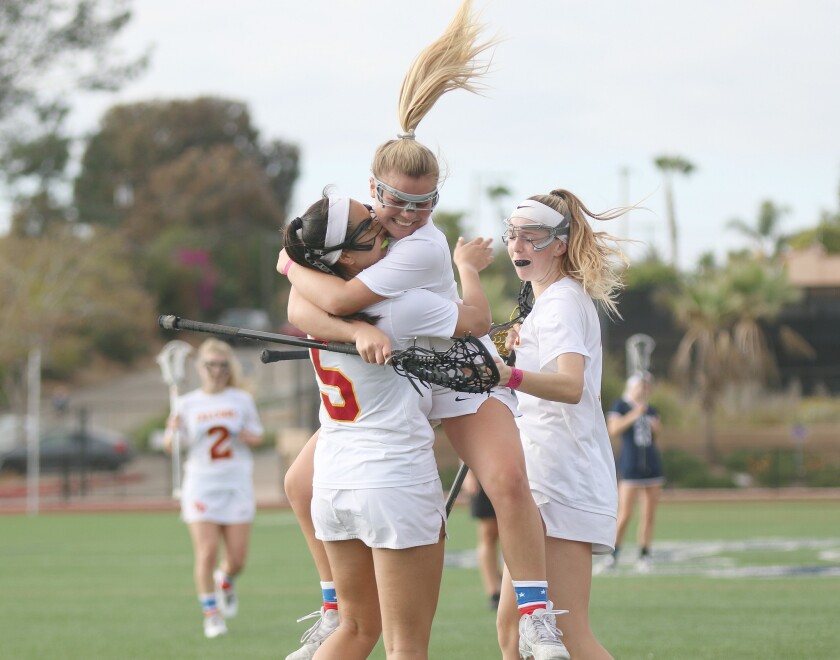 On the strength of a stingy defense and a brilliant five-goal performance by senior Arielle Shahrabani, top-seeded Torrey Pines overpowered second-seeded La Costa Canyon, 10-5, in Saturday's CIF Girls Lacrosse Open Division Championship game at San Dieguito Academy. The victory extended the Falcons' string of CIF titles to three-in-a-row and upped their season record to 22-2. LCC completed its season 21-4.
While Torrey Pines Head Coach Katitlin Doucette acknowledged the components of Saturday's win, she gave equal credit to what happened two months ago when these two teams met for the first time. In that one, a determined LCC squad had its way with the defending champions, winning 10-5 at TP, a result that Doucette called "a slap in the face" for her relatively inexperienced team.
"That first loss was probably the best thing that could have happened to us," said Doucette. "It forced us to understand that we were going to have to gel and become their own team and weren't going to be able to live off the successes of past seasons.
"This is a special team in that it was able to handle that loss, learn from it and move forward." Did it ever move forward.
Coming in with a 16-game winning streak, the Falcons hit the scoreboard first Saturday, Shahrabani doing the honors three minutes and 20 into the game. Senior Kelli McKinnon won the ensuing draw and took the ball all the way to goal and it was 2-0 just five seconds later. The Mavericks recovered with senior Tessa Bass canning a shot that would halve the margin at 19:20. Shahrabani's second goal shortly thereafter made it 3-1 and a subsequent LCC yellow card gave Torrey a power play. Sophomore Tatum Lenain made the Mavs pay, sweeping behind the goal and bulling her way out front before jamming it home to give the Falcons their first three-goal edge.
La Costa's Lexi Likins made a big get off the next draw and it resulted in a goal by Caitlin Jones, making the score, 4-2. That's how it stayed until the five-minute mark. Lerose, likely the best goalie in the section, came off her line to make an interception, quickly lofted a long pass to Lenain who fed Shahrabani for her third tally. Shahrabani collected a fourth at 3:27 and despite the fact that more than 25 minutes remained, one sensed things were getting critical for the Mavericks, down 6-2.
Pushing for something to provide some momentum going into halftime, Mavs' star Jones earned free position directly in front of the goal and buried her shot with 12 seconds left to seemingly give LCC new life. But in the biggest 12 seconds of the game, Torrey won the draw and earned a re-start on the wing left of the LCC goal. With just four seconds to go, McKinnon and Lenain worked a nifty give-and-go that concluded with the latter beating the clock and the Maverick "D" by less than a second, simultaneously sticking the proverbial dagger in LCC's short-lived momentum.
"That killed us," said four-time CIF-winning LCC Head Coach Casey Rector. "The game wasn't over but that's not how you want to go into halftime."
The pace of the game slowed considerably in the second session. Still trailing, 7-3, the Mavericks netted the first goal of the second half at 14:52 when freshman Ari McLean got free inside, had her shot blocked but immediately scooped up the rebound and made sure the second time, bringing LCC back to within three goals.
The Mavericks kept fighting but couldn't score. Then with just under eight minutes remaining, another critical sequence occurred. On the heels of a point blank LCC miss that could have cut the gap to two, Torrey Pines went the other way and Shahrabani was once again on the delivering end, making it 8-4.La Costa Canyon never got any closer.
"Arielle was pretty much unstoppable today," said Doucette. "Before the game, I turned to the seniors and said 'we're going to need you guys to have a big impact today.' She did and they did just that." The 10-5 final was the exact same score as both of the previous match-ups between the two sides and Doucette found some similarities in the way her club succeeded.
"Our defense came up huge in both of the big wins against them this year," said Torrey Pines Head Coach Kaitlin Doucette. "Whether is was forcing tough shots or Sophia (Lerose) coming up with big saves in goal, we kept them in check most of the game." After coming up with key plays throughout the contest, Lenain reiterated her coach's thinking.
"We work on defense every day and it showed how far we've come today," said Lenain, who won a CIF title as a freshman on the soccer team. "Both teams were good and it came down to who wanted it more and I think we definitely did."
With the post-game hoopla spinning around her, Rector had more questions than answers. "This one stings for sure—I just don't think we showed up today," she said. "We didn't really have a great game at all and Torrey Pines was the better team.
"We couldn't get to goal. We were coming off two really good playoff performances and I don't know why we weren't able to get anything going offensively. I wish we could re-do it—I'm bummed for our team, bummed for our seniors."
Lerose summed it up for Torrey Pines. "Today, we wanted to protect our title and as seniors finish with three-in-a-row. We were executing everything up-and-down the field, working so hard and ultimately we wanted it so bad—and we got it."
---
Get the RSF Review weekly in your inbox
Latest news from Rancho Santa Fe every Thursday.
You may occasionally receive promotional content from the Rancho Santa Fe Review.