Former Torrey Pines soccer standout Garrett Heine is all business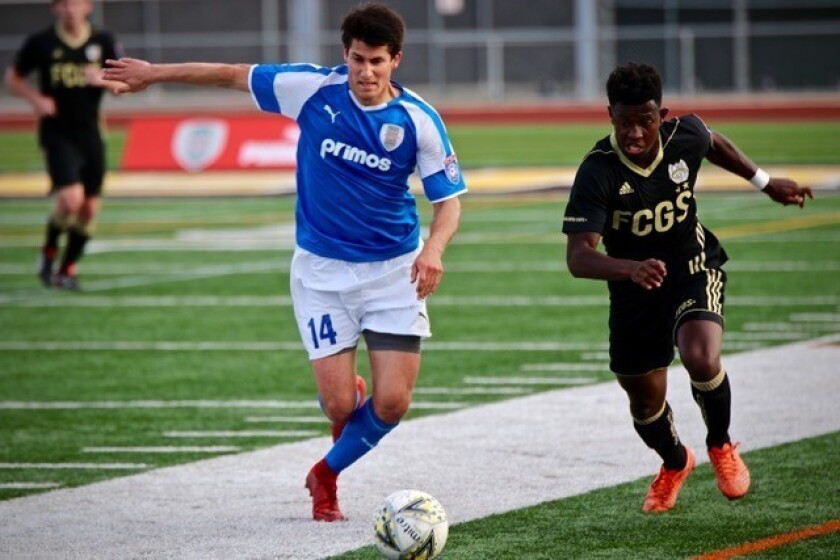 Garrett Heine's passion for soccer took him thousands of miles from Carmel Valley.
The opportunity to play professionally while pursuing a career in finance has brought him back home.
After concluding his collegiate career at George Washington University, the former Torrey Pines High School standout is playing for San Diego's Albion Soccer Club's pro team.
He's juggling his role on the team with a career in finance that he's launched at Meketa Investment Group, based in Carlsbad.
Albion SC clinched the National Premier Soccer League Southwest Division championship on June 22. It will host a NPSL West Region quarterfinal game on July 7.
Heine is savoring the moment.
"These games are really important to me," Heine said. "I know my career is limited, I don't know how many games I'll have left at a high level.
Heine began playing organized soccer with the Albion youth club team. He still has contacts with the club, and last year he inquired about a returning to the club.
"I still wanted to play soccer at the highest level I possibly could," Heine said. "I got in touch with them and was able to join the team."
Heine admits that out of college he hoped to play professionally in the more advanced United Soccer League, and expectations were bolstered when he signed with an agent.
Heine excelled collegiately at Division I GW. He was named the Atlantic 10 conference midfielder of the year his senior year in 2016. As a junior the previous year he led the Colonials to their first regular season Atlantic 10 Conference championship since 2011.
Several factors were working against him though. Heine had to complete graduation requirements that limited his availability for early practices. That he was playing at a mid-major program probably didn't help either.
Whatever the reason, the call he was waiting for from the USL never came.
"It kind of shot down my dreams pretty quickly," Heine said. "It was a big goal for me coming out of college."
It may have been a blessing in disguise though.
Had he signed with a USL team, Heine would be toiling in the minors at low wages for years pursuing dreams of playing for a Major League Soccer team.
Playing at a high level while advancing his professional career has given him the best of both worlds.
"I'm grateful to be playing for the Albion while I'm still working, being able to play soccer and start my career in finance, which is where I eventually want to end up," Heine said. "Long term I didn't see myself making a career out of pro soccer."
Heine recently completed his one-year anniversary at Meketa. In his role as a performance analyst he's responsible for crunching numbers for institutional investors, such as public pensions, mutual funds and endowments.
He cited leadership – Heine was the team captain at GW his senior year – along with communication skills, time management and discipline among the qualities he developed on soccer fields that are benefiting him in business.
"Learning to deal with stress and pressure, doing your job and being consistent translates directly to every day of being a professional in any industry you go into," Heine said.
Juggling the demands of his career in finance while playing soccer professionally has pushed his time-management skills to the limit.
Heine has to be up at 5:30 a.m. four times a week for practices that start at 7 a.m. He frequently stays late at the office to make up for the time he's late getting in – and that's on top of the 40-plus hour work week.
He hasn't yet decided whether he'll continue playing after this season.
"I'd love to play next year but it's a pretty tough balance trying to maintain my job here and also developing myself in the finance industry," Heine said.
Heine said following his passion for soccer helped him discover opportunities he might not have otherwise found.
He cites soccer as a factor in choosing his career path. He said he hadn't decided on a major when he got to GW, noting it was his teammates majoring in finance with Wall Street contacts who convinced him to study finance.
"I would encourage any youth soccer player to let soccer enable your life as much as possible because it truly impacted mine and I'm grateful for the sport. Playing the sport at a youth level, going to college getting a scholarship gave me the education and eventually brought me back to San Diego, basically led me to my professional career in finance," Heine said.
"Soccer eventually moved me back to San Diego and helped me get my first job."
---
Get the RSF Review weekly in your inbox
Latest news from Rancho Santa Fe every Thursday.
You may occasionally receive promotional content from the Rancho Santa Fe Review.