Heine, Torrey Pines storm past LCC; CIF football playoffs loom
The No. 1-ranked Torrey Pines football team clinched the 2018 Avocado West League crown and completed an undefeated regular season with a 38-0 shellacking of No. 7 host La Costa Canyon Friday night, Oct. 26. The victory, in front of a packed house, lifted the Falcons to 9-0, sealed the No. 1 seed in the upcoming CIF Open Division Playoffs and gave them possession of the Beach Bowl surfboard, awarded to the winner of this spirited local rivalry.
For the eighth consecutive year, the two schools have exchanged the bragging rights associated with winning the contest (LCC captured last year's meeting, 27-21. In analyzing the one-sided affair, Head Coach Ron Gladnick was effusive in his praise of the effort he saw from the Falcons.
"Tonight is a testament to the character of our football players," he said. "We just have amazingly high character kids who work 12 months a year to be in position to win football games when it matters most."
Torrey Pines not only shut out the Mavericks, who, before losing three of their final four outings, were ranked No. 2 in the section, but piled up 479 yards of total offense, 364 of it on the ground. Leading up to the game, Gladnick said that if the Falcons stayed true to their principles and executed, they would be in good shape—that was the case Friday.
"We played great defense, we ran the ball effectively and threw the ball when we had to," said Gladnick.We basically played close to our potential tonight."
The Mavericks mustered just three first downs all night and were unable to connect when several long pass plays were open. A couple of nifty Aiden Lippert kickoff returns gave them opportunities to get on the scoreboard but the Torrey Pines defense was up to the task when necessary.
"We felt coming in they would have difficulty running the football on us, we're just bigger and stronger than them this year," said Gladnick. "That proved to be true and once they became kind of one dimensional, it took a lot of pressure off our defense. We were able to pin our ears back and get after the quarterback a little bit and give our kids a chance to make plays."
The Falcons got started on quickly on offense, finding the end zone less than three minutes after taking the opening kickoff. On a first and 15 play senior Mac Bingham swept around left end and raced 32 yards for a touchdown. That, 7-0 ledger, stood through the end of the first quarter but the floodgates opened in the second.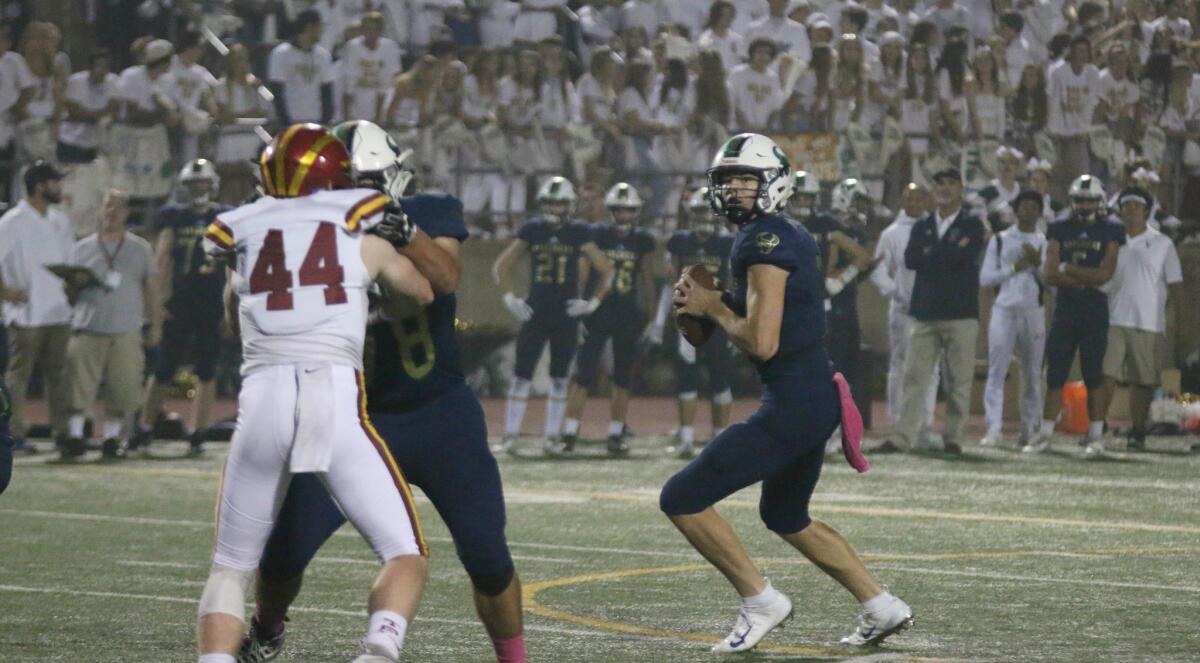 After a Luke Mikolajewski interception thwarted an LCC offensive push, the Falcons drove 75 yards, the finishing touches coming on a 13-yd. cutback run by senior Caleb Jackson. With 9:30 to go in the half and the score 14-0, La Costa Canyon, was unsuccessful on a fake punt attempt, turning the ball over on its own 49.
The rest of the half was senior quarterback Jason Heine's show. The shifty, ballhandling maestro took matters into his own hands. He drove the Torrey into the red zone and covered the last 12 yards with a scamper around right end at 7:25. Three minutes and 16 seconds later, on a quarterback keeper, he burst up the middle cut right and raced untouched for his second TD. A late Ted Merrifield field goal sent LCC into the locker room trailing by 31 and looking for solutions. According the Heine, the team was prepared for a signature performance.
"This game has been marked on our calendars for the last year and from the first play of the game we were rolling," said Heine, who ran for 115 yards and completed six passes for another 66. "The plan was to run our stuff, keep it on the ground and just pound it.
"You never expect a first half like that but you always want to come out with the mindset that you're going to do it every time."
Despite the deficit, the Mavericks were in no mood to lay down and started the second half with an onside kick. Unfortunately for Head Coach Sean Sovacool's squad, Torrey Pines handled the kickoff and went right back to work. A minute and 50 seconds into the second session, Heine got the right edge again and bolted another 32 yards for his third score of the night, putting any thoughts of a Maverick comeback to rest.
Bingham, particularly potent in the first half, toted the ball 19 times for 145 yards and as a team, the Falcons averaged over seven yards per carry. Heine seemed to echo some of his coach's sentiments when talking about the special quality of this team.
"We've got great camaraderie, everybody loves each other and that shows on the field," said Heine. "I think we have the best coaching staff in San Diego and one of the best offensive lines I've ever seen."
Sovacool had a first hand look at what Torrey Pines can deliver. It left him obviously disappointed but still high on his own team and what it can accomplish in the post-season."
They (Torrey Pines) are a good football program that is trending up, but I didn't expect that," said Sovacool, whose team has had trouble responding to key injuries. "You put yourself behind the ball against those guys and they'll turn it into a wildfire.
"As good as they played, we're better than that. I know it and that's what makes it hurt. We lost to three teams that are in the CIF Open Division Playoffs and beat the other one. We set the bar high and now we start 0-0 as the No. 1 seed in the CIF Division I bracket—not a bad spot to be in. Our goal is still to win a CIF championship and we'll be ready to make a run." The Mavs will have a first round bye.
Down the road, Gladnick will begin preparing his outfit for a semi-final Open Division clash in two weeks with Avocado West foe San Marcos, a team that led the Falcons, 10-7, at halftime of an October 12 game that was canceled by lightning.
"We're really blessed to be relatively healthy right now," said Gladnick looking forward. "We've got our bumps and bruises like everybody else but we've got two weeks to heal up. Whoever we're playing we'll be ready to give them our best."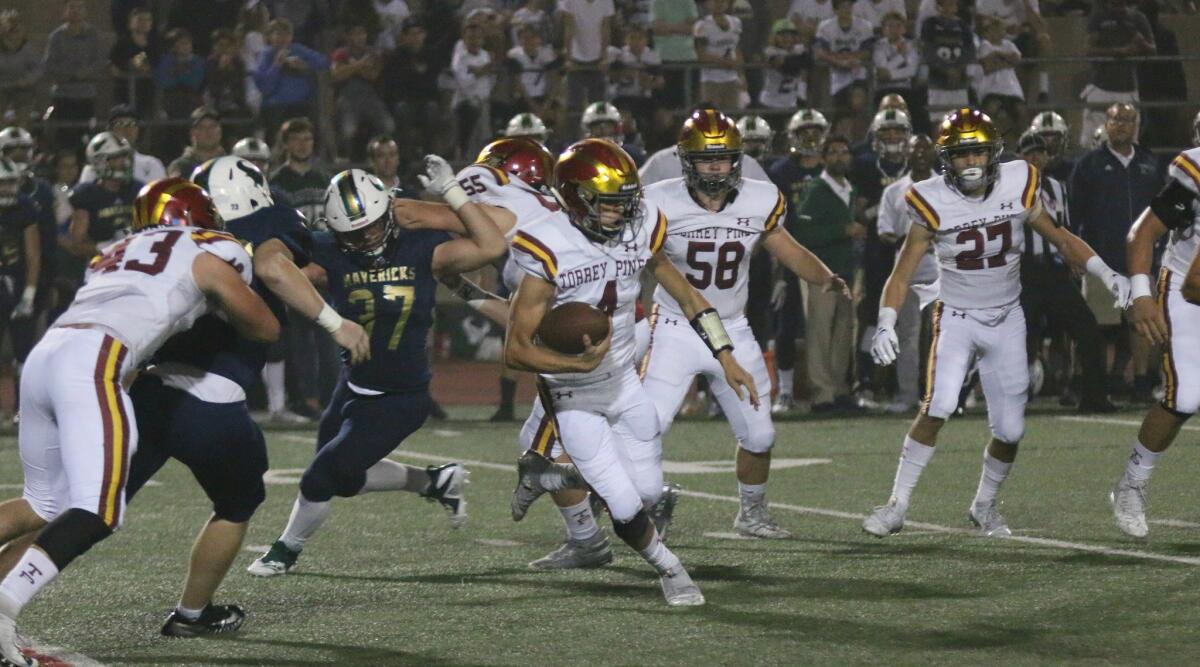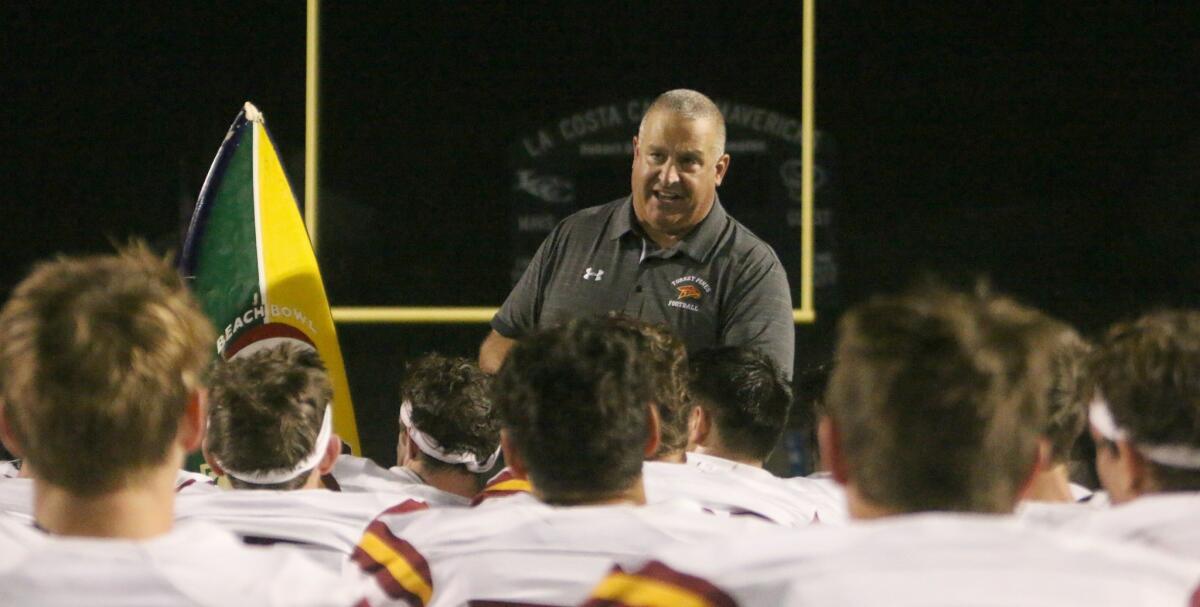 Get the RSF Review weekly in your inbox
Latest news from Rancho Santa Fe every Thursday for free
You may occasionally receive promotional content from the Rancho Santa Fe Review.