Big second half lifts Cathedral Catholic to CIF Open Division football title
Leading, 17-14, at halftime Saturday night in Southwestern College's Devore Stadium, the Torrey Pines football team was 24 minutes away from winning a CIF Open Division Championship, preserving its perfect record and garnering an invitation to the CIF Southern California Regional Championships.
Unfortunately for the top-seeded Falcons, they were facing an opponent in No. 2 seed Cathedral Catholic that was willing and able to thwart their season-long ambitions. The bigger, deeper and equally-talented Dons completed a comeback from an early 14-point deficit to defeat Torrey Pines, 28-17. They won not only the spoils mentioned above, but bragging rights along the 1.8-mile segment of Del Mar Heights Rd. that separates the two campuses in North County.
The early returns were encouraging for Torrey Pines. Senior Mac Bingham, who rushed for 131 yards on the night, 115 in the first two quarters, accounted for the first two touchdowns of the contest. Score No. 1 came less than five minutes into the game. Immediately following what looked like a drive-killing holding penalty, he burst through the right side and out-sprinted the Cathedral secondary 38 yds. to the end zone to finish an 80-yd. opening drive.
On a fourth and three stop, Torrey halted the Dons' first possession and took over just its side of midfield. Shifty senior quarterback Jason Heine broke a big run that put the Falcons inside the Cathedral five-yard line and on the first play of the second quarter, Bingham swept right for the final two yards, diving to the pylon.
It took just 48 seconds for the Dons to respond. One play after a roughing penalty wiped out a big Torrey defensive play, Cathedral's senior running back Shawn Poma ripped through the Falcon front and raced 65 yards to cut their deficit in half. Ted Merrifield's 36-yd. field goal with 4:53 to go in the half made it 17-7 but, again, the Dons had a pivotal reply.
With under 2:00 minutes to halftime, quarterback DJ Ralph completed a 30-yd. pass on third and eight that put his team inside the red zone. At the one-minute mark, Ralph looped a four-yd. pass to Zion Sorani on a fade route in the left corner of the end zone and suddenly, it was a contest that was suddenly up for grabs at the break.
"Going into halftime down by three as opposed to 10 is a big difference," said Cathedral Head Coach Sean Doyle. "When we walked into the locker room, I could tell right away that our kids weren't bothered.
"A lot of these kids were on the State Championship team two years ago. In that game we were down by 14 in the first half, tied it, were down by 14 again in the fourth quarter, tied it, and then went on to win it. They've been there and know you play until the end."
Late in the third quarter, the Dons took their first lead (21-17), a two-yd. Poma run completing a drive that was carried by a mixture of Poma runs and quick-hitting Ralph passes. Doyle could see the tide turning.
"After halftime, I think our defense started settling down and not trying to guess at things," he said. "They (TP) do a nice job with their deception and carrying out their fakes.
"We just started taking care of our responsibilities defensively. We knew we were going to score some points. Shawn Poma (173 yds. rushing) is the best running back in the country and he took over."
With 7:51 to go, Torrey Pines faced a fourth and one at its own 43. Betting on Bingham with time running down, Head Coach Ron Gladnick sent his star up the gut and Cathedral blocked him inches short. One minute and 44 seconds later, confronting a fourth and five situation, Ralph connected with Poma on a wheel route up the left seam and the senior standout did the rest, going 38 yards for his third touchdown. With an 11-pt. edge, Doyle was able to fully unleash his defense which overwhelmed Torrey Pines in the final minutes.
Gladnick, a class act in victory and defeat, was straightforward with his post-game analysis of a second half that saw his high-powered offense go scoreless. He agreed with Doyle's take on the Don's late first half touchdown.
"That was a killer," said Gladnick. "It took a lot of momentum away and they outplayed us after halftime. I feel they were able to pick it up in the second half and we couldn't match it.
"I think we were a little tired. They wore us down a little bit. We were playing more kids both ways while they were two-platooning and it took its toll. You've got tip to your caps to them. They made more plays than we did."
In the end, it was a night that featured two extremely high caliber foes that gave the 8,000-plus in attendance a championship-level performance. Doyle felt his team's road to the title clash started in earnest back in August when it was defeated soundly in its season opener at La Costa Canyon.
"Taking nothing away from LCC, which was outstanding, that first game we played was the worst we've played in years," he said. "It also may have been the greatest thing because our kids got focused and realized we're not just going to be able to walk on the field and be great—we're going to have to work hard and practice."
For his part, Gladnick left the field Saturday proud of his team and the campaign it turned in. "It's obviously very difficult right now," he said. "We felt that we could compete in this game and I felt like we did compete.
"I think this was one of the best teams in the history of Torrey Pines and its legacy will be that they were one of the most competitive, toughest, hard-nosed teams around—resilient and able to perform well in almost every big game. They did whatever they had to do to be successful."
Doyle, whose team won its second CIF Open Division crown in three years and is headed to the CIF Southern California Regional Championships in two weeks (the state final is scheduled for Dec. 8), chose to defer on the topic of what his team's place will be when ranked against its predecessors.
"I'll tell you in four weeks," he said with a smile.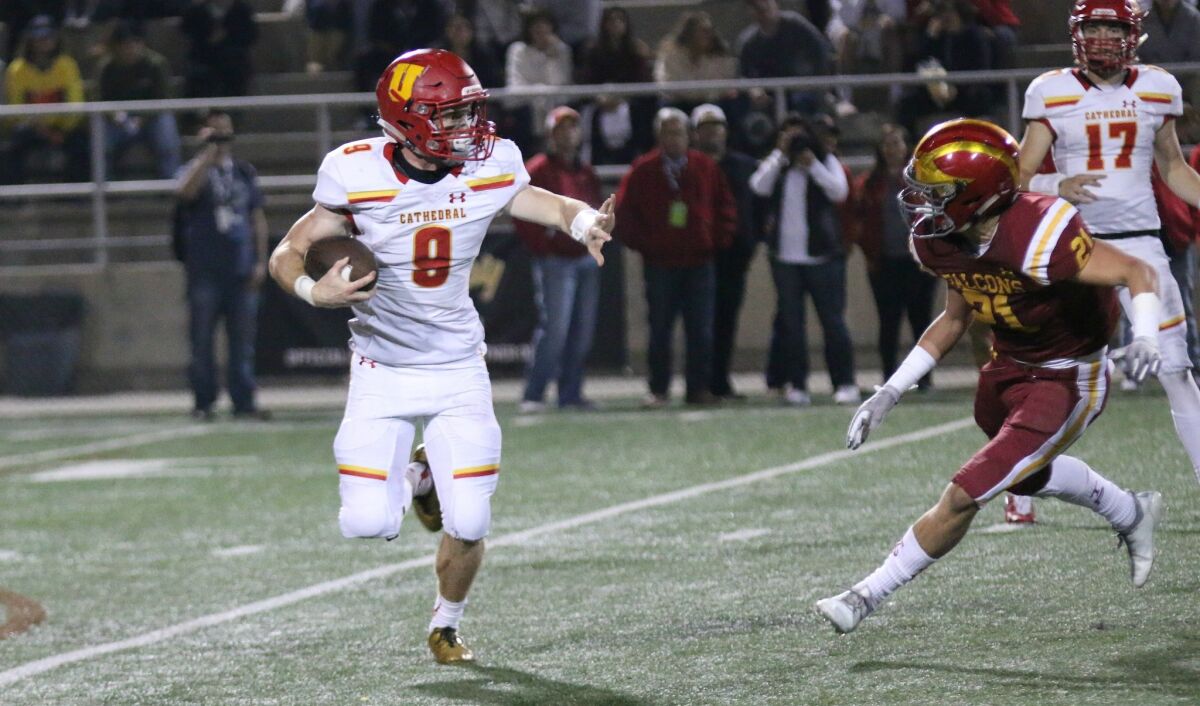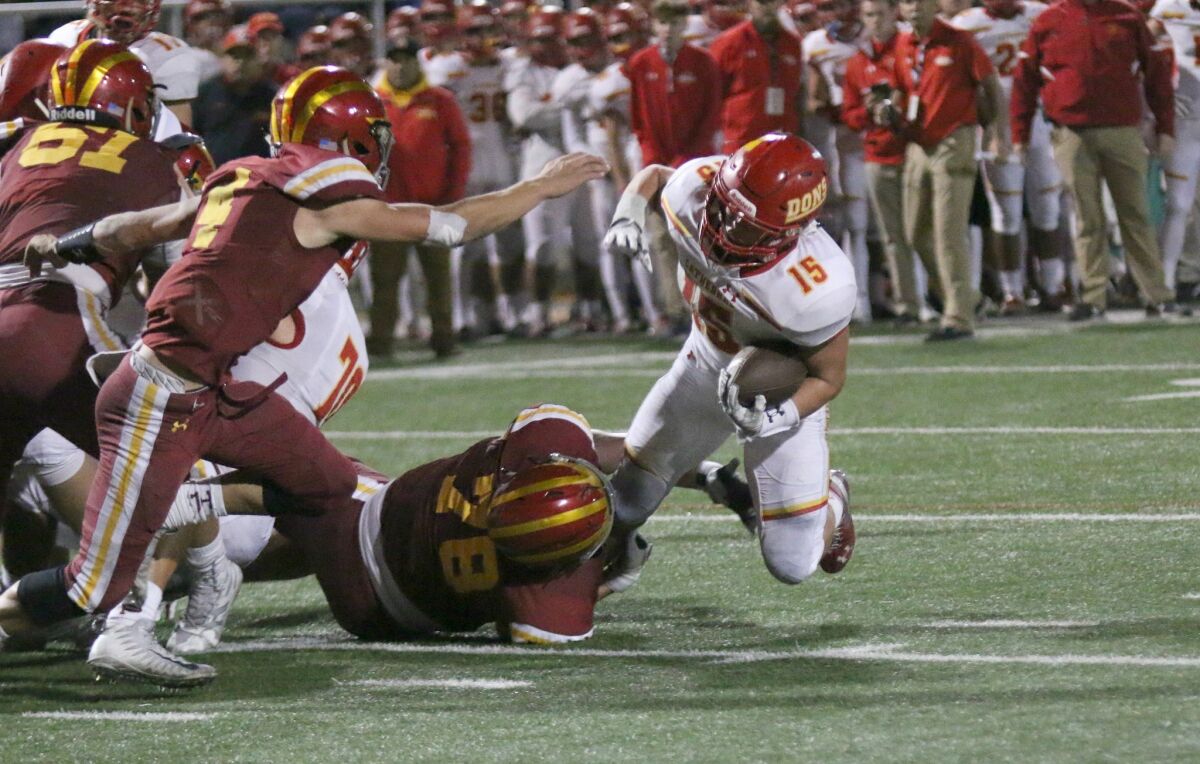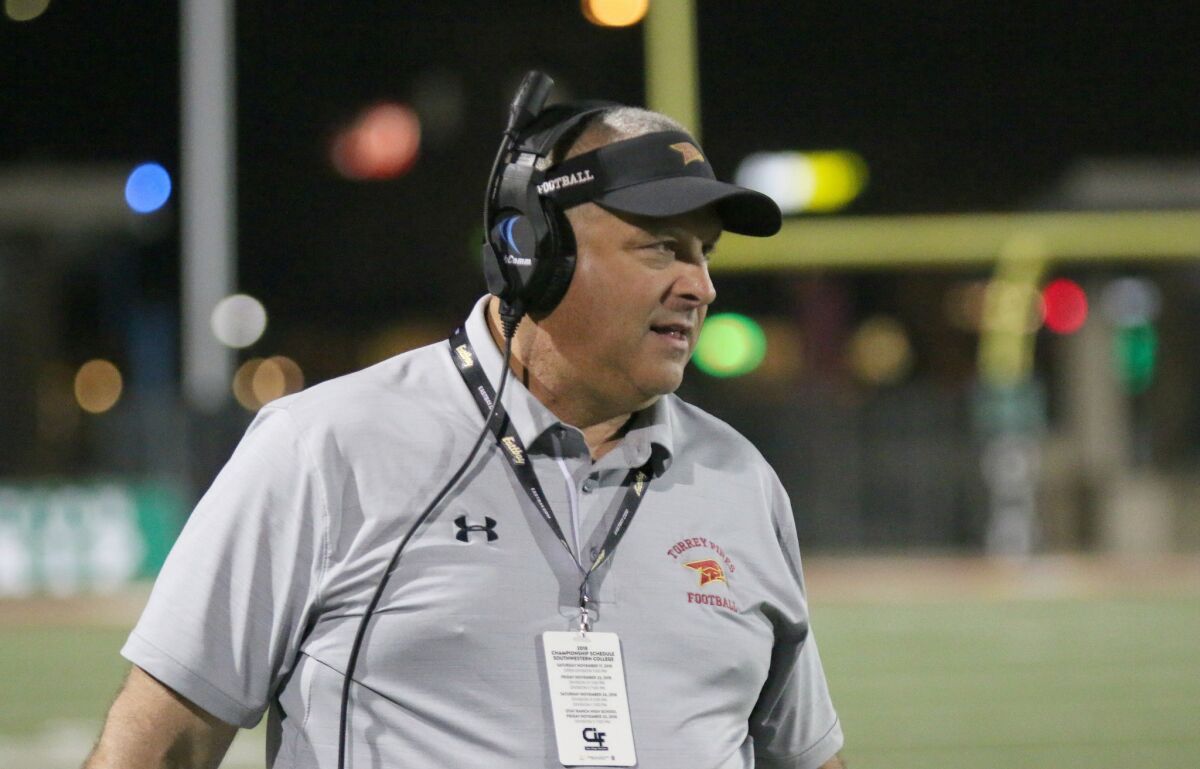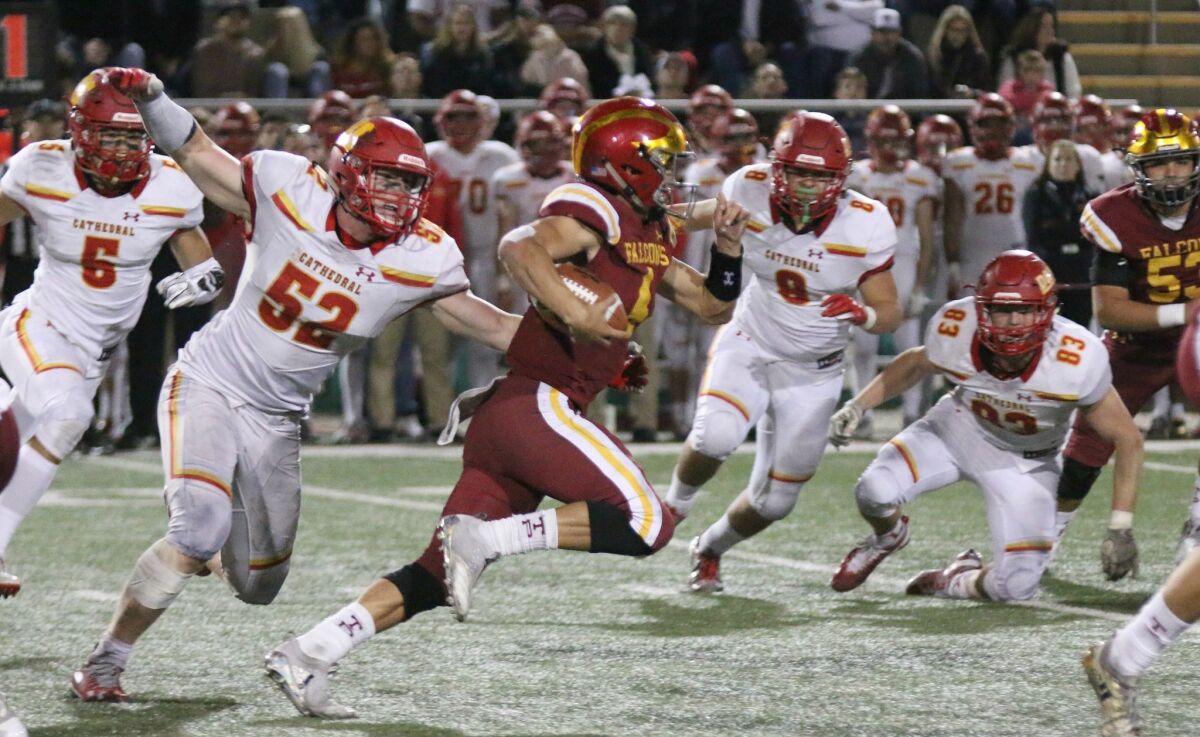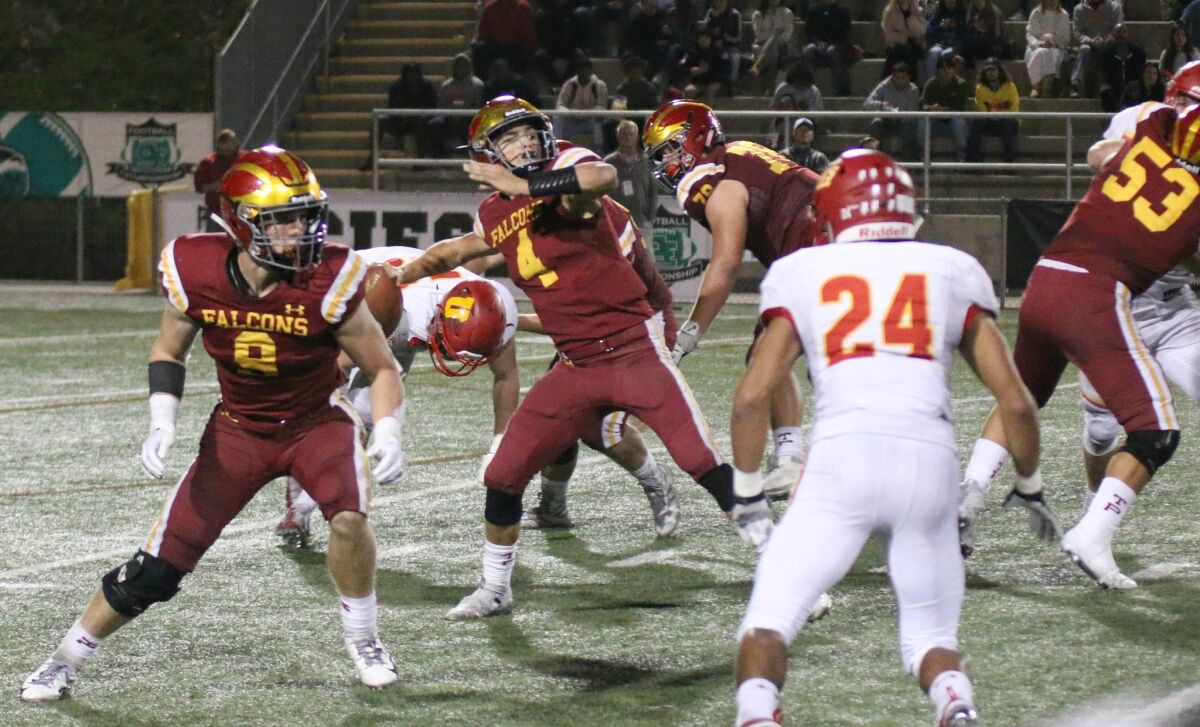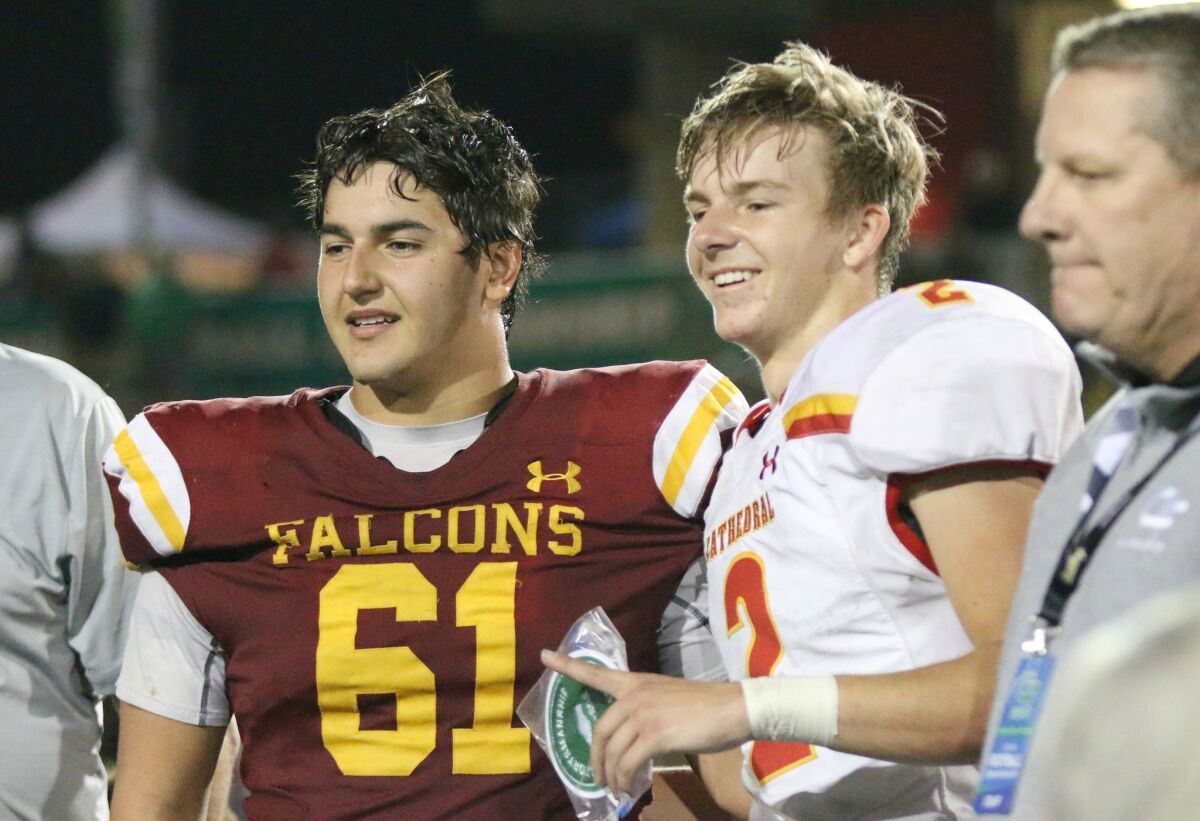 Get the RSF Review weekly in your inbox
Latest news from Rancho Santa Fe every Thursday for free
You may occasionally receive promotional content from the Rancho Santa Fe Review.