No. 5 Torrey Pines rallies for 2-1 field hockey win at Canyon Crest
A goal off a penalty corner in the eighth minute of the second half by senior star Kristin Bitter lifted the No. 5 Torrey Pines field hockey team to a 2-1 come-from-behind victory over host Canyon Crest Thursday afternoon, Oct. 18.
In addition to improving the Falcons' overall record to 14-3-1 and their perfect Avocado West League ledger to 4-0, it firmed up Torrey Pines' already solid position atop the league standings. The triumph came on the heels of Tuesday's 2-1 upset of No. 1-ranked San Pasqual, a team that recently snapped section power Serra's 90-game winning streak.
Thursday's decision didn't come easily as Coach Kiana Duncan's 7-9 Canyon Crest squad came into the game with wins in five of its last six and dominated most of the first half. The Ravens finally broke through at 13:02 with senior Elliana Blumenfeld denting the cage. The goal put the home side ahead but also served as an alarm for Torrey Pines.
The Falcons gradually began to gain offensive momentum and with 3:43 remaining in the first session, knotted things at one apiece. The goal sequence started with a penalty corner that came in to Bitter left of CCA goalie Annie Daruwala. Her scorching shot was blocked but the rebound got on the stick of sophomore Erin Poe who made good on the opportunity. It was still deadlocked at halftime but the die had been cast.
"We started really strong but I think our mentality switched a little bit after they scored," said Duncan. "Against a team like Torrey Pines, you've got to stay mentally tough the whole time and we didn't do that." For Torrey Pines Coach Lucy Busby, the slow start has become a recurring nightmare.
"We came out flat, that kind of seems to be our Achilles heel," lamented Busby. "It takes us a while, sometimes the whole first half to warm up—and sometimes, unfortunately, like today, it takes the other team scoring to get us going.
"Their goal was our wake-up call—we realized they could take this game if we didn't show up."
The Falcons definitely showed up in the second half. Once forward, Busby's squad presents quite a challenge for any team to handle. With Bitter, a wrecking ball in front of the goal, leading the charge, it became a matter-of-time before Torrey cashed in.
On a perfectly executed play at 22:59, another sophomore, Faith Choe inserted a penalty corner to Poe on the right side. She passed the ball low on the left side to Bitter who finished it off for her 12th goal of the season. It was not quite as explosive as one of her patented blasts but it did the job.
"I knew I had to convert because we needed one and I was just waiting for my shot at the three-spot," said Bitter afterward. "That's where I like to shoot and I like that angle.
"I was already inside the circle when Erin passed it down to me and was going to hit it for power but I didn't think I had enough time so I just started pushing it. I watched it roll and didn't think it was going to go in. I thought someone would stop it but it just kept rolling right past the line—I'll take it."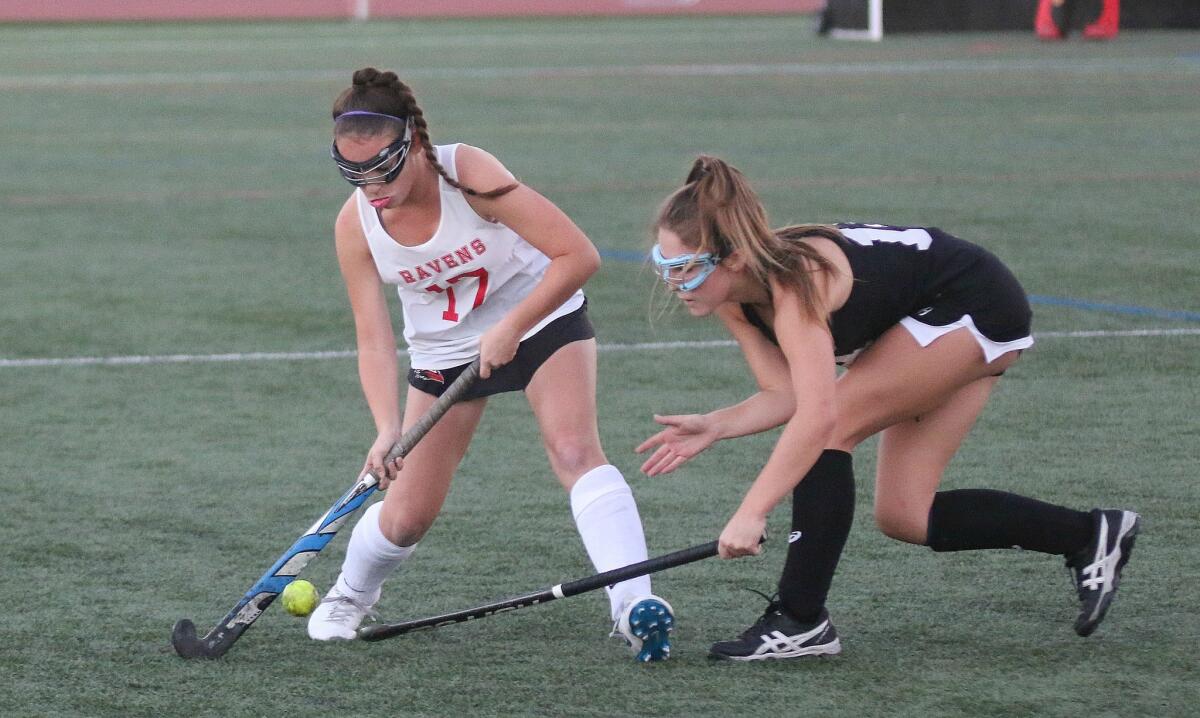 The Falcons kept Canyon Crest bottled up for the duration of the match. Busby was pleased with what she saw from her club in the second half, particularly on offense.
"We've been working on being aggressive in the circle and if you go after it the way we did following halftime, eventually it's going to go in," she said. "Obviously, Kristin is a powerhouse and our shooters from the top are pretty forceful. We also showed that we're pretty good at tipping the ball and getting into that position in front of the goal."
Duncan had plenty of praise for Thursday's opponent and knows Torrey will be a team for anyone to reckon with in the post-season, especially with a weapon like Bitter on the field. "Kristin Bitter is a phenomenal player, a superstar up top and she can really shoot," said Duncan. "Her combination of physicality and ability is something you don't see too often. Couple that with the fact that all of their forwards have really good stick skills and you've got your hands full."
The two squads will meet again, Nov. 6 at Torrey Pines, in the final regular season contest. Duncan said her side will be looking forward to it.
"In addition to keeping our mentality throughout, we'll try to tighten up a little bit on defense and might move things around a little to cover their stronger sides," analyzed Duncan. "But, honestly, I think it was a pretty evenly played game.
"They're a very good team but after today, our girls know they can hang with them—next time around it might look a little different."
Get the RSF Review weekly in your inbox
Latest news from Rancho Santa Fe every Thursday for free
You may occasionally receive promotional content from the Rancho Santa Fe Review.