Challengers line up in week one of Avo West field hockey play
With the opening week of the 2018 Avocado West League field hockey schedule in the books, there's no convincing reason that defending champion Torrey Pines shouldn't be regarded as the favorite to repeat its 2017 title run. Coach Lucy Busby's Falcons have assembled a 10-3-1 record, are ranked fifth in the latest Union-Tribune poll and won five of their last six outings.
But two of Torrey Pines primary rivals seem to have served notice last Thursday that they were not going to concede anything and, in fact, might be bonafide challengers. One, La Costa Canyon, dropped a 2-1 decision at Torrey Pines but the home team needed to go overtime to hold off the surprising Mavericks, who were third in last year's league chase.
The other was 2017 runner-up Canyon Crest which bounced back from a sluggish first half to put away visiting No. 10 San Marcos, 1-0. After a grueling schedule left them with a brutal 1-8 mark, Coach Kiana Duncan's Ravens beat then 10th-ranked San Dieguito, 1-0, on the road, Sept. 25, kick-starting what's currently a four-game win streak.
"I honestly think that one win against San Dieguito flipped things for us," said Duncan in explaining her side's resurgence. "Our team remembered that they could score, that they could win and how good it feels to actually walk away with a 'W.'
"We tweaked a few things in terms of starting lineup, the way we play in our formation and have the whole team pressing up the field. The aggression up top has definitely changed."
Against San Marcos, the contest started much like the Ravens' season—slowly. After a scoreless first half, Duncan talked to her team about "getting there mentally" and making sure San Marcos was given the proper amount of respect.
"They showed up a little lethargic but I think they're tired too," she said of her squad. "It's that time of year—homework, mid-terms, college applications—they needed a little mental re-set. In the second half, the passing was better, the whole attitude was better and they were on their toes, not their heels."
Led by some solid play on the wings, Canyon Crest controlled play after the interval and finally broke through with 13:11 remaining. A determined move up the right side by freshman Hayden Ma got the ball played inside and after some infighting in front of the cage, senior Logan LaScola poked it home with an assist from Andie Gately. The defense, missing standout junior Danielle Anapoelle, but anchored by senior Anna Hong (described by Duncan as "one of those players I wish I could have played with in high school"), did the rest.
While CCA's verdict may not have caused any waves in local field hockey circles, La Costa Canyon leading Torrey Pines, 1-0, at halftime would have undoubtedly raised a few eyebrows—particularly the way they did it. Sporting a very uncharacteristic, 2-10, record coming in while being outscored by 28 goals, the Mavs could hardly have been considered a serious threat. But playing a bit physically, outhustling the Falcons and basically showing an energy level they hadn't displayed previously, LCC more than held its own in the first 30 minutes. When junior Naomi Travers found the back of the cage on the second of back-to-back penalty corners with 9:35 left in the first half, anything seemed possible.
"This was a huge jump for us," said LCC Head Coach Casey Wollbrinck. "We've been focusing a lot on the fundamentals, going back to basics and looking to move forward from there.
"Torrey Pines is always a top team in our league and to play like we did in the first half and then take them to overtime after the tough start we've had this season is promising. I think we can be in the mix."
On the other side of the field, Busby's Falcons took the Mavericks best shot, held its ground and prevailed in the end. "I thought we started out a little flat, maybe a little tight, playing their game and not ours," said the former Torrey standout. "In this rivalry, it's always a mental game—I know, I've been there." Although TP controlled play for the most part in the opening period, they generated only one dangerous scoring opportunity.
"LCC has some quick players and that definitely showed in the first half," added Busby. "They were beating us to 50-50 chances, taking the ball away from us and keeping us from getting our offense going."
Busby's halftime message definitely hit home as the Falcons came out of the break on fire. From the opening whistle, they raced the ball upfield and just 27 seconds in, senior Emma Richards-Smith delivered the equalizer.
"I just talked to them about working together and connecting," said Busby of her halftime words. "We have the skill to bring the ball up the field, use each other and get good shots. We came out more fired up and played more as a team."
After Richards-Smith's goal, the persistent pressure being applied by the Falcons made it seem as though the home team had pitched tents in front of the Maverick goal. Torrey racked up 18 penalty corners in the game, the majority in the second 30 minutes, but couldn't crack the LCC goal, leaving the score deadlocked at the end of regulation.
The OT period was short-lived as the Falcons repeated their second half lightning strike. This time, it was a freshman, Philine Klas, doing the honors, getting the first goal of her prep career, with only 51 seconds elapsed in the extra session. It was a satisfying finish for Busby, noting that her senior star Kristin Bitter was out of the lineup on an official visit to Dartmouth where she will play rugby next year.
"We're not a one-player team and everyone knows it's their job to make things happen," said Busby. "I can't really predict what's going to happen as far as the rest of our league schedule but if we play like we did in the second half, with heart and hustle, we have the skill to beat anyone."
And they'll have to use it, because as week one showed, nobody will be giving any free passes in the Avocado West.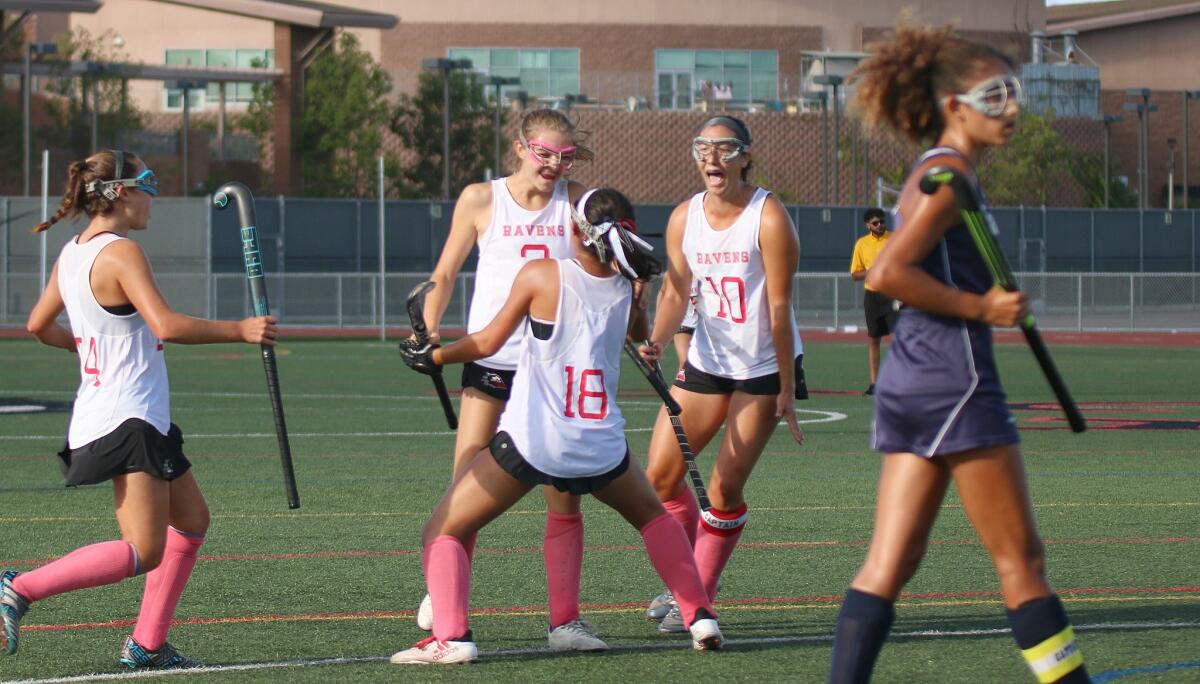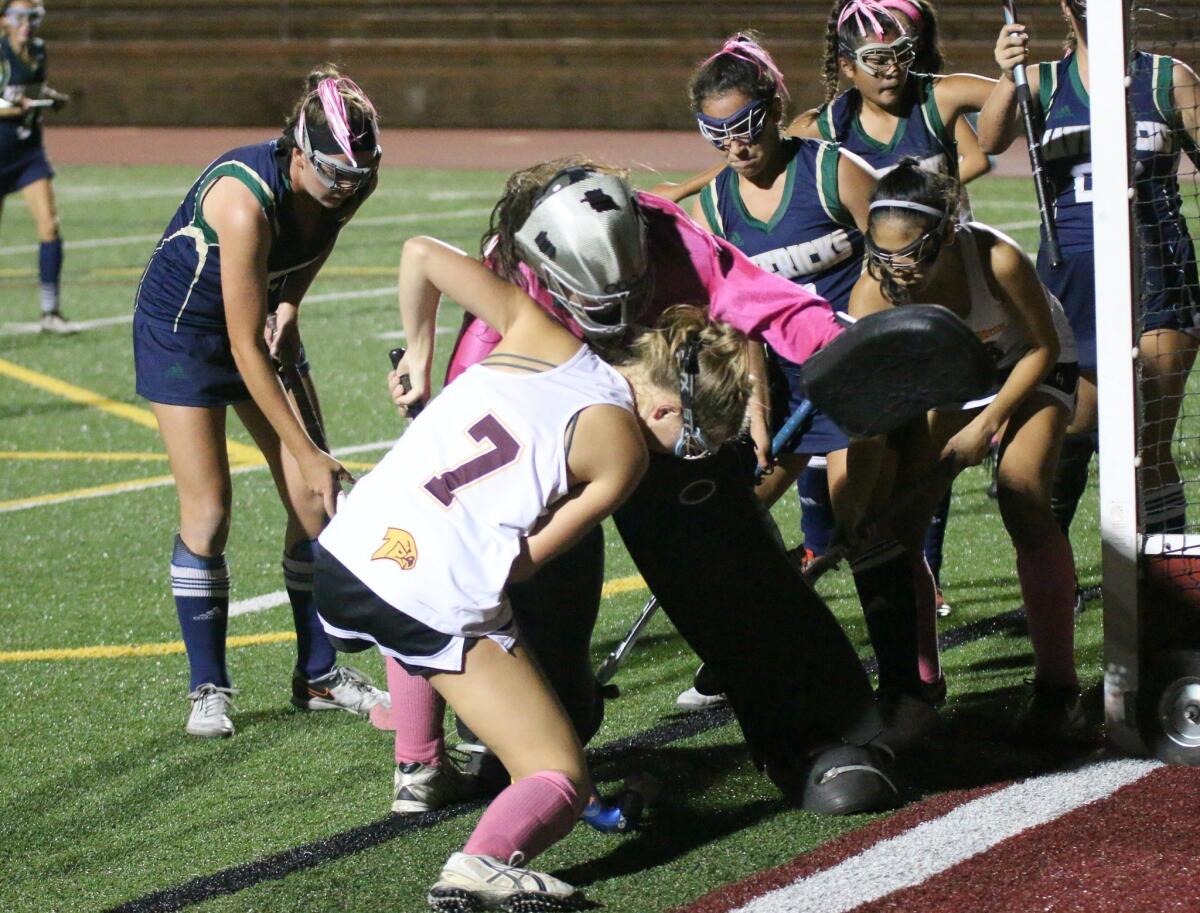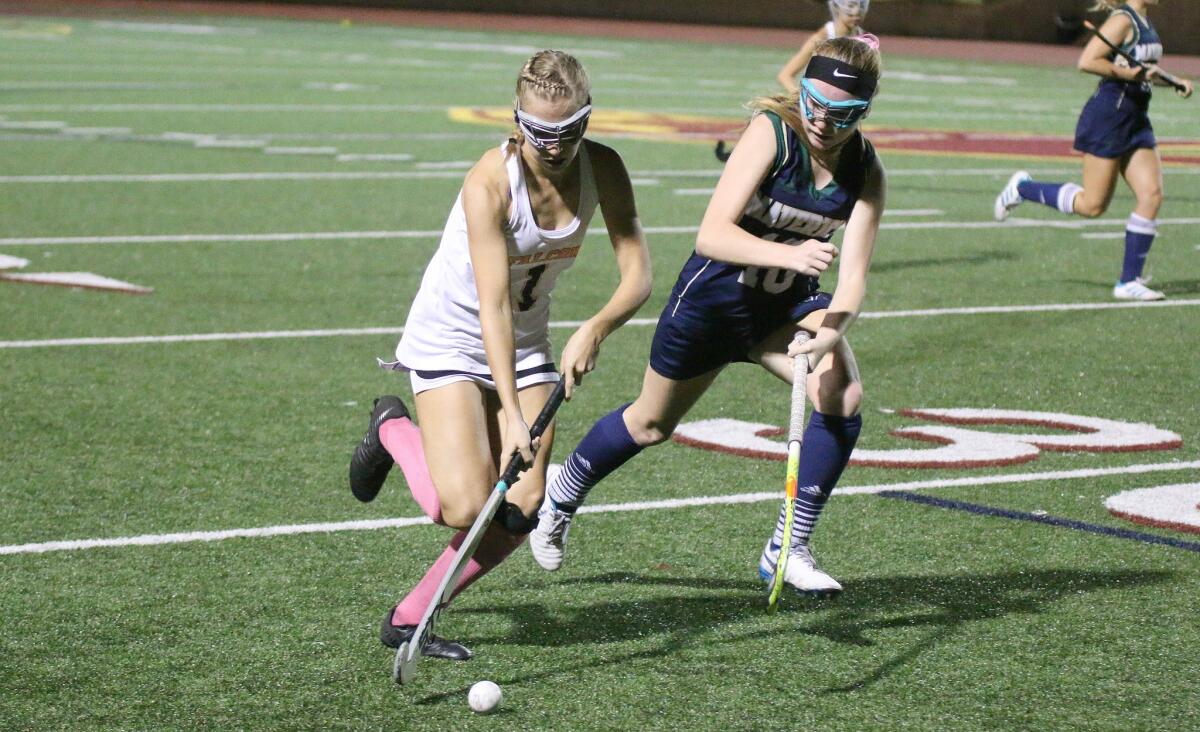 Get the RSF Review weekly in your inbox
Latest news from Rancho Santa Fe every Thursday for free
You may occasionally receive promotional content from the Rancho Santa Fe Review.