Tight battle shaping up in Avocado West field hockey race
Last year's Avocado West League field hockey race came down to the final regular season game and it wasn't until Torrey Pines staved off La Costa Canyon, 2-1, in that one that the Falcons officially earned their title. Canyon Crest, the 2016 champion, wound up second with La Costa Canyon dropping to third.
League realignment for 2018-19 means that the trio will be joined by newcomers San Marcos and Mission Hills this fall. The new look assumes to bolster the competitive level further since Mission Hills was the 2017 CIF Division II champion while San Marcos reached the semi-finals.
Despite the tougher league profile, history dictates that last year's top three should again be leading the fight for the crown this season. All have taken a turn finishing atop the Avo West in the last three years and they've combined for 11 section championships since CIF San Diego began sponsoring field hockey in 1975. Given the fact that each was operating with a first-year head coach a year ago, the experience gained figures to push their performance up a notch.
Canyon Crest Head Coach Kiana Duncan might have put it best. "There are going to be no easy breaks in league play and it will be a really good challenge every time out," she said. "Do I think we can win it? Absolutely. But I'm not going to be on the field—so that will ultimately be up to the girls." Thoughts no doubt echoed by her four Avocado West peers.
Here's a brief overview of each Avocado West team.
Head Coach: Kiana Duncan (second year)
The Ravens lose a full two-thirds of their 2017 goal-scoring to graduation but four of Duncan's 10 returning seniors are forwards, including Logan LaScola who had a team high six scores as a junior. "Logan is a firecracker up top and she did a lot of work in the off-season," said Duncan. "She's also a softball player so she knows how to swing the stick and make contact. She's got power but can also chip the ball and find the corners."
Duncan feels midfield will also be a strength and her core group there has impressed early with its passing and team orientation. Four-year varsity player and co-captain Anna Hong, who Duncan says, "has a way of getting the ball turned over and on her stick," anchors what should be a deep defense. Sophomore Carolina Ceribelli and junior Dani Anapoell help make it a steady unit.
With no one returning, goalie was a question mark but athletic junior Annie Daruwala from the soccer team stepped up in tryouts and appears to have covered a potential void.
As if the Avocado West isn't daunting enough, Duncan has lined up a non-league schedule that should definitely get her squad's attention. The six-game slate features four of the eight Open Division Playoff team, including three-time defending champion Serra, '17 runner-up San Pasqual and defending Division I winner Mission Vista. "We schedule like that because we want to put ourselves in the best possible position, power ranking-wise for the playoffs," explained Duncan. "It's a benefit either way it turns out—we come out of those games knowing what we need to work on or with a real confidence booster."
Head Coach: Casey Wollbrinck (second year)
Familiar names like Kendall Nicholas, Caitlin Jones and Riley Martin are gone but Wollbrinck is excited about what she's seen from her 2018 squad already. "There's a new dynamic this year which is kind of cool," she said. "First, it's clear a lot of players have worked pretty hard in the off-season and stepped up their games. Second, unlike last year, we really don't have the 1-2 standout players who others are deferring to.
"Instead, everyone seems to be rising to the occasion. The team is working hard and it's a real team mentality. It's fun to see."
A couple of key players up front should be junior Anna Bradley, who scored eight goals last year, and senior Taylor Buckley, who saw limited minutes as a junior but has clicked well with Bradley in pre-season. "Watching the way Anna and Taylor connect has been quite awesome. Their off-ball movement has been outstanding," observed Wollbrinck. "Overall, we're hungry to finish goals and the intensity around the goal and shot placement is a lot better. That's important because we can continue to focus on distributing the ball all we want but if we can't finish, we've got issues."
Filling Jones' role at the center midfield slot is crucial and Wollbrinck believes senior Riley Laver, a superb athlete who played mostly outside last season, possesses the leadership qualities to step into that role.
Much-improved sophomore Makenna Collins, who was on the varsity roster as a freshman, reads opponents well, has excellent timing and looks ready to be the organizer on the back line. Juniors Emma Capnetto and Sophia Lundquist move up from the junior varsity to help out. Also up from the JV squad is Tessa Catledge who replaces graduated Marina Keller in goal.
"Our strength, fitness and overall field hockey knowledge is better," said Wollbrinck. "I'm not sure where any other teams are personnel-wise but I would have to say I'm more mindful of elevating our team's play—paying attention to that and the details of the game will be most important for us."
Head Coach: Lauren Daoust (first year)
After losing six of its final eight regular season games last season, Mission Hills turned things around in the post-season, winning the CIF Division II crown. The Grizzlies were potent offensively a year ago, scoring 69 goals, but they come into 2018 with a new coach, UCLA graduate Lauren Daoust.
Head Coach: Heidi Harris (seventh year)
Starting her seventh year at San Marcos, Harris has the experience jump on her Avocado West brethren. Whether or not she's got the talent is still to be determined. After a rough start, Harris has had the Knights on the rise the last three years. They went over .500 for the first time in her tenure last fall and reached the CIF semi-finals. To continue the upward trajectory, Harris & Co. will have to have success against a higher caliber collection of opponents.
"We know, along with Mission Hills, we'll be underdogs coming in," said Harris. "But we played against a number of top teams last year and did well against them. I'm excited to see what the girls can do against the kind of competition we're going to see in the Avocado West."
San Marcos brings back 12 players from its 2017 roster, eight of whom are seniors. Typically known for a defensive style of play, the Knights scored 20 goals last year after netting just eight in 2016. Harris expects that trend to continue.
Her top two scorers, senior midfielder Rachel Jackson and senior forward Alyssa Forcucci, return and should be mainstays on the offensive end and a strong group of newcomers could contribute immediately.
"I've been impressed with our passing, the way our veterans are already connecting and younger players are fitting in," said Harris. "We're ahead of where we've been in the past." Senior Sophie Perry is back to man the cage and should give the Knights an edge in tight contests.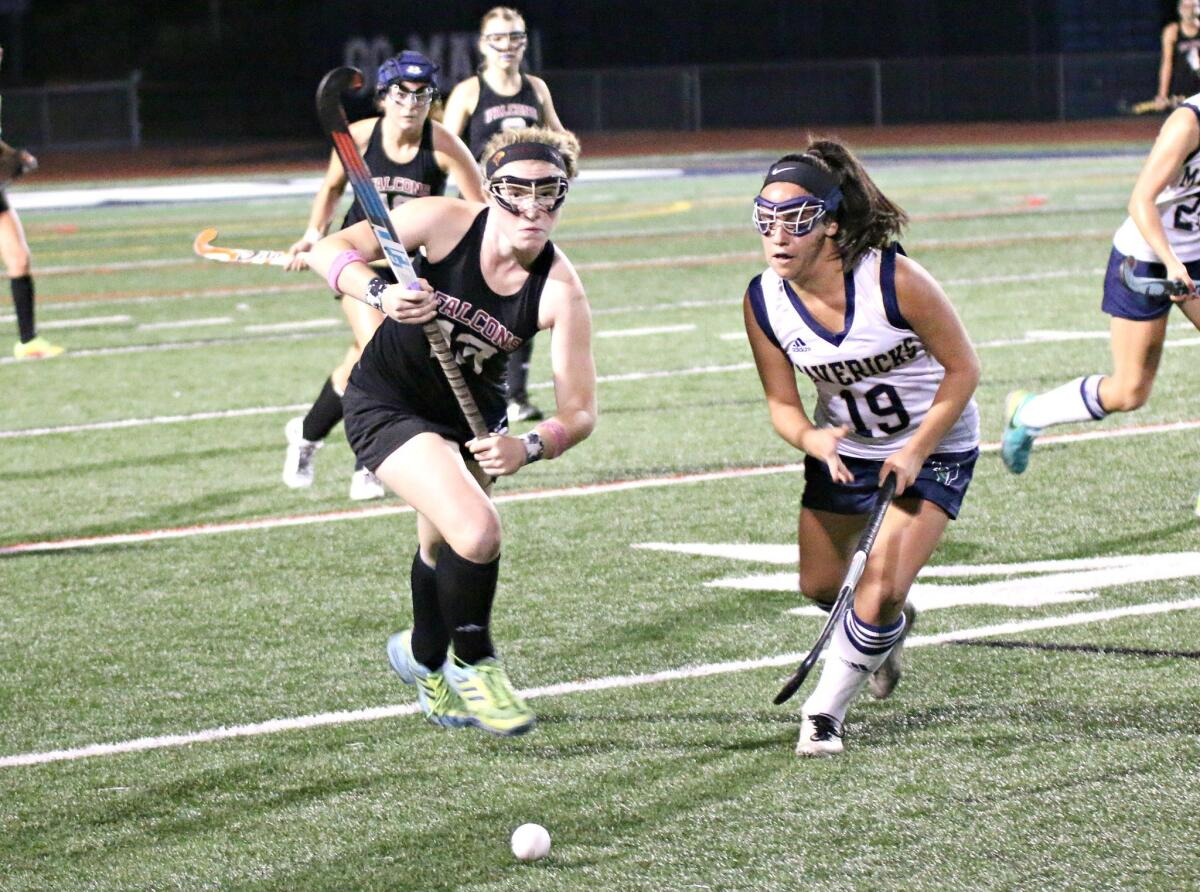 Head Coach: Lucy Busby (second year)
Busby anticipates that last year's Avo West crown will pay dividends for her 2018 club, not to mention its coach. "Last year gave us a lot of confidence as a team and me as a coach," says Busby, who also got to experience the feel of winning a CIF Open Division championship last spring as an assistant coach for the Torrey Pines lacrosse team. "This year, we'll come into the season way ahead of where we were last year from the standpoint of being on the same page, expectations on and off the field and knowing what it means to be a member of the Torrey Pines field hockey team.
"I learned that there is a lot more to coaching than just running practices and making game decisions. I feel a lot more prepared and comfortable now."
On the downside, Busby will be without a whopping 13 seniors which represented all of her primary leadership group. "We've got some strong younger players who can step in," she said, "but that leadership gap has got to be filled and we'll be looking to develop some of those skills in the new group."
Central among the veterans is three-sport star Kristin Bitter who will be attending Dartmouth next year to play rugby. At 5-foot-6, she's an "all-in, all the time" type player with the speed, strength and skills to carry a team. As a junior, she racked up 17 goals, including the game winner in the league-clinching match vs. La Costa Canyon, and 13 assists. "This is her team," emphasized Busby. "She's a good scorer, good finisher and we expect her to make things happen and provide opportunities for not only herself but others."
On the back end, soft-spoken sophomore Gracie Jimenez returns in the sweeper role that she won as a freshman which means the defense should be solid. "Last year we had a great offense, fast and quick, and a strong defense," said Busby. "We also had a senior, Regan Poe, at center mid and she was the key to linking the two.
"We know we have some strong pieces on either end of the field but developing that support and strength in the center is going to be a priority." The Falcons open the season at Cathedral Catholic, Thursday, Aug. 30, in a showdown between two of last year's CIF Open Division qualifiers.
Get the RSF Review weekly in your inbox
Latest news from Rancho Santa Fe every Thursday for free
You may occasionally receive promotional content from the Rancho Santa Fe Review.