Evan Egan's decision pays off for Torrey Pines lacrosse team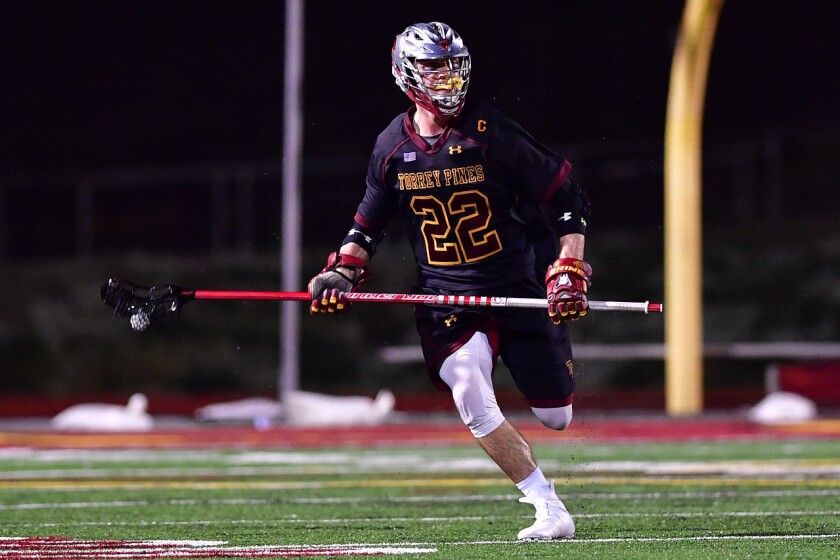 It didn't take Evan Egan long to realize he's not the type of person who likes to wait around for the three-run homer.
He was a fourth grader living in Ventura County when his older brother, Brendan, turned him onto a fast-paced sport that looked like it might quench his thirst for adrenaline.
"It looked like a blast," Evan said of his initial impression of watching lacrosse on TV with Brendan. "It looked like a great time. Super-fun, super-fast game. Not boring."
Evan was a high school sophomore when he transferred to Torrey Pines after his father took a new job in San Diego County and moved his family.
By then, his preference for lacrosse was clear.
"I liked baseball, l but I was at the point where I was picking daisies in the outfield," he said. "It was the right selection."
The results back up his choice.
Evan made an immediate impact, leading the Falcons to the San Diego Section Open Division finals as a sophomore along with his brother Brendan, then a senior, who went on to play collegiately at Bucknell University.
Evan helped take the Falcons to the Open Division semifinals the next year and capped his high school career earlier this year leading the 19-1 Falcons to their first Open Division championship since 2013.
The lockdown defender concluded the season with 63 groundballs and caused 27 turnovers
Evan was named the U.S. Lacrosse Magazine West Region Boys' Player of the Year.
"Evan is a special player because he is a rare combo of athlete," Falcons coach Jono Zissi said. "Physically gifted, great stick skills and strong leadership."
The Falcons concluded the season ranked No. 15 in the nation by U.S. Lacrosse Magazine. They were the only team west of the Mississippi ranked in the Top 25.
The championship didn't come easy.
The Falcons rallied from an early three-goal deficit to defeat Coronado 7-5 in the finals.
"It was our last shot with this group of guys, this senior class, and we knew it," Evan said.
The Falcons' senior class was one for the ages.
The University of North Carolina-bound defenseman is among 11 Falcons going on to play at four-year colleges.
Blake Gagen (Delaware), Spencer Grant (Michigan), Shayne Grant (Richmond), Ryan Ramirez (Bryant), Jonathan "Juanny" Ford (Notre Dame) and Makail Fraboni (Naval Academy) along with Egan are headed to NCAA Division I programs.
Ethan Deller (UC Berkeley), Carter Gonzales (Nevada-Reno) and Ben Hydo (San Diego State) will play for Men's Collegiate Lacrosse Association (MCLA) Division I club programs.
Alec Bergen is headed to NCAA Division III Roanoke.
Evan bonded with his Falcons teammates shortly after arriving on the Carmel Valley campus, developing friendships that became integral to his seamless transition and the team's success.
"It's a real brotherhood at Torrey Pines," he said. "It's a cliché, but everyone on that team really is a group of best friends and it made everything in high school a lot easier having those guys to rely on and hang out with. It was an awesome group to play with."
Evan says his experience at Torrey Pines played a big role in his development as a player and emotional growth.
The program heavily emphasizes a community-oriented culture. Lacrosse is a means to an end for developing citizenship at Torrey Pines, Evan said, noting community service was an integral part of the experience.
Evan and his teammates tutored local grade schoolers, paid visits to wounded servicemen at a Veterans Affairs hospital and coached inner-city kids.
Evan got high marks from his coaches for exemplifying the program's values.
"Our credo is and has been since I started at Torrey in 2011: 'character, culture and community,' with a very heavy emphasis on service in the community," Zissi said. "Evan helped shape our culture as a captain and his actions helped set the standard for model character behavior.
"Evan improved as a player but, more important, as a citizen each year which was nice to see, and he certainly left this program better than he found it."
Rival programs still have another member of the Egan family they're going to have to deal with for three more years. Dewey Egan, who played with Evan as a freshman last season, is a rising star too.
It's a program that Evan considers himself fortunate to be a part of.
"They really do their best to replicate what a college atmosphere is as far as practicing and on and off the field commitments like community service," Evan said. "It really does help to mature the players and give them a feel of what it's like in college."
Evan soon won't have to replicate anything. This fall, he'll be living the college experience in Chapel Hill.
"It's always been a dream to play in college and I'll be carrying that out in the fall," Egan said. "It's a little bit nerve-wracking to go from being a senior to being a freshman again, but it's going to be really cool to fulfill that dream of mine that's been there since I first picked up a stick or watched my first college lacrosse game."
---
Get the RSF Review weekly in your inbox
Latest news from Rancho Santa Fe every Thursday.
You may occasionally receive promotional content from the Rancho Santa Fe Review.