Focus on major league dreams help Cathedral Catholic standout Daniel Camarena navigate a turbulent year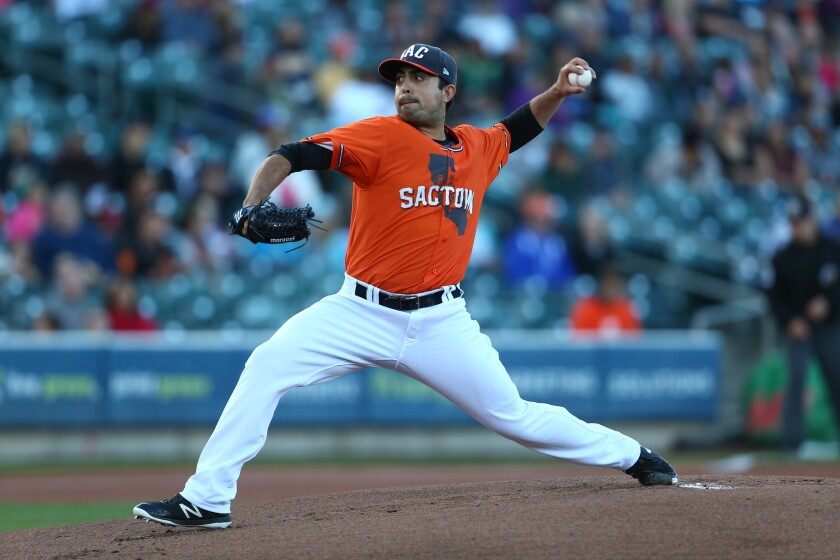 A talented left-handed pitcher can only go without a job for so long.
Daniel Camarena is living proof.
In what has already been the most turbulent season of the 25-year-old former Cathedral Catholic High School standout's career, Camarena was briefly out of a job.
The low point of his season, and perhaps his career, came when the New York Yankees – the team that originally drafted Camarena in 2011 – released him on May 20.
Camarena had long connecting flights from the East Coast on his way back home to San Diego to ponder being out of baseball for the first time since he was in high school.
He didn't make it home before his phone rang. Camarena was at an airport in Arizona when he got a call from his agent, John Boggs.
Camarena had an offer from the San Francisco Giants.
"I literally had just gotten off the plane, I was connecting in Arizona and he was like 'Hey, the Giants need a pitcher for this Friday, are you going to be good to go?' "
Camarena and the Giants reached a deal before he was met by family on the ground in San Diego, who had arrived to lift up his spirits.
Camarena made his Giants debut with Triple-A Sacramento days later on May 25.
The Giants is the third organization he's played for this season as well as the Sacramento River Cats among five teams.
After five years in the Yankees minor league system, Camarena signed a free agent contract with the Chicago Cubs during this past offseason. Then after spending spring training with the Cubs, they dealt him back to the Yankees on April 1.
Why would the Yankees release Camarena less than two months after trading for him?
"It's crazy, the business side of baseball," Camarena said.
Camarena insists he's not bitter.
"I'm thankful to (the Yankees) organization," Camarena said. "I was part of it for a good amount of years and I've got a lot of coaches and teammates and friends there that I still root for and talk to.
"I know this is a business and that's how it is. I'm very thankful to be in the Giants organization now."
Camarena has had to battle back from injuries twice.
He missed all of 2015 when he underwent arthroscopic surgery to remove bone chips from his pitching elbow.
Camarena bounced back nicely in 2016, going 10-7 with a 3.68 ERA in stints with Class-A Tampa, Double-A Trenton and Triple-A Scranton/Wilkes-Barre.
But he was shut down midway through 2017 with shoulder tendonitis.
Camarena has spent much of late July in airports. He was moved across the country to the Giants' Double-A Richmond affiliate on July 20. He made one start for the Flying Squirrels before being sent back to Sacramento on July 30.
He's a combined 2-8 with a 4.66 ERA in 19 appearances (18 starts) between stints with three different teams this season.
What matters most, is that he's healthy.
Camarena credits the strong support from his family with getting him through some setbacks.
An extended San Diego baseball family has helped too. Among his teammates in the Yankees' system were Drew Finley and Gosuke Katoh (both from Rancho Bernardo) and Ian Clarkin (James Madison).
He's run into former Dons teammate Stephen Gonsalves, who is now pitching in the Minnesota Twins minor league system.
Camarena trains with the Dons in the offseason.
"A lot of the San Diego guys, we really try and stick together and root for each other," Camarena said.
"We're all there for each other, whether someone's having great success at the time or somebody's down or has an injury, we're there to pick them up. It's definitely a really cool dynamic."
Camarena's pitching repertoire hasn't changed that much since he was in high school. He's still at his best when he can locate his fastball. He's developed a slider in recent years to go along with a curveball and a changeup.
Camarena acknowledged that he's still learning.
He's tried to take something from a lot of the baseball legends he's been around.
Camarena played alongside fellow lefty C.C. Sabathia at big league camp with the Yankees in 2017 and was among a group of Yankees prospects who had dinner with Derek Jeter. Earlier this year he played for Cubs manager Joe Maddon.
He's still learning to experience failure, and that sometimes elite players lean on others for help.
"We're all almost at the big league level, so we think we've got everything figured out, but sometimes you've got to set your pride aside and just ask for help," he said. "It might be the little thing that gets you to the next level."
For Camarena, the next level is at AT&T Park in San Francisco, about 90 miles west of Sacramento.
He hopes this will be the last leg of a long journey he began as a shy teenager fresh out of high school.
"I still remember my first day after I signed, getting off a shuttle at a hotel in Tampa, Florida and going 'Oh man, no mom, no dad, it's time to really saddle up at 18 years old.'
"It is tough, I'd be lying to you if I said I didn't miss San Diego during the season. There's times where it's a real grind and you just want to be home. That's where you lean on your friends."
---
Get the RSF Review weekly in your inbox
Latest news from Rancho Santa Fe every Thursday.
You may occasionally receive promotional content from the Rancho Santa Fe Review.