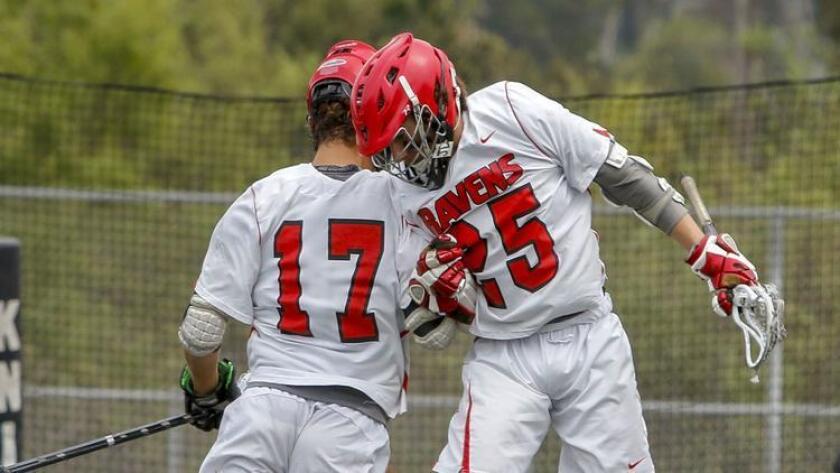 Red helmets, red gloves and black lacrosse sticks with white netting were tossed skyward and Canyon Crest Academy's lacrosse team made a beeline to sophomore goalie Zane Schwab.
It was party time. The Ravens defeated Eastlake 9-4 on Saturday, May 19, at San Marcos High to win the San Diego Section Division II title. In its 11th year of existence as a program, Canyon Crest celebrated its first lacrosse title.
"It's amazing," said midfielder Matthew Anderson, who scored four goals.
Canyon Crest's Cameron Dickson waved his right hand in the air.
"We're getting rings," said Dickson. "My hand's already heavy."
At 6-feet-2 1/2, 195 pounds, Anderson is a difficult cover. He required a whopping 51 seconds to score. When Eastlake pulled to within 5-3 late in the third period, Anderson took over again, unleashing a quick shot from the right slot that rippled the net.
"He's a big threat," Canyon Crest coach Brendan McCarthy said of Anderson.
Eastlake finished 15-7. Canyon Crest closed at 11-11. The Ravens benefited from playing eight Division I and four Open Division teams.
"These guys are battle tested," said McCarthy.
It helped, too, that Schwab, who allowed only 11 goals in three playoff games, was stubborn between the pipes. He stopped 12 shots.
Of his hot play in May, Schwab said, "As a general rule, goalies, when they're under pressure, play their best. There's increased reaction time and everything's riding on your shoulders."
--Don Norcross is a freelance writer for The San Diego Union-Tribune
---