Cathedral tops Carlsbad in high profile early season soccer match
We're barely through week one of the 2018-19 high school girls' soccer season and already local fans have gotten a head-to-head preview of two teams that may be prominent come March and the CIF Playoffs. Carlsbad and Cathedral Catholic, Nos. 4 and 6 respectively in the Union-Tribune's pre-season rankings, both CIF Open Division participants last season and possessing similar expectations this year, squared off in Cathedral's Manchester Stadium Wednesday afternoon.
The result was what one might expect at this juncture of the campaign. Flashes of brilliance mixed in with disjointed play. Individual skill juxtaposed against still-developing team personalities—and two coaches who emerged from the encounter knowing that their teams are far from where they will be in three months.
For the record, Coach Dawn Lee's young Cathedral Catholic crew prevailed, 5-3, in what was more wide open, haphazard performance than the two teams' rankings and histories would suggest. Cathedral sophomore Sophia Aragon was a standout, scoring a pair of goals, but while the home team never trailed, it was also never really able to put Carlsbad away until the final minute.
Both have recently finished tryouts, had negligible training opportunities and in the case of Carlsbad, played a game the night before. Still, it was fun to watch and easy to make several general observations.
The Dons, who have just five seniors on the roster, figure to be one of the most physically imposing groups in the section, particularly on defense where two of those seniors, Kelsey Oen and Sofia Mancinelli, anchor the back line. And the speedy Aragon, who started every game as a freshman at center midfield, showed, that as a forward, she may be too valuable to play anywhere else. She had a hand in every Cathedral goal and seemed to cause problems whenever she got near the ball. She was among the plusses that Lee took away from the match.
"I came into the afternoon not knowing what to expect in terms of what they'd do in a game situation," said the veteran coach of the play afterward. "I saw good energy, offensively we had confidence on the ball and defensively I thought we were strong as a unit. Obviously, it's always nice to win the first game, especially against a good team like Carlsbad."
Carlsbad, which has a solid returning core when whole, was built on speed last year when it surprised some people by winning the tough Avocado West League. Their small but swift front line had trouble cracking the Cathedral defense Wednesday but also looked rather sluggish, perhaps a consequence of Tuesday night's, 3-0, victory over West Hills.
"I think we were a little bit tentative and maybe a little tired," said second-year Head Coach Dean Balent. "We had a long game last night and it showed today.
"But, you've got to give Cathedral credit. They're well-organized, patient, disciplined and really hold position well. We made it easy on the center backs by playing up the middle too much but we'll work on that. I like the fact that we didn't give up—we kept coming back and showed some intensity."
Junior Taylor Wells scored two of the Lancers' three goals against Cathedral. She teams with sophomores Lexi Wright and Gracie Huebner to provide Balent with a front line that will cause problems for most teams it faces. Wells and Wright accounted for 28 of Carlsbad's 52 goals last year.
It's now time for the two teams to take what they learned Wednesday and put it to work going forward. Balent's thoughts likely apply to his counterpart as well. "This game was important just to see how our team is going to progress," he said. "We're bringing a lot of new players into the team. We've got to see how they fit into and affect the team dynamics and get them used to the speed of the game at this level."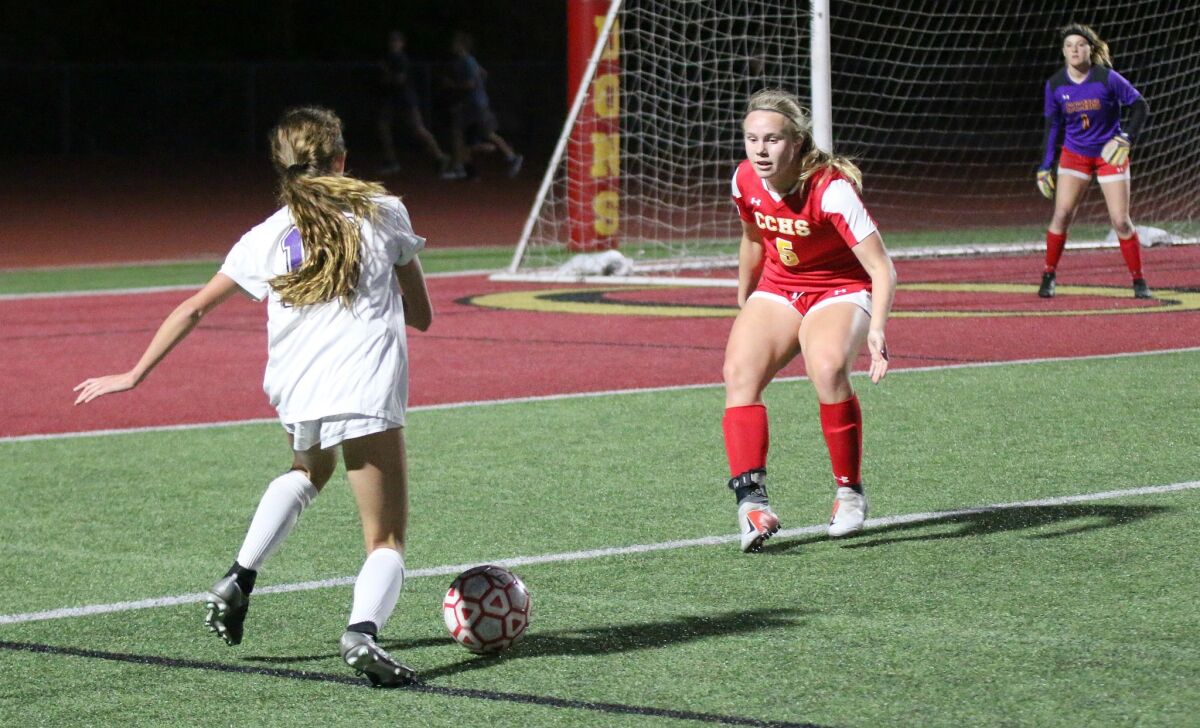 Get the RSF Review weekly in your inbox
Latest news from Rancho Santa Fe every Thursday for free
You may occasionally receive promotional content from the Rancho Santa Fe Review.