Torrey Pines boys fall in CIF soccer, basketball semi-finals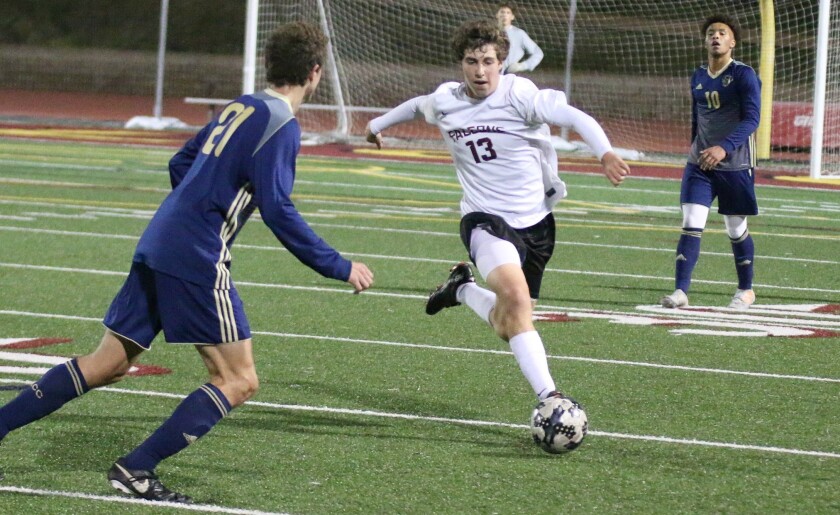 In the span of roughly an hour and about a hundred yards or so apart, the fortunes of two of the brightest lights in the Torrey Pines High School sports galaxy were dimmed Wednesday night as both the boys' soccer and basketball teams suffered heartbreaking losses in their respective CIF Open Division semi-finals.
Although the two teams will each have opportunities to play in the upcoming CIF State Championship tournaments, both had their eyes focused on CIF titles. Here's how Wednesday's action unfolded.
CIF Boys' Soccer Semi-Final
Coach Andy Hargreaves' Torrey Pines side came into Wednesday's tilt with rival La Costa Canyon 21-0-5 on the season, champions of the Avocado League West, ranked No. 1 in the state, seeded No. 1 in the Open Division and the owner of a 2-0-1 mark in three previous games meetings with LCC.
All went as proected in a first half controlled by the Falcons. Fourteen minutes into the contest, the Falcons struck for two goals in a span of under a minute and the outcome looked to be all but sealed. Six-foot-3 Santiago Majewski, active in the box as he's been all season on set pieces, delivered goal No. 1, heading home a throw-in from fellow senior Connor Wood. Before La Costa Canyon could recover from that, another senior, Denzel Sepeda, recovered a rebound and after evading one defender launched a bad-angle laser from just inside the 18, into the far side netting.
It was still 2-0 at halftime and early in the second half, Torrey Pines had a pair of chances to put some insurance on the scoreboard. Sepeda ricocheted a shot off the post 10 minutes into the period and then Maverick goalkeeper Gavin Simmons was forced to make a superb, point blank stop moments later.
After surviving that, with just 25 minutes remaining in regulation, LCC got the break it needed. An errant clearing effort by Torrey in its own end resulted in a dangerous Maverick throw-in opportunity. The ensuing toss by Jake Aaknes wound up in a goal-front free-for-all, glancing off one, maybe two Torrey Pines players before somehow landing in the net for an own goal.
"We made an error that gave them the throw-in and they scored on it," said Hargreaves ruefully. "That changed the game." La Costa Canyon, riding a wave of momentum kept pushing and was rewarded in the final minute when senior Liam Fuller, a defender pushed forward to increase pressure, left-footed a crossing pass from Collin Wagstaff to collect his first goal of the season and tie the game, requiring overtime.
Ten minutes into a frenetic, back-and-forth OT session LCC senior Brandon Lopez sent a cross into the box. It was flicked by Tate Duncan through the keeper and into the possession of senior Jacob Chong, the Mavericks' leading scorer. Chong made short work of things from close range, sending LCC to Friday's CIF final against San Marcos at Mission Bay High School.
An obviously disappointed Hargreaves said afterward, "It's tough to keep them down, but we were up, 2-0, should have been up 3-0, and you can't really ask for a better position than that—we didn't close it out.
"It's one of those games. If you don't manage it and close it out when you have the chance, it can come back to get you—and it did."
CIF Boys' Basketball Semi-Final
In the second act of this mid-week doubleheader, Coach John Olive's Torrey Pines boys' basketball team could not contain third-seeded Mission Bay star Rejean "Boogie" Ellis and dropped a 64-62 decision to the visiting Buccaneers. Mission Bay (26-5), which was ranked No. 1 in the section early in the season, moves on to face top-seeded Foothills Christian (26-5) Friday night at SDSU's Viejas Arena.
Torrey Pines' trio of stars—senior point guard Finn Sullivan (27 pts.) and junior twins Michael (16) and Bryce (9) Pope—combined for 52 points but it was not enough to overcome Mission Bay's senior backcourt star. Ellis (34 pts.) poured in more than half of the Buccaneers' scoring output and was equally effective from long range, driving to the rim and at the free throw line. Olive's plan to essentially double team Ellis was not successful.
"It did not work well, he's a very quick, talented player," said Olive. "He was able to beat our double teams and we had a hard time keeping him in front of us, even when we were corralling him with two guys."
Still, the contest was tight all the way. Mission Bay spurted out to a five-point lead after the first quarter but a 21-9 barrage in the second eight minutes put the Falcons on top, 35-28, at intermission. Sullivan racked up 18 of his points in the first half, 13 during the second period surge.
Coach Marshawn Cherry's squad made liberal use of a full court press in the second half which seemed to slow Torrey Pines down but Olive felt his team's shooting was more responsible for a less effective offensive showing in the third quarter.
"I didn't think the press really bothered us, we just weren't making our shots," said Olive. "We got some really good shots, to be honest with you, shots we normally make, right in the middle of the lane and around the free throw line.
"I can think of two balls that looked like they were in and spun out. That was potentially five points and in a game like this, that can be the difference."
The third quarter closed with Mission Bay up, 48-47, and the Bucs pushed the lead to five early in the fourth. A three-pointer by Sullivan and three free throws by Michael Pope gave the Falcons a 53-52 edge but that would be their last lead. Mission Bay ran off seven unanswered points and then held off a string of treys by the Pope brothers to get the final verdict.
In a melodramatic moment late, Sullivan went down in a heap in the backcourt, injuring his ankle on a non-call collision. He was helped off the court but then unexpectedly returned for the final few possessions. Visibly favoring the ankle, he was unable to work his usual repertoire offensively but did force a defensive turnover. His status moving forward into the state tourney is undetermined.
Olive's post-game comments reflected the feeling permeating a near capacity crowd that was clearly expecting to see his team at Viejas Arena Saturday. "It's painful, you come this far, the semi-finals of the Open Division, these are things that these kids have been dreaming about," said Olive, whose team is now 28-3 overall. "Not just this year but most of their lives—so, it's very painful."
---
Get the RSF Review weekly in your inbox
Latest news from Rancho Santa Fe every Thursday.
You may occasionally receive promotional content from the Rancho Santa Fe Review.