Acosta, Elsom and Metz took CCA basketball to the next level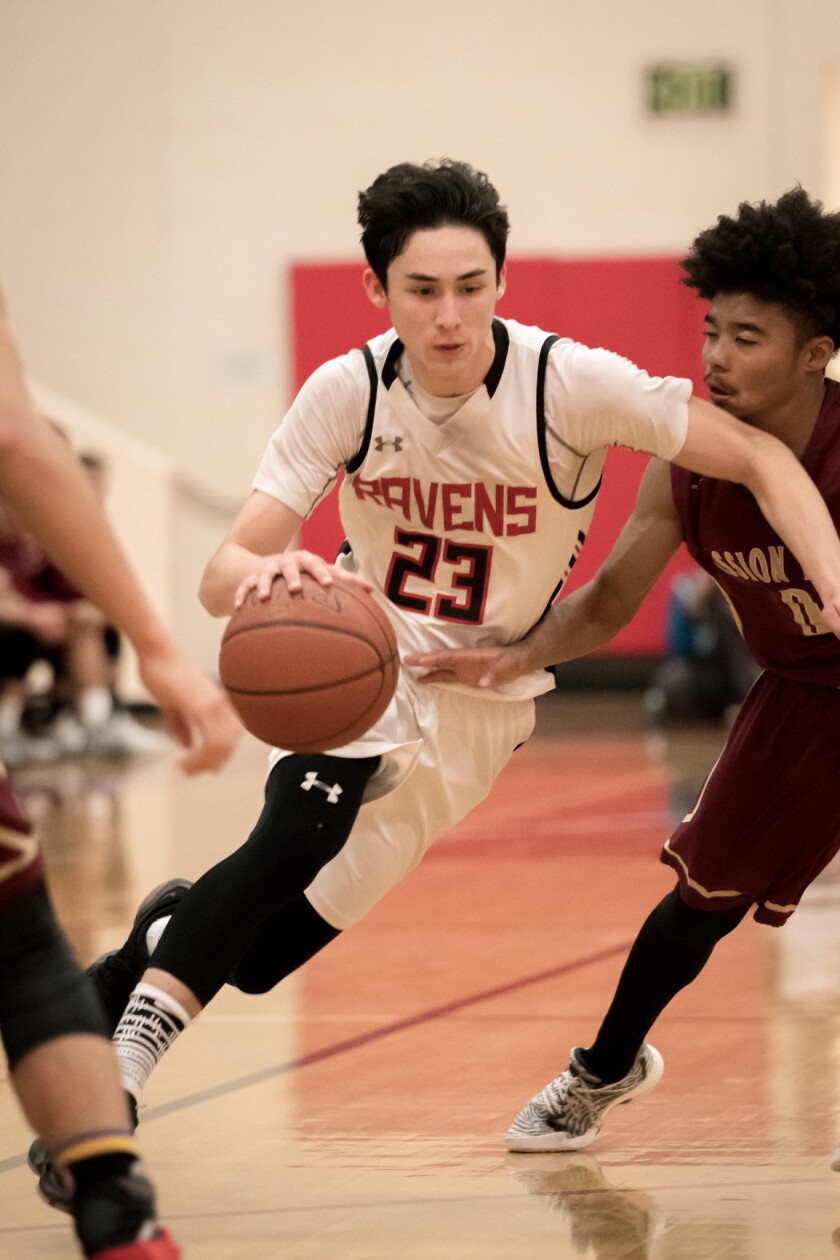 The trajectory of the Canyon Crest Academy boys Bbasketball program changed in September of 2014 when Aaron Acosta, Tyler Elsom and MJ Metz first stepped foot on campus as freshman. Over the next four seasons, CCA went from a mid-level team that won eight games in the 2014-2015 season to one of the top high school programs in the county. As with any team, it takes more than three players to win consistently, but the role that Elsom, Metz and Acosta played in driving CCA to new heights is clear. The Ravens season ended last Friday night after losing a division 1 quarterfinal playoff game to Mission Hills 71-65 in overtime in front of a raucous home crowd. CCA won an all-time school best 41 games over the last two seasons, including several victories against some of the best teams in the county. For most of this season, CCA was ranked in the top 10 in the San Diego region.
Basketball is a team sport; talent is required, but chemistry and leadership is what can turn a good program into a great one. All three boys were three-year starters, and each had their share of spectacular games, but CCA's stat line is indicative of the team-first culture that the trio helped create. While the local basketball pundits fawn over the players with big numbers, the CCA players couldn't be bothered. Acosta and Elsom had almost identical statistics for the season, leading the team in scoring with 15 ppg and grabbing about six rebounds each. Metz averaged 13 points and 10 rebounds per game. Winning games is all they cared about.
Next up for the boys is college. Acosta has committed to Colorado College, where he will continue his basketball career. At 6'4" with a deadly three-point stroke, Acosta is a prototypical wing for the college level. Metz will be attending Trinity University in Texas as a baseball recruit and Elsom, who carries a GPA of over 4.0, has applied to several top academic colleges and is currently awaiting the results of his applications.
The boys' final game last Friday was a testament to the legacy they leave behind. Elsom and Acosta led with 20 and 18 points respectively and Metz, who was matched up against the 6'11" Oregon State-bound Warren Washington, added 12. The student section was packed and louder than anything ever seen at a school that is known more for its stellar academic rating than its athletic department. Coach Brian Baum told the team after the game that the seniors, who also include Sam Crespy, Chris Koo and Stijn De Jong, took the program to the level he had always envisioned. While the outcome was not what they had hoped, the team received a standing ovation from their fans after the game.
---
Get the RSF Review weekly in your inbox
Latest news from Rancho Santa Fe every Thursday.
You may occasionally receive promotional content from the Rancho Santa Fe Review.