Woodward Animal Center's lodgings in Rancho Santa Fe upgraded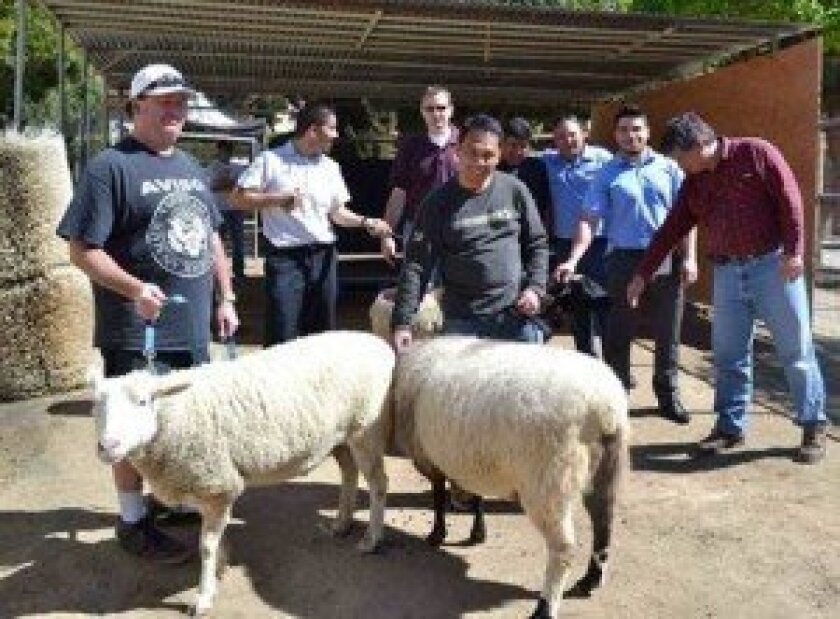 Thirty managers and assistant managers from local Residence Inns by Marriott delighted the staff and critters at Helen Woodward Animal Center on March 11 with an overhaul to a number of structural amenities in need of repair. The philanthropic elbow-grease of the upper management from the pet-friendly, all-suite hotel chain – designed for extended stays – provided the Center animals with revived upper class accommodations to their own extended-stay facilities. The group plans to return in the summer months to dig into even more projects to keep the Center's pets and programs in tip-top shape.
This is not the first time Helen Woodward Animal Center has received a helping paw from the Residence Inns by Marriott, which have held "Yappy Hour" fundraisers, been a part of the Center's fundraising Paw Program and have supported Helen Woodward Animal Center's Surf Dog Surf-A-Thon and Puppy Love 5K Run/Walk. On Monday the group (which included managers from the Poway, Carmel Mountain, Sorrento, La Jolla, Carlsbad, Oceanside, San Marcos and Gaslamp locations) got down and dirty, cleaning, scrubbing, sanding, painting and rebuilding the sheep enclosure, the Therapeutic Riding ramps and fences and the adoption department retaining walls. Helen Woodward Animal Center people and pets were overwhelmed by the loving lift to their lodgings.
In a few months, the group will return to tackle the Center's humane education facilities and Pet Encounter Therapy offices.
"They are an incredible group of individuals and an incredible company," said Helen Woodward Animal Center Sponsorship Supervisor Stephen Miller. "They truly live by the theory that the quality of your residence is primary to your wellbeing. They take it seriously and they demonstrated it by taking our accommodations into their own hands."
"The Helen Woodward Animal Center is a perfect partner for the Residence Inns of San Diego because we have many long term guests and their pets become part of our extended family," stated Trent Selbrede, General Manager of Residence Inn by Marriott in Carlsbad. "We enjoy the chance to show love for pets while supporting our community."
For information on how you can help Helen Woodward Animal Center, call (858) 756-4117 x 305 or click on www.animalcenter.org/volunteer! For information on Residence Inn by Marriott, click on www.marriott.com/residence-inn.
---