Rancho Santa Fe's Carolyn Nichols extends tennis dynasty that started on a farm
The Nichols family has over the years yielded a variety of crops ranging from cotton, sugar beets and alfalfa to the almonds and pistachios for which it's better known today.
The Central Valley farm also spawned an interest in tennis that's grown into a seniors circuit dynasty.
Rancho Santa Fe resident Carolyn Nichols is among those who've made the biggest mark in the sport. Earlier this month, she helped lead the Alice Marble Cup team to a first-place finish at the ITF Seniors World Team Championships in La Baule, France. She also won the ITF individual singles and doubles titles in the over-60s. The ITF tournament is considered the senior equivalent of the Davis Cup and Fed Cup competitions in tennis.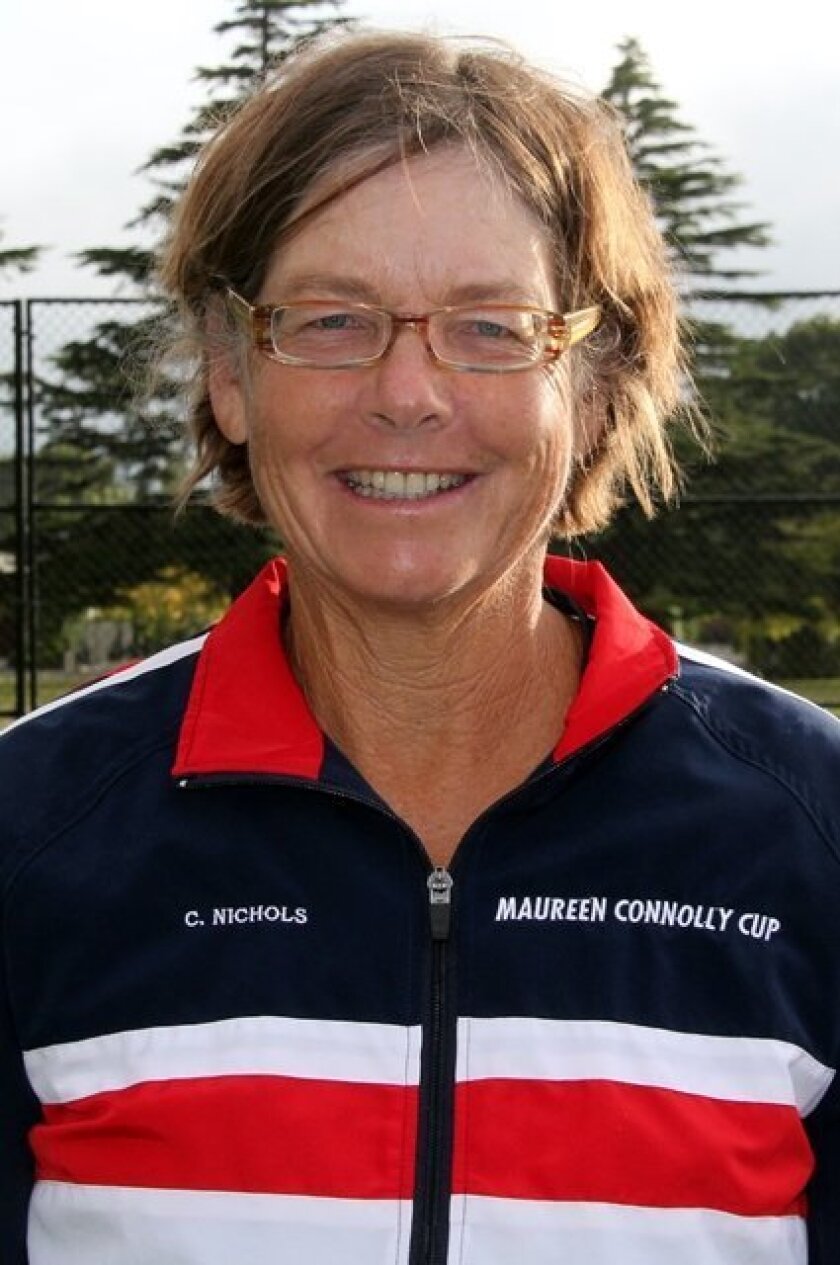 Nichols has been a nationally ranked player over a span of four decades starting in 1989, when she played on a No. 1 ranked doubles team (30s) and was the No. 1 singles player (35s).
She is the daughter of Graydon Nichols, a nationally ranked player in the 85s at the age of 89.
Between the two of them, they've won over 85 championships.
"Hard work pays off," Carolyn Nichols said of how the values passed from one generation on the family farm have tied to the success she and other family members have enjoyed in tennis.
"For me," she said, "tennis doesn't come easy."
And it wasn't easy starting a family tennis tradition in the first half of the last century in a rural community where the sport wasn't played competitively.
Graydon, who was among eight siblings, learned to play from his older sister Lucille after the two of them persuaded their parents to let them clear a patch of dirt. They found a net and balls and lined a makeshift court with ashes.
Lucille went on to earn No. 1 NorCal rankings in various age groups and was ranked as high as No. 4 in the women's 75s.
Carolyn's mother, Virginia Nichols, also won an ITF world doubles title.
Graydon has won 50 USTA gold balls and seven ITF world titles. He's played on 11 Cup teams.
Carolyn Nichols was raised in a rural area of Tulare County between Hanford and Tulare (near the Kings County line), where the nearest tennis club was 50 miles away. She played Hanford High School, where she started on the junior varsity as a freshman and was the team's No. 1 player her junior and senior years.
Her most recent victory was her 13th ITF World Seniors Team Championship. It was particularly satisfying, she said, because the United States lost the Alice Marble Cup last year in Turkey. Nichols was not old enough to play on the team last year, but was in Turkey as an ITF representative.
"It was important to bring it back to the U.S.," she said.
Few things, in fact, are more important to Nichols than promoting a senior tennis circuit that she believes doesn't get the coverage it deserves.
Nichols has promoted the sport, writing for the USTA National adult/senior, Senior International and ITF seniors websites, and contributed to several publications including Inside Tennis.
She was a 2008 SoCal media award winner for volunteer writing efforts.
"I try to promote senior tennis because it means so much to me," she said. "The senior players really appreciate it and tell me as much.
"It keeps me going."
Nichols' passion for the sport has shown no signs of slowing down.
She's also been USTA San Diego District Tennis Association board member since 2010, and a USTA Southern California Tennis Association board member since 2011. She's been on the SoCa Adult/Senior Committee since 2011, and was a captain of the Women's Intersectional 55s team from 2010 to 2011.
"I have such a passion for tennis; I love it," she said.
Nichols laments the lack of coverage her sport gets in the mainstream press, noting that "senior players influence others to play, their children, neighbors, grandchildren, and also many teach tennis, so they reach more players than ordinary players."
She considers travel one of the perks of playing competitive tennis. She's played on every continent except Antarctica, with experiences that have connected her to different cultures and new friends.
Along the way she's sampled some of the world's finest eats, too, including breads from the bakeries of Germany as well as the famous cheeses and sausages of France. She's gained an appreciation for other delicacies she's learned about on her travels, such as the pide in Turkey ("it's bread, cheese and possibly other toppings and shaped like a canoe, and there are restaurants devoted to it," she said).
"It really makes me want to learn more languages," she said, adding that she took audio lessons before her most recent visit to France.
But some things inevitably get lost in translation.
Such was the case in La Baule, when she said two American players who spoke no French packed what they assumed were fully cooked eggs for lunch (they were set out at their hotel next to an egg cooker with instructions in French).
"They broke, of course," Nichols said. "You had to be there to see the expressions on their faces."
---