Rancho Santa Fe School District robotics team moves on to world championship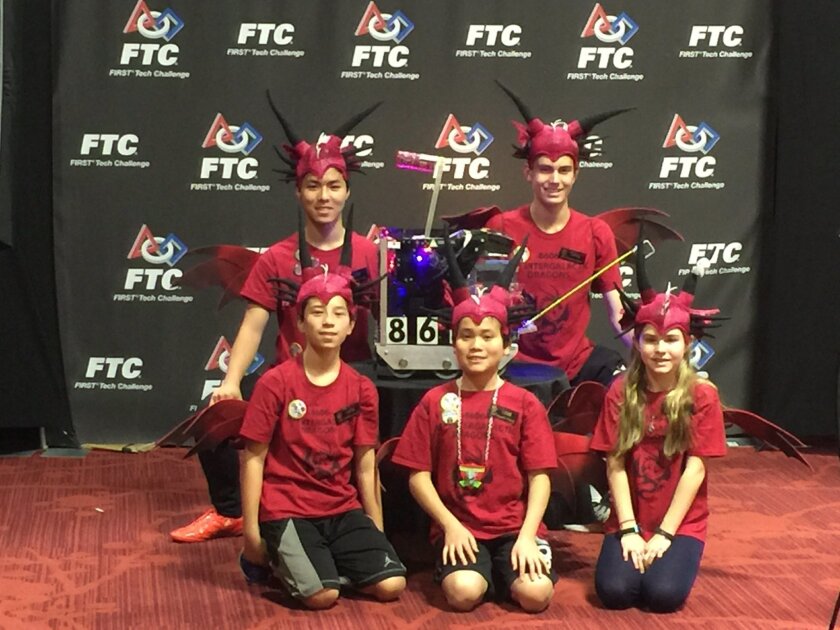 At a Super West Regional First Tech Challenge (FTC) Championship in Oakland, March 24-26, a R. Roger Rowe Middle School team competed against a field of 72 teams and qualified to move on to the World Championship. The RSF Intergalactic Dragons (Justin, Conrad, Daniel, Lucas and Clara) competed against the best teams from 13 western regions. After two days of intense qualifying matches, they were the 1st place winning alliance from the Championship's Gold Division and came away with a 2nd place alliance trophy.
The RSF Intergalactic Dragons placed in the top 3 percent of the 4,627 U.S. First FTC teams from around the world. At the upcoming World Championship in St. Louis, Miss., there will be 128 teams from 11 countries (United States, Canada, Mexico, Australia, China, France, Germany, South Korea, Taiwan, Russia and New Zealand). This will be the first time that a team from the R. Roger Rowe Middle School has qualified for the World Championship.
In addition to the First Tech Challenge event, concurrently in St. Louis three other U.S. First Robotics programs will be competing in their World Championship: First Robotics Competition, First LEGO League, and First LEGO League Jr.
For details about the U.S. First World Championship, visit firstchampionship.org.
For more information about the R. Roger Rowe Middle School FTC Robotics program, contact David Warner at dwarner@rsf.k12.ca.us.
---