Three Rancho Santa Fe residents honored at LEAD San Diego's Visionary Awards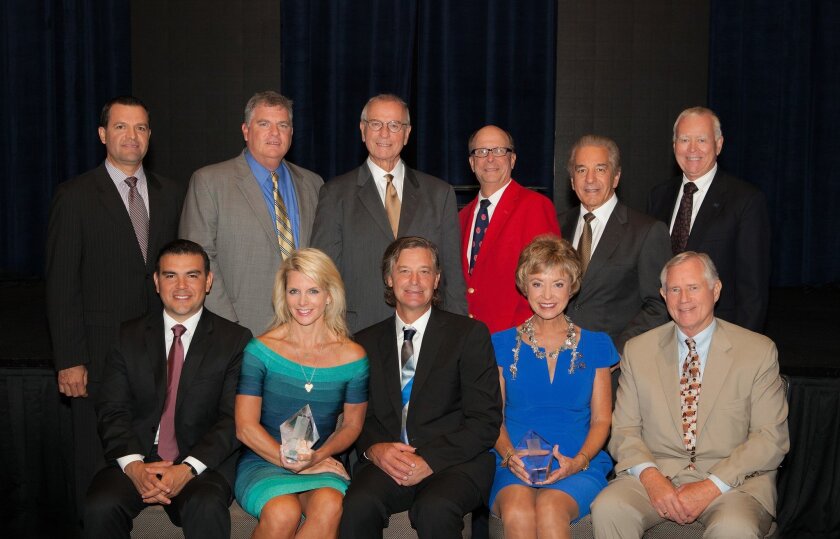 Three Rancho Santa Fe residents were among the honorees at LEAD San Diego's 13th annual Visionary Awards, held May 21 at the Hilton San Diego Bayfront. The Visionary Awards is "Southern California's premier leadership recognition event," honoring outstanding leaders and their work to improve the San Diego/Northern Baja California region. Nearly 900 business and community leaders attended the event.
Rancho Santa Fe resident A. Brent Eastman, M.D., was presented with the 2015 Neil Morgan Memorial Award for Lifetime Achievement, awarded to individuals who have served as catalysts for positive change, resulting in a better future for our region.
Eastman, chief medical officer, emeritus and N. Paul Whittier Chair of Trauma, emeritus for Scripps Health, was a founder of the San Diego County Trauma System, now 30 years old and regarded worldwide as a model. Since the system was deployed in 1984, the percentage of preventable trauma deaths in San Diego County has declined from 22 percent to about 1 percent. He also co-created the Scripps Medical Response Team, a team of doctors, nurses and support staff who rapidly deploy anywhere in the world in the wake of a natural disaster. He traveled as a member of that team to New Orleans after Hurricane Katrina, and to Haiti after the devastating earthquake of 2010.
Karen and Jamie Moyer, also Rancho Santa Fe residents, were honored with the 2015 Community Spotlight Award, which recognizes unsung heroes who have made a significant impact on our community through their dedication of time, talent and treasure.
The Moyers are co-founders of The Moyer Foundation, an organization that provides camps, both locally and nationwide, free to children who are affected by the loss of a loved one and/or addiction in their families. At the camps, children engage with peers facing similar life circumstances; learn to express their emotions in healthy ways; and learn the skills and tools needed to cope when they return home. Jamie Moyer is a former Major League Baseball pitcher and World Series champion. Karen Moyer is an entrepreneur who has spearheaded several businesses.
Jack Raymond was honored with the 2015 Ronald Kendrick Memorial Award for Regional Collaboration, presented in recognition of visionary leadership as demonstrated through coalescing diverse communities, focusing on collaborative approaches to shared resources, synergies and problem-solving skills for positive regional outcomes. Chairman and CEO of The Raymond Companies and an Escondido resident since 1944, Raymond is credited with building collaborations that have not only improved North County, but also have strengthened its visibility and significance in the greater San Diego/Northern Baja California region.
In addition, Jo Dee C. Jacob, Class of 2003, was named the LEAD Graduate of the Year at the Visionary Awards. This award is presented to a LEAD San Diego graduate who epitomizes excellence in community leadership. Jacob, CEO of Girl Scouts San Diego since 2001 and a Jamul resident, originated Operation Thin Mint, which has resulted in nearly 2.5 million boxes of Girl Scout cookies and countless notes of support being sent to deployed U.S. military troops.
Bruce Binkowski received the 2015 Economic Opportunity Award, presented in recognition of visionary leadership in creating economic opportunities in our region that might not otherwise exist absent their efforts. The former executive director and current executive consultant for the San Diego Bowl Game Association, Binkowski provided leadership that has resulted in an economic impact of more than $730 million for our region. He is a resident of San Diego.
The CaliBaja Bi-National Mega-Region Initiative was honored with the 2015 Charles Nathanson Memorial Award for Cross-Border Region Building at the Visionary Awards. The initiative, a partnership of seven organizations, is a long-term economic development strategy bringing together business, civic and government leaders to position San Diego County, Imperial County and Mexico's Baja California for global competition.
For more information, visit www.leadsandiego.com.
---