Rancho Santa Fe volunteers transform Girls' Recreational Room at San Pasqual Academy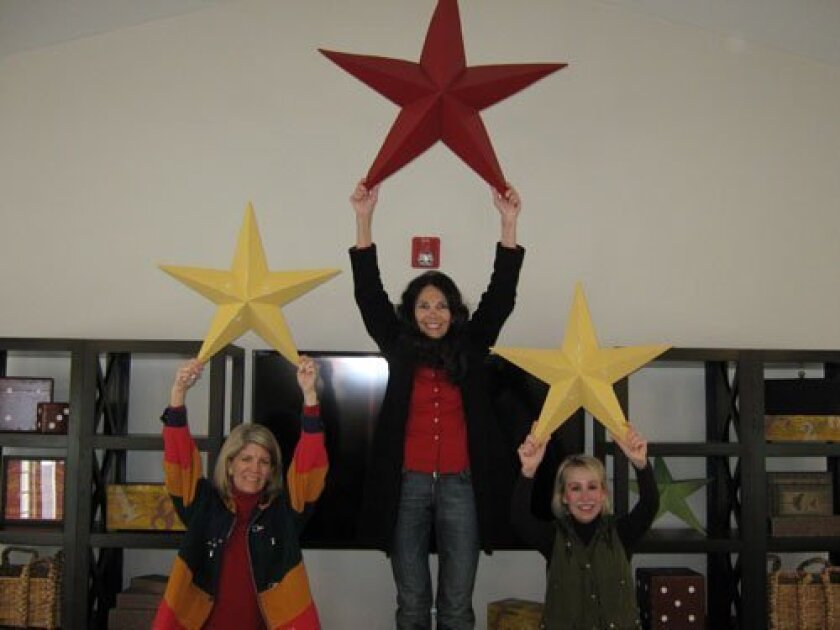 There was a true collaboration of love, time, and endless energy that went into the design and implementation to refurbish the Girls' Recreational Room at San Pasqual Academy, which is both home and school for foster teens.
Members and sustaining members of National Charity League -San Diego del Norte Chapter, Jerome's Furniture and Friends of San Pasqual Academy joined forces to make this transformation possible.
A "Game Room" theme was created and the fun began. An old-fashioned popcorn trolley and popcorn cart, movie reels, a Hollywood sign and movie memorabilia, a designated video game corner, a piano that has musical art over it, board games, game tables and more were purchased for this special room.
Giant Scrabble Letters were hand-painted by Mary Kay Zolezzi and placed on a wall near the Book Area. Stars to remind the girl's of their "star" qualities and invite hospitality were created. Collen Morgans created a very special collage of photographs of the 65 girls who currently live at San Pasqual Academy.
The furniture was donated by Jerome's Furniture and coordinated through Teri Summerhays and Debby Syverson. Other furniture pieces and accessories were purchased through National Charity League members and sustaining members Vicki Minteer, Carrie Butler and Colleen Morgans. Another highlight was the construction of a stage, where a karaoke venue was created,
complete with stage lighting.
A Grand Opening of the Girl's Recreational Room took place and each girl's cottage created a special dish for the donors for this occasion. Attending was the design team from National Charity League -San Diego del Norte Chapter members and sustainers Vicki Minteer, Carrie Butler, Mary Kay Zolezzi and Teri Summerhays. When the doors to this spectacular room opened, the girls were thrilled to see their new Rec Room, to say the least. The collage of portraits was very special to them, since they felt a part of this creation. They knew that this room was created out of love and sacrifice for them and openly extended their gratitude to those who made this possible.
It was a very festive event, filled with laughter, smiles and hugs. As the volunteers left, the girls were still up on stage, singing and dancing to the karoke songs. The fun and endearing memories were just starting and we know, due to the efforts of such wonderful donors, many more cherished memories will continue to be created in this very special room for these foster teens.
Friends of San Pasqual Academy is a 501 c 3 organization and has been supporting the foster teens of San Pasqual Academy for over 10 years.
For more information, please visit their website at
www.friendsofsanpasqualacademy.org
or contact 858-759-3298. Donations can be sent to PO Box 8202, Rancho Santa Fe, CA 92067.
---