Rancho Santa Fe student entrepreneuers find success with start-up company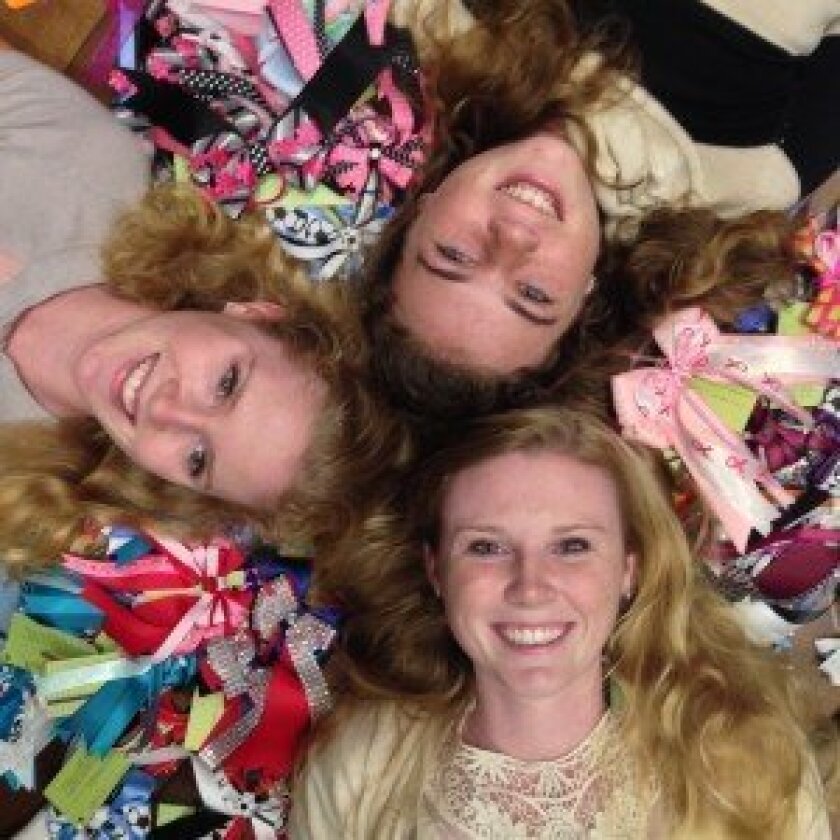 Savanah, Mikayla, and Jillian Stuart of Rancho Santa Fe are talented equestrians, successfully competing across the country on average of two weekends a month. They're also dedicated students, excelling academically in the college preparatory environment at The Grauer School in Encinitas. They're not alone in these pursuits, but what makes them shine is that they're not only star student-athletes but budding entrepreneurs. The three sisters make up Ballerina Bows, a company which creates beautiful, handcrafted hair bows for sports such as cheer, soccer, and equestrian sports; the company is named after their beloved pony, Prima Ballerina.
"We were at a horse show searching for bows as a gift for someone and found that there was not a big selection," says Savanah. "We had wanted to start a business of our own, so we all decided to try making a pair. We made enough to sell and began marketing our products on Instagram." This handcrafted attention to detail sets Ballerina Bows' products apart: as competitors on the show circuit where they sell their bows, the Stuarts are aware of what types of bows equestrians want to wear, and they will also make custom bows on request.
The sisters split up the day-to-day activities of running their business evenly. Jillian, the youngest, has connections with many of the young riders who wear the bows when competing, and she handles marketing their products. Mikayla creates the girls' business cards and packaging for the bows and runs the website. Savanah has tackled the finances, inventory and packaging of the bows. Their system works: they currently sell their bows in thirteen retail stores across nine different states as well as online and via their four local sales representatives and one in New Jersey. "Riders across country have begun recognizing our products at the different horse shows. We have about 3,600 followers on Instagram. It has been challenging to keep up with the demand," Savanah says. "We want to maintain the craftsmanship of our bows. Each bow is handmade and personalized."
The girls aren't taking their success for granted, either. They regularly donate their products to charity auctions, have created special breast cancer awareness bows with 25 percent of profits being donated to the Susan G. Komen Foundation, and are planning on participating in an upcoming fundraiser at The Grauer School on Nov. 8 for global girls' education charities through the Girl Rising Fund.
The sisters credit The Grauer School's values for enabling them to succeed in so many ways: "The Grauer School has taught us to give back to the community. We each have to be accountable and self-advocate so that we can each keep up with our workload and specific jobs. Intellectual curiosity has led us to explore the business world and find new ways to expand. We have persevered as we learned to deal with rejection from retailers who chose not to carry our bows."
"At The Grauer School, we strive to foster resourcefulness, leadership, and an entrepreneurial spirit in each of our students," said Principal Dana Abplanalp-Diggs. "Savanah, Mikayla, and Jillian and their Ballerina Bows certainly embody these core values."
Visit Ballerina Bows online at www.ballerina-bows.myshopify.com.
---