Rancho Santa Fe resident wins at U.S. National Arabian and Half-Arabian Championship Horse Show
By Karen Billing
Rancho Santa Fe resident Beth Jupp is now a two-time national age-group champion in Half-Arabian driving.
In October, Jupp defended her 2012 Half-Arabian Pleasure Driving title at the US National Arabian and Half-Arabian Championship Horse Show, winning her age group again in the 2013 show in Tulsa, Okla. The show ranks as the most prestigious North American championship in the Arabian show horse industry.
She also won a top ten under saddle in the Half-Arabian Over 40 Amateur Owner to Ride.
"It's very, very exciting, I have been competing now for 17 years and last year was my first national championship," Jupp said. "It took me a long time, it's not easy to get."
Jupp rode to her championship on her horse Papa Rhazi.
"This year was the first time I rode Papa Rhazi at US Nationals. It was a big challenge to make sure I was fit enough to ride him because he's a very big, powerful horse and it takes a lot of fitness to ride him," Jupp said.
In addition to riding, Jupp prepared for nationals with twice-a-week weight training sessions, Pilates twice a week, and interval training another two times a week.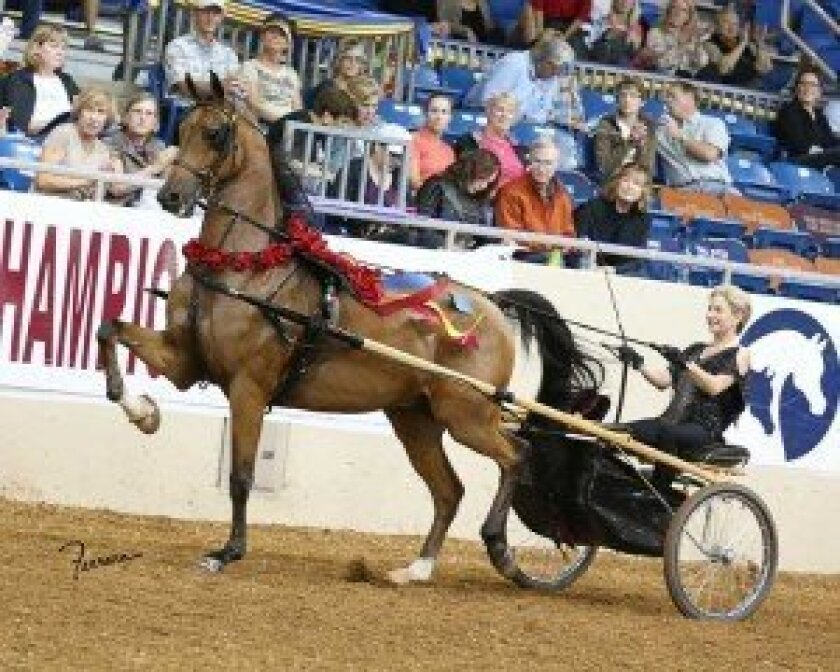 "Papa Rhazi is an older horse so I felt really good about our accomplishment because I achieved my personal goal of being fit enough and he did well considering his age," Jupp said.
The winning horse gets draped in a big rose blanket and Jupp received a trophy, vest and small cash price.
This August, Jupp was also the unanimous national champion at the 2013 Canadian Nationals Arabian and Half-Arabian Championship Show, defending her 2012 win. In Canada, they play a song for the winning horse and Jupp was thrilled to hear Lady Gaga's "Paparazzi" when they announced her name as the winner.
Jupp, 49, didn't become serious about competitive riding until her early 30s. It started when a friend of hers owned an Arabian she was too busy to ride so she asked Jupp to help work the horse.
"The horse was stabled at a show barn so I got to see the high caliber of the horses and I was very intrigued," Jupp said. "I was interested in the challenge of getting better at my riding and riding these incredible show horses."
She started working with a show horse and as she got more into it she found she really liked the competitions and wanted to go into a higher level. She invested in great talent at the horse and trainer level and now owns four Half-Arabians and Arabian horses, including the "somewhat famous" stallion named Mamage that she breeds. Her horses are stabled in Somis in Ventura County where she travels to ride and train.
She rides and drives in the English pleasure saddle seat style.
"It's important to be there with a really good trainer, it's a style of riding very different from hunter-jumper and dressage styles that are primarily done in the San Diego area," Jupp said.
The 2013 season is over now and Jupp's next big show will be in Scottsdale in February.
She will focus on her breeding business and selling Mamage's offspring. Papa Rhazi may get a rest from competing as well — Jupp may opt to show some of her younger horses this coming year in an effort to not overshow Papa.
For now she is enjoying her wins, the result of all of her hard work and commitment.
"It really is my passion for sure," Jupp said.
---