Rancho Santa Fe man commissioned second lieutenant in United States Marine Corps
Bradley Abell was commissioned a second lieutenant in the United States Marine Corps in a ceremony held at the Fairbanks Ranch Community Clubhouse on Feb. 23.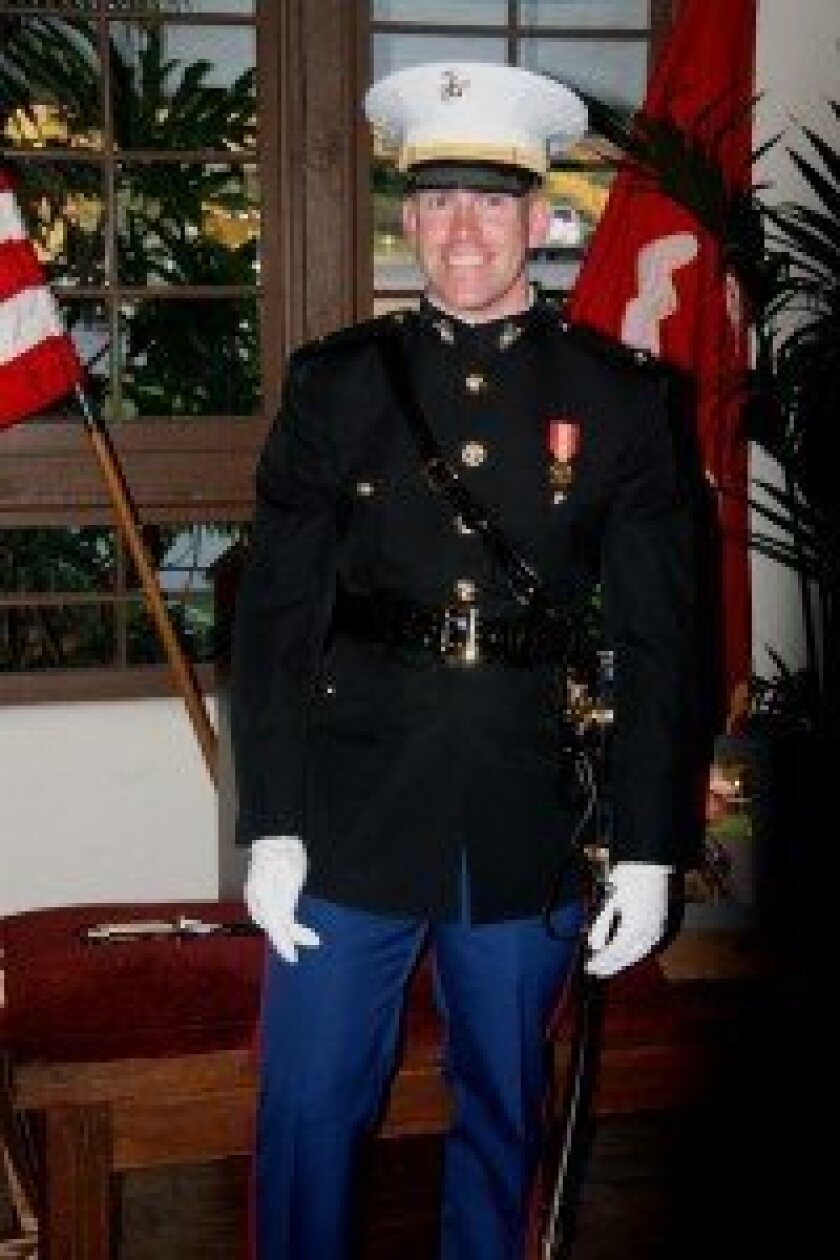 In front of 100 family and friends, Brad Abell took the Officer's Oath from his grandfather Howard Whitehouse, received his First Salute from his roommate Sergeant Alex Nacu and his official Marine Corps Mameluke officer's sword from Lt. Col. John Peterson, his lacrosse coach at Torrey Pines High School.
Brad, the son of Scott and Laurie Abell, grew up in Fairbanks Ranch, attending Solana Santa Fe Elementary School K-6, Earl Warren Middle School and Torrey Pines High School, where he graduated in 2008 with a 4.2 GPA and was a member of National Honor Society and a California Scholastic Federation Scholar.
While at Solana Santa Fe, he participated in Rancho Santa Fe Little League and soccer through the 6th grade. He played lacrosse both at Earl Warren and Torrey Pines High School where he was a goalie and a three-year varsity letterman, culminating his senior year as a team co-captain and winning the team's "Most Inspirational Player."
Brad was a member of the Rancho Santa Fe Boy Scout Troop 766 where, in 2006, he received his Eagle Scout Award. His Eagle Scout project was performed at the Helen Woodward Animal Center in Rancho Santa Fe.
After graduation from Torrey Pines High School, Brad attended California Polytechnic State University San Luis Obispo where he majored in construction management and graduated in June 2012 cum laude.
Brad also played lacrosse at Cal Poly all four years, and played in the championship game of the Men's Collegiate Lacrosse League during his senior year.
During his college years Brad applied and was accepted into the United States Marine Corps Platoon Leaders Course and spent two summers in Quantico, Va., attending the six-week Officer Candidate School where he graduated in August 2012.
Brad will attend the USMC Basic School in Quantico this October at which time he will go on active duty. Until that time he is working as a construction management intern at Clark Construction on the site of the Naval Hospital project in Camp Pendleton.
---