Rancho Santa Fe author's debut novel looks at life 'Between Boyfriends'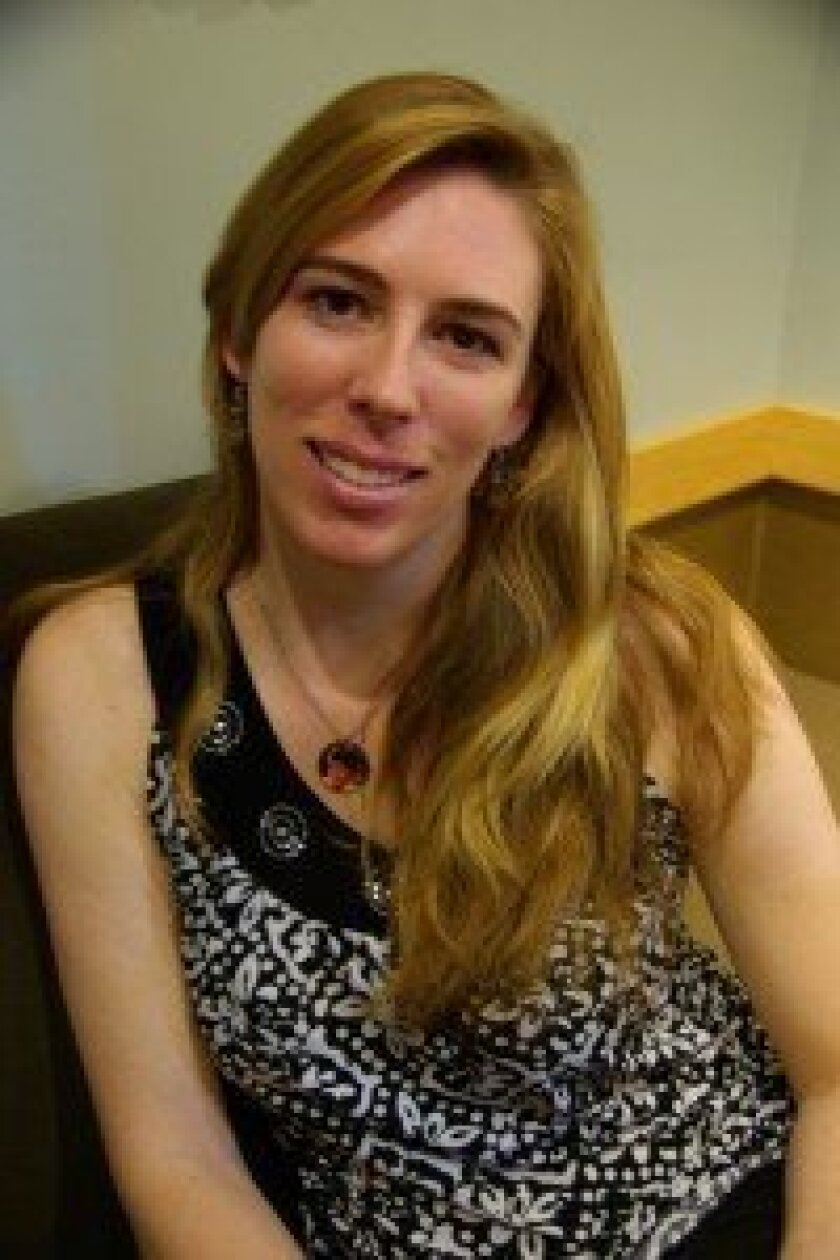 By Joe Tash
Like Jan Weston, the main character in her debut novel, "Between Boyfriends," Rancho Santa Fe author Sárka-Jonae Miller is single, grew up in San Diego and worked at various times as a pet groomer and massage therapist.
But she doesn't consider her novel autobiographical, because she doesn't share her protagonist's obsession with men and relationships, nor her self-centered view of the world. Rather, Jan is a composite of a number of people Miller met while earning a degree in magazine journalism at Syracuse University, and from her high schools days.
While she and most of her fellow students focused on their classes and other aspects of their lives, Miller said, certain people spent all of their waking moments thinking about their current or future boyfriends. "That's all they ever talked about," she said. That got her thinking about what would happen to these young women if they just stopped dating cold turkey, which is what Jan Weston does after suffering through a particularly traumatic breakup.
Between Boyfriends Cover ImageThe novel, which is available on Amazon.com as an e-book, chronicles Jan's life as she works hard at staying away from dating and also to become financially independent when her wealthy parents cut off her living allowance.
Miller, 31, sought to infuse her character's exploits with humor as she encounters men she would certainly have dated in the past. "She's like someone going on a diet and trying to avoid fast food, and everywhere she goes is a fast-food restaurant," said Miller.
Over the course of the book, Jan, who is in her early 20s, begins to grow as a person and even strikes up a true friendship with a man, a first for her.
"Something I was adamant about, it had to be realistic, she had to change and grow at a realistic pace and everything was not going to get resolved by the end of the book. But she makes a lot of progress and definitely becomes a more likeable person. She's someone you'd want to be friends with by the end of the book," Miller said.
Miller considers her book to belong to the genre of "chick lit," a branch of women's fiction that includes such books as "Bridget Jones' Diary" and "Confessions of a Shopaholic." Books in the chick lit genre are light-hearted and humorous, but can also deal with serious subjects such as divorce, career issues and other life-changing situations, Miller said. The books often fall into the category of beach reading, and the audience is mostly women in their mid-20s through mid-30s.
The genre exploded in the 1990s, and then become overdone, leading publishers to shy away from chick lit, said a San Diego writer who goes by the pen-name of Juliette Sobanet.
Self-publishing on sites like Amazon has led to a resurgence of chick lit in recent years, Sobanet said. "I think it's gained a new bit of popularity," she said. Sobanet's first two novels, "Sleeping with Paris" and "Kissed in Paris," were self-published as e-books, but a publishing arm of Amazon will reissue them this summer in print versions, part of a four-book deal she recently signed.
Sobanet said her books — which are set in France — appeal both to Francophiles and chick lit fans, including some male readers. "There's a huge audience for this type of book," she said, referring to the chick lit genre. Sobanet and Miller came in contact in an online forum where chick lit writers support each other and exchange ideas.
When she's not writing novels, Miller said her "day job" is writing about health and fitness for a number of websites, including LiveStrong.com and NaturalNews.com.
Miller is already working on a sequel to "Between Boyfriends," in which her character travels to Thailand to learn Thai massage. The story will draw on Miller's own travel experiences in Thailand, such as living in a religious center for several days, where she took the vows of a Buddhist nun and rose at 4:30 a.m. for prayers and meditation.
"Between Boyfriends" has climbed up the Amazon charts and was recently listed No. 9 for humorous fiction. Miller is hoping to land with a small or medium-sized publisher who can help her promote her book and develop her series of chick lit novels. "I have tons of books to write, I have tons of ideas," she said.
For more information about Miller, including how to enter an upcoming promotion in which she'll give away 22 copies of her e-book, visit
---