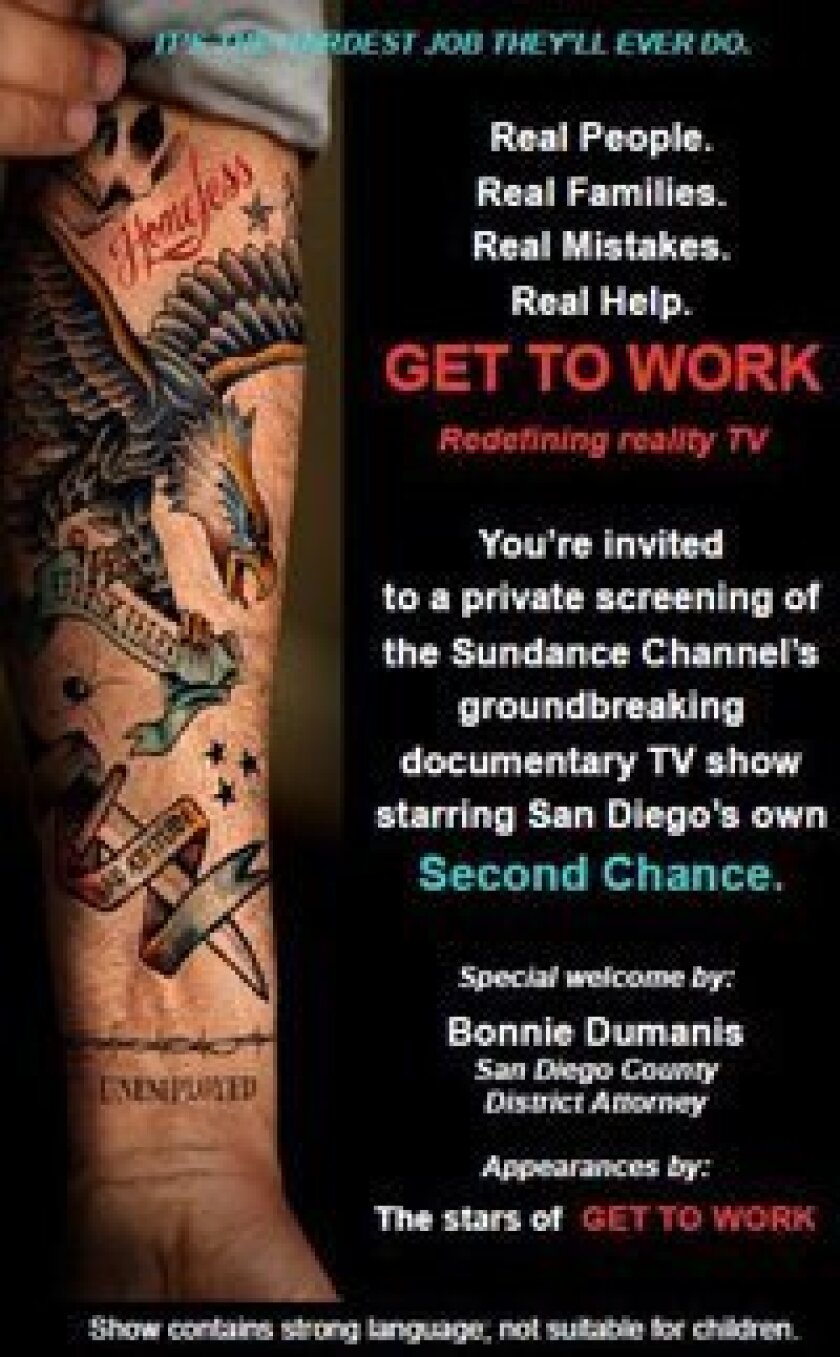 This October, members of the Rancho Santa Fe community are invited to a private screening of the premiere episode of "Get to Work," a groundbreaking Sundance Channel original documentary-series featuring Second Chance, a San Diego-based 501(c)(3) nonprofit organization dedicated to empowering people to change their lives through job readiness training programs and comprehensive wrap-around services. The viewing event, set to begin at 7 p.m. on Oct. 18, invites Rancho Santa Fe residents to an unfiltered, uncompromising look at San Diego's own tough love job training program for the chronically unemployed. A special welcome will be delivered by San Diego County District Attorney Bonnie Dumanis, in addition to guest appearances by the heroes of "Get to Work."
"Get to Work" takes viewers behind the walls of Second Chance to witness the struggles of those who have no job, no direction, and seemingly no chance. It's a high-stakes, make-or-break program and, for most of the students, this is their last crack at a real future. But it doesn't come easy: as they push the students to learn workplace skills that will land them a job, Second Chance instructors contend with those who have never learned anything other than bad attitudes and poor behavior. Not everyone makes it to graduation.
Second Chance is a 2011 grant recipient of the Armed Forces Interest Group and the Rancho Santa Fe Foundation. The Inn at Rancho Santa Fe is located at 5951 Linea Del Cielo. RSVP is required to attend the event. Beverages will be served, along with a cash bar, and donations will be accepted. "Get to Work" airs every Monday at 10 p.m. PT (7 p.m. PT for DirectTV customers) on the Sundance Channel. For more information about Second Chance and opportunities to donate or volunteer, visit https://www.secondchanceprogram.org. To RSVP to this event, call (619) 839 – 0953.
---