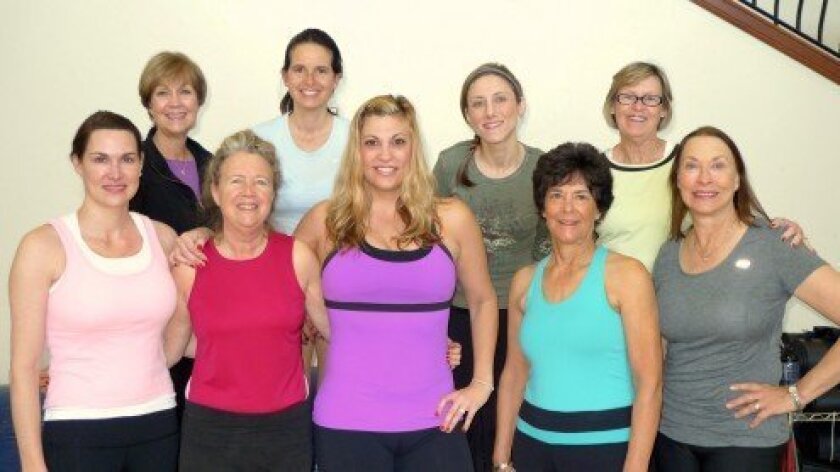 What do Justin Timberlake, Katy Perry, the Rolling Stones and Adele have in common? Their music rocks the walls of the Rancho Santa Fe Community Center gym weekly during Jazzercise classes and gets participants glowing from workouts that are fun and effective! Instructor Krista Bonano has been a resident of Rancho Santa Fe for nine years and has 12 years of dance experience, specializing in tap and jazz. She has been certified as a Jazzercise instructor for 4 years. Krista and her husband, John, have two children attending Solana Santa Fe School. Stop in for a free trial class and find out why Jazzercise is once again the rage. Krista said recently "Not only will you get a complete workout, you'll have fun and meet a great group of local residents!"
Classes meet Mondays, Wednesdays and Fridays, from 9 to 10 a.m., at the RSF Community Center. Every Jazzercise group fitness class combines dance-based cardio with strength training and stretching to sculpt, tone and lengthen muscles for maximum fat burn. Choreographed to today's hottest music, Jazzercise is a fusion of jazz dance, resistance training, Pilates, yoga, and kickboxing. Start dancing yourself fit and change the shape of your body today. Burn up to 600 calories in one fun and powerfully effective 60-minute total body workout.
Call the RSF Community Center for more information at 858-756-2461 or visit www.rsfcc.org. Jazzercise classes can be attended on a drop-in basis and payment is $15 per class or $12 per class with a 10-class package rate. Annual membership is required to participate in all classes at the Community Center.
---