Kids get their veggies through chocolate milk thanks to Rancho Santa Fe native 'Sneakz'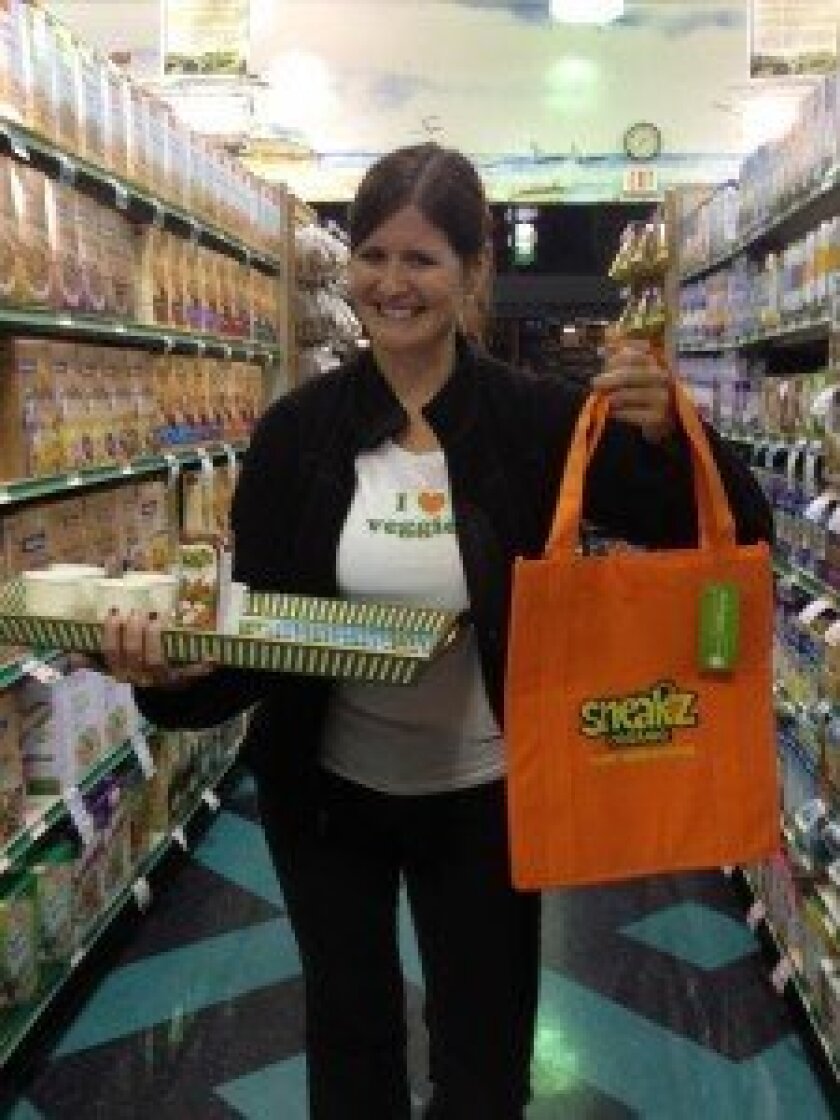 By Karen Billing
Torrey Pines High School graduate Allison Fowler's new company is working on taking vegetables from yuck to yum for kids. Her new product Sneakz has found a way to get children a full serving of veggies hidden in a carton of chocolate milk.
On a mission to prove vegetables are not the enemy, the organic skim chocolate milk packs a hidden punch of sweet potato, carrot and broccoli.
"The response from moms and kids has been fantastic. Moms love the nutrition and kids think it tastes just like regular chocolate milk, they can't get enough of it," said Fowler, a 1998 graduate of Torrey Pines.
Jimbo's was one of the first retailers to get behind the product and first stocked it on its shelves in December of 2012. Sneakz is now in 148 stores in 12 states and its growth continues.
The product's biggest footprint is in Denver, where Fowler's co-founding partner Charles Philp is based.
"It's really fun and exciting and I get to wear a fox costume sometimes," said Fowler of her stints dressed as the Sneakz fox mascot. "You wouldn't believe how many people want to take pictures with me."
Fowler's career has always centered on bringing something new and unique to the market, filling a vacant space on consumer's shelves.
She began her career at Miller-Coors, where she was a part of the development of Miller 64, a concept to bring a lighter beer to consumers that would appeal to females.
After Miller, she worked for the Kashi Company for four years in product innovation and brand management.
"When you're creating new products, it's all about creating a unique point of view and solving consumer needs that are unmet," Fowler said.
In addition to rolling out Sneakz, she also works a day job doing business management for her father Ronald Fowler, a Rancho Santa Fe resident who owns Liquid Investments Incorporated, a San Diego beer distributorship.
"This is my early morning, nights and weekend passion," Fowler said.
The idea for Sneakz was born out of the troubling statistic that three-fourths of Americans don't get their daily vegetable servings. Additionally, it's an age-old battle getting children to eat their veggies.
"I thought if you could make vegetables fun and more approachable and help moms sneak them in, you'd be doing a family a good service," Fowler said.
Fowler also noted that the flavored milk industry was big but there was no healthy alternative to chocolate milk. Normal chocolate milk has about 22 grams of sugar while Sneakz has 19 grams, and a majority of those sugars comes from the milk and the vegetables. They just add a touch of organic evaporated cane juice for taste.
One carton also includes 50 percent of a daily recommended serving of Vitamin A and, unlike normal chocolate milk, it contains fiber, nine grams worth.
Fowler and Philp experimented with potential mixes in Fowler's kitchen with her juicer, discovering how cocoa can disguise a lot of the green notes of veggies.
There were a lot of different iterations—the first versions were very thick because a full serving of vegetables is a substantial amount to hide. Young taste testers were employed to try out their concoctions.
"If it tastes like spinach milk than kids are not going to drink it. And kids are very honest, they'll tell you if they like it or they don't," Fowler said.
They played with different levels once they found the magic mixture of sweet potato, carrots and broccoli, and then worked with a food developer to take the formula to the next level.
Hoping to expand the Sneakz brand of products, Fowler is looking into a non-dairy option as she's received a lot of feedback from mothers of children who are dairy-sensitive. They also aim to try new flavors such as a snickerdoodle flavor.
"Eventually the platform will be not just a beverage and we could take it to any aisle of the grocery store," said Fowler, who has visions of sneaking vegetables into crackers, yogurts and more.
For more information, visit sneakz.com
---