Rancho Santa Fe Historical Society to hold Mystery Barn Tour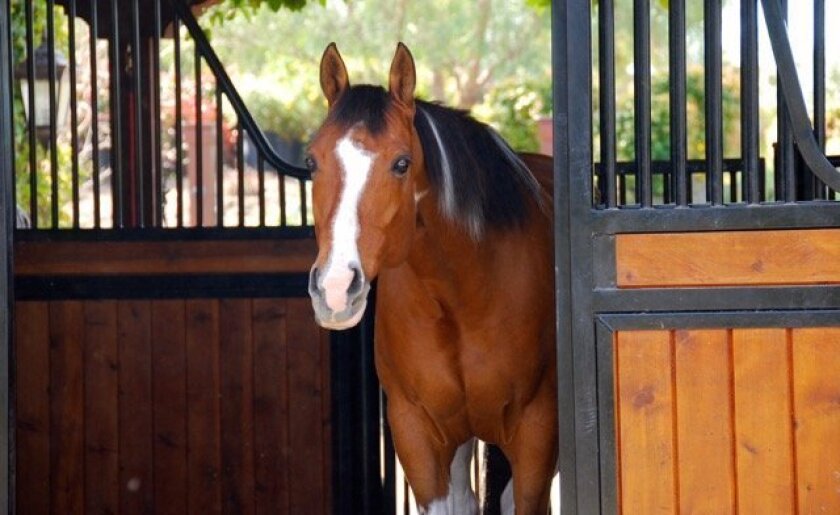 Saddle up! The Rancho Santa Fe Historical Society is now taking reservations for its first Barn Tour to be held from 1:30-5 p.m. July 11. The tour, featuring some of the finest equine facilities in the country, will be followed immediately by a post-tour party and auction.
The identity of the five barns on tour will be divulged at check-in, when attendees receive their tour brochure. The tour will visit equestrian facilities encompassing various aspects of horsemanship, from pleasure horses to top contenders in dressage and hunter/jumper.
"For those interested in architecture and beautiful homes, these are some of the most exquisite homes for horses," said Peggy Brooks, tour co-chairman. "These truly are five-star equine accommodations on magnificent properties."
Rancho Santa Fe's equestrian history goes back to its earliest years and has evolved into being home to some of the country's most prestigious stables, noted Jane Carlin, tour co-chairwoman. The community also has some 50 miles of horse trails weaving through 10 square miles. Located 25 miles north of San Diego and three miles from the Pacific Ocean, Rancho Santa Fe's closeness to the Del Mar Fairgrounds and Race Track is a continuing draw for enthusiasts.
Early check-in begins at 11 a.m. at La Flecha House, the historical society's headquarters at 6036 La Flecha in Rancho Santa Fe. Early check-in gives participants time to have lunch in the village at supporting restaurants before the tour. Starting at 1:30 p.m., buses will take attendees on a "shotgun start" to the barns where they will be greeted by docents.
"The buses then will circulate from one barn to the next, with a stop at La Flecha House, so those on the tour can easily see them all at their own pace," said Brooks.
At the conclusion of the tour, the party will begin nearby in the village. There will be food and drink available for purchase as well as music, dancing, and a live and silent auction.
Tickets for the tour, which include the party, are $50 and $45 for members. Advance registration is required. To register, go to www.rsfhs.org/shop, or send a check payable to the Rancho Santa Fe Historical Society to P.O. Box 1, Rancho Santa Fe, CA 92067.
---