Rancho Santa Fe family welcomes French exchange students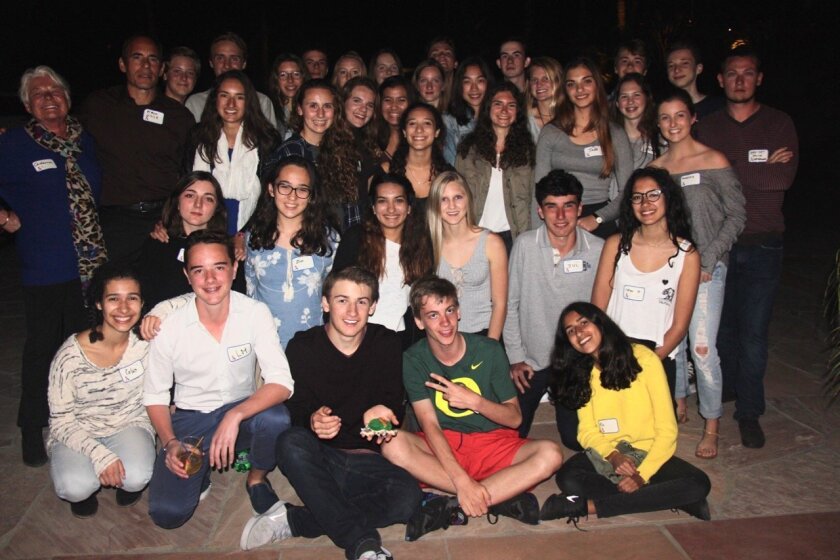 On March 4, Rancho Santa Fe residents Dennis and Mary-Ellen Hardin opened their home to 17 students from Paris's Lycée Victor Duruy, their chaperones, and the Pacific Ridge School families who had hosted the students for two weeks.
The French students, from Paris's Lycée Victor Duruy, spent the first week at Pacific Ridge, practicing their English and experiencing the Carlsbad school's seminar-style classes. The second week, they visited popular San Diego destinations including the Zoo, Old Town, the USS Midway Museum and Torrey Pines State Reserve. Evenings and weekends were spent with their host families.
Pacific Ridge students in attendance said that hosting a French student in their home was an incredible learning experience.
"It was interesting to see how difficult English can be to learn," said Rancho Santa Fe resident and Pacific Ridge junior Vanessa Andre. "The words we say in English have so many different meanings. To an outside speaker, it's really challenging."
Andre and her family hosted French student Joanna Lang, and treated her to family dinners and multiple trips to the beach, a destination favored by the French students.
"I don't think I've ever gone to the beach that many times in one week!" joked Andre.
The girls also joined up with a few other students to run in the Color Fun Fest on Feb. 27. Lang said this was a highlight of her stay in San Diego.
Pacific Ridge School hosts exchange students from Lycée Victor Duruy, as well as students from China, Taiwan and Mexico. According to French teacher Steve Stella, hosting gives students the opportunity to view themselves differently.
"Sharing your culture with someone, then seeing their reactions and answering their questions makes you consider your culture from a different point of view," he said. "It's a big growth opportunity, and brings relevance to everything we do in the classroom."
France is one of the many destinations Pacific Ridge sends students during a two-week global travel period at the end of each school year. This year students will travel for service work, language study and cultural immersion to Argentina, the Bahamas, Cambodia, Chile, China, Costa Rica, India, Nicaragua, Northern Europe, and South Africa.
---