Rancho Santa Fe resident a true friend to San Pasqual Academy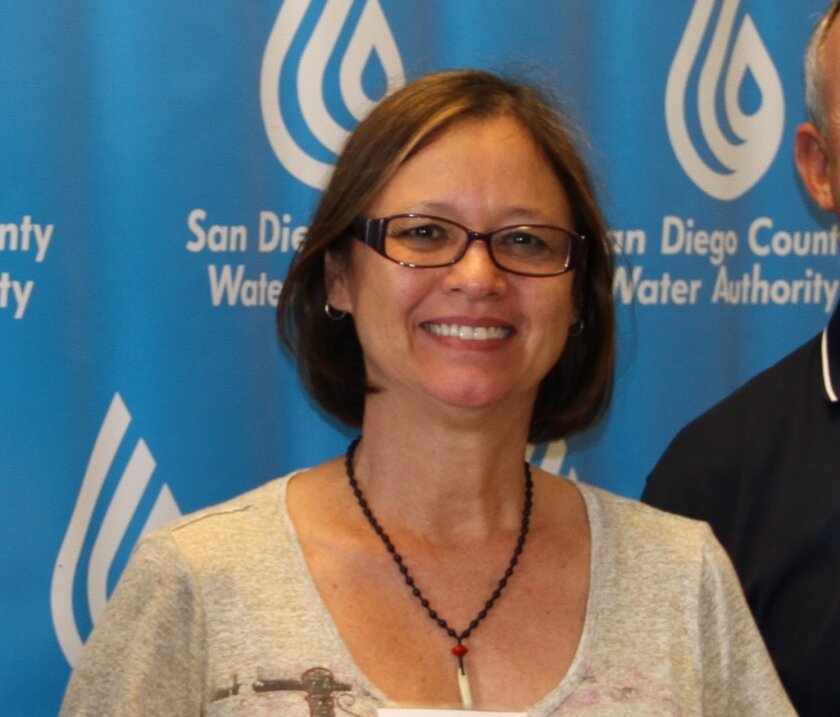 Helping foster youth with The Friends of San Pasqual Academy is a life-changing experience for all involved. With assistance from the non-profit group, students at the residential education campus are given everything they need to have a happy and successful high school experience and continue on to a brighter future.
"The students give so much more to us than we give to them," asserts Rancho Santa Fe resident Lois Jones, who was a founding member of the Friends of San Pasqual Academy board 12 years ago.
She said she has learned a great deal from the students and has enjoyed watching them overcome challenges and truly blossom.
"These kids are so tough," said Jones. "They're stronger than we could ever imagine."
Jones, a former Rancho Santa Fe Association board president, served on the San Dieguito Planning Group for 25 years before retiring this year. She is also a past member of the Rancho Santa Fe Community Center board and is currently the treasurer for the Rancho Santa Fe Public Interest Committee (PIC).
She had been retired from her job leading a food manufacturing company when she opened a small print shop in Sorrento Valley, which she sold last year. Now back to enjoying retirement again, she said she wants to focus more of her efforts on her volunteerism with the San Dieguito River Valley Conservancy and the kids of San Pasqual Academy.
San Pasqual Academy opened its doors to foster children in 2001 to help fight the shortage of foster homes in San Diego County and give foster youth a stable, consistent environment in which to grow and develop. Judge James Milliken and San Diego County Supervisors Ron Roberts and Greg Cox helped to open the academy in Escondido where the students live and experience a "normal high school experience."
Previously, the average foster teen had attended five different high schools by the end of their sophomore year.
Founding Friends President Joan Scott (whom Jones said will be "there for life") visited the school and saw that while their basic needs were being met, there was so much more the kids could be experiencing.
The founding group of Rancho Santa Fe women formed the Friends as a PTO-type organization to provide all of the highlights of high school such as prom, yearbooks and sports. Many of the students never had the opportunity to play on a sports team — now they have 30 girls on the school basketball team.
When the students start high school the Friends provide them with a desktop computer, and each birthday is noted with a gift, card and cake.
The Friends hold "Shop 'til You Drop" events where students can get all the supplies and clothing they need for school, and they host holiday parties and sports banquets where they outfit team members with Letterman's jackets.
The Friends now pay for the graduation and the senior brunch, gifting graduating seniors with a $500 scholarship, a laptop and this year an ink jet printer.
"The outreach from other organizations is phenomenal," Jones said of the "amazing" support they receive from San Diego Chargers, Padres, National Charity League, Teen Volunteers in Action (TVIA) and more.
Former Charger Quentin Jammer was instrumental in helping get the school's football field built; every year TVIA provides laundry baskets for when kids go off to college; and Assistance League of Inland North County does Operation Duffel Bags, filling bags with items they will need to start their lives in college, such as bedding, towels, small appliances and gift cards.
More than anything, Jones said the Friends' role is to be a constant in children's life, a sense of security for kids who have been neglected and abandoned. Their job is the gifts of hugs and conversations, building confidence and showing students that they believe in them.
"We're not going anywhere," Jones said.
The Friends' annual fundraising golf tournament, "Tee It Up For Foster Teens," will be held on Monday, April 11, at The Santaluz Club. Tee off is at noon, followed by a cocktail reception, dinner and live and silent auctions.
After 12 years of golf tournaments, the Friends members have become proficient at getting the job done and the tournament always runs smoothly.
"It's really a lot of fun," Jones said. "The people who participate are just fabulous and we have really great, dedicated volunteers."
While the golf tournament started as the Friends' primary fundraiser, they have since added the very popular "Teens Jeans and Dreams" team penning event. The event will be held this year on Saturday, Sept. 10, at the Del Mar Fairgrounds.
The events serve as major fundraising events that allow the Friends to continue to improve the experience at San Pasqual. One of the Friends' goals is revamping the campus' transition homes that have started to see normal wear and tear.
"This year we are so excited, we have 30 kids graduating, which is a huge graduating class for us," Jones said.
Most of the students go on to college — last year a student got a scholarship to attend UC Berkeley and this spring one of the graduates will receive their master's degree. Former graduates come back to attend every San Pasqual graduation to help provide encouragement.
"They encourage the kids that the dream is always possible, all you have to do is set the pace and march forward," Jones said.
And it always helps to have Friends.
For more information on golfing, donating auction items or purchasing dinner tickets, call (858) 759-3298.
For more information on the Friends, visit friendsofsanpasqualacademy.org
---