Best-selling author Winslow tells grim tale of drug cartels at Rancho Santa Fe Library event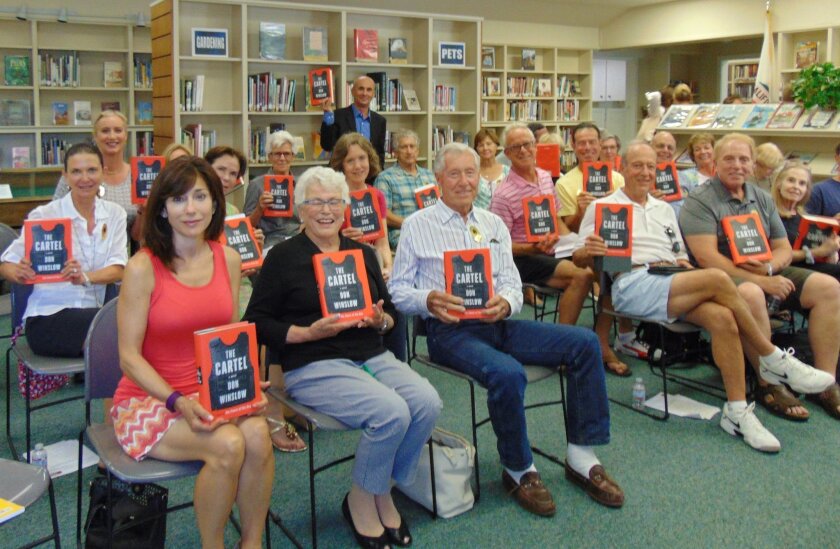 At a recent lunch reception held at the Rancho Santa Fe Library, New York Times best-selling crime novelist Don Winslow gave an entertaining talk on a grim subject: the drug cartels of Mexico.
His presentation — hosted by Warwick's bookstore of La Jolla and the Rancho Santa Fe Library Guild — coincided with the official release date of his latest book, "The Cartel," a sequel to his 2005 novel "The Power of the Dog."
Winslow, who lives in Julian but also splits his time between Solana Beach and Rhode Island, spoke passionately about the long-running wars of the cartels and the drug issues facing the U.S. and offered his personal opinions about the outlawing of street drugs, which is making drug cartel leaders more violent and more wealthy, he commented.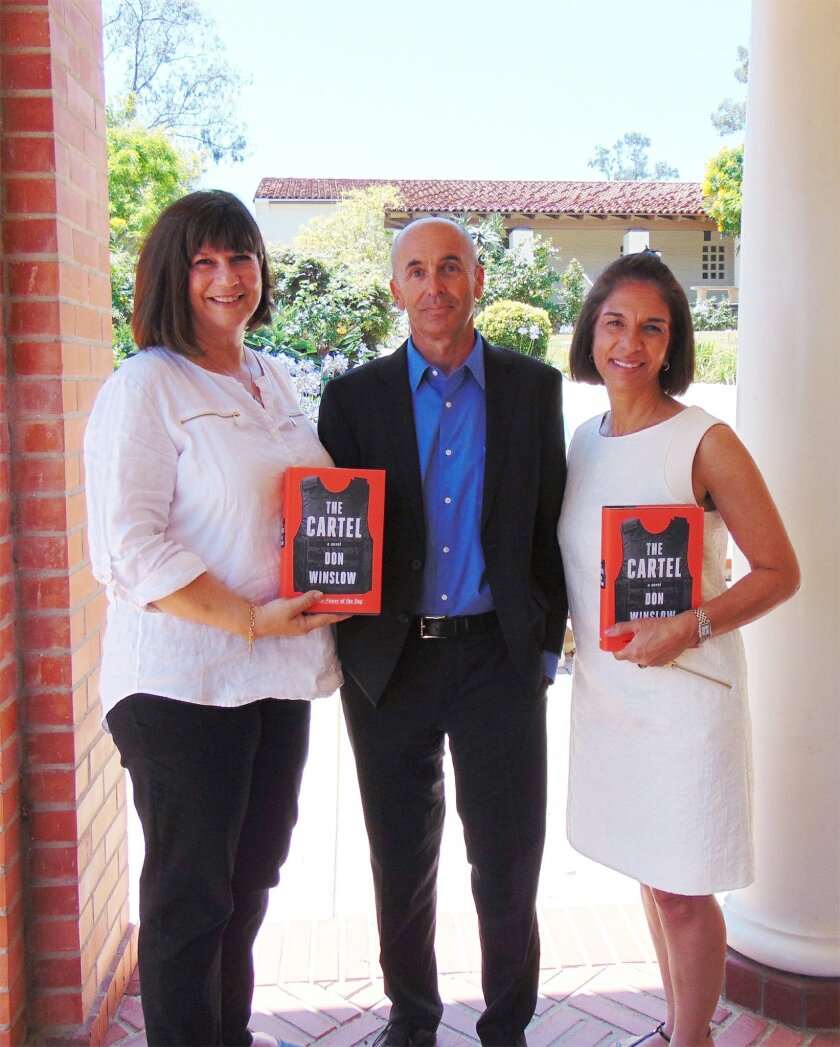 His fascination with the drug cartels stemmed from an interest in the escalation of reported incidents that Winslow began to document out of interest.
At the end of that process, he had 127 single-spaced pages that became the "spine" of his new book.
He included his two main characters from "The Power of the Dog" — Art Keller and Adán Barrer, a Drug Enforcement Administration agent and a Sonora cartel kingpin, respectively.
"Then I took significant events that became the muscle and the bone around the spine," Winslow explained. He looked at about 20 significant events and wrote them out and had a rough road map for the novel's plot.
Winslow was able to gather facts from social media. "Criminals used to hide their crimes, now they proclaim them," he said.
Using newspaper reports, Internet clips, talking to DEA and law enforcement and directly with drug traffickers, he rounded out his research.
His informal presentation included an exchange of questions and comments from the audience.
"Do you think that legalizing drugs will make any difference?" someone asked. "Yes, without doubt!" answered Winslow.
"If you criminalize drugs, only criminals can sell them. If only criminals can sell them, (then) when there is a conflict, there is no recourse of the law. If there is no recourse of the law, there is only recourse to the violence. If there is only recourse to the violence, then eventually the most violent will rise to the top," he stated.
Marijuana is still the cartel's biggest cash pile, said Winslow. They are already buying land in California and Oregon in anticipation of its legalization, he said. But they will still maintain high profits from heroin, cocaine and meth.
"With your research on both sides of the border, have you been invited to Mexico by cartel leaders?" someone inquired.
"I have had contacts," Winslow admitted, "but I'm not going to go any further than that."
"Is it part of the cartels' business model to outdo each other in terms of their brutal reprisals, and does it work?" came another question.
"Yes, it does, " Winslow replied. "Violence almost always escalates."
"If all drugs were legalized, would cartels switch then to human trafficking?" someone asked.
"Probably. Some cartels make more money from human trafficking , kidnaping and extortion than they do from drugs. Their income accounts from 8 to 12 percent of the Mexican economy," said Winslow.
Another question: "For the average family in Mexico, are they safe in any way from this business, or is everyone involved?"
"It depends on the area and the time," answered Winslow. "There was a period of time in Juarez where no one was safe at any time. And in the past 30 days, for example, there have been over 100 murders in Tijuana alone."
For Winslow, writing about the Mexican cartels was at times depressing. "You spend time with videos and atrocity photos and autopsies, but in an odd way some of the story was inspiring and hopeful in terms of the women," he said.
This hope stemmed from women taking over in Northern Mexico as mayors, social activists, and police officers.
There was a 19-year-old woman in a small Texan border town where the four previous police chiefs had been murdered. "This young lady said, 'I'll be the police chief,'" recalled Winslow. However, her actions came with a price, and she too was murdered.
"We don't hear a lot of people talking about this," he said. "I don't have any way for accounting for that kind of courage."
On a different note, when asked about his writing process, Winslow quipped, "It's very dull."
He starts his writing day at 5:30 a.m., "like somebody blew a whistle," works for several hours, takes a break, then resumes putting in a full eight hours a day, much like a factory job.
"I have to bring that kind of discipline to it. I can't wait for inspiration. I have to show up on time and start the process five or six days a week. I wish it was more interesting."
He also spoke about his background, being one of two children born to a father who was a sailor and a mother who was a librarian. Winslow grew up surrounded by books, listening to his father tell stories about his seafaring days, which affected him and his sister, who is also an author. "Words were always sacred in our house," he commented.
Visit www.don-winslow.com to learn more about Don Winslow. Visit www.rsflibraryguild.org for information on the guild's upcoming events.
---