Buena Vista Farm's Blue Angel wins major Grand Prix in Florida
Blue Angel, an Anglo European Sporthorse owned by Rancho Santa Fe resident Robin Parsky and her Buena Vista Farms, won the prestigious $150,000 CSIO 4* Grand Prix in Wellington, Florida on March 3. In a truly amazing jump off, Blue Angel and her rider Kent Farrington won the class on a margin of 1/100 of a second (that's .01 of a difference!) over Beezie Madden and Abigail Wexner's Cortes 'C'.
There were 55 horse/rider combinations in total in the spectacular stadium at Palm Beach International Equestrian Center. Out of these only 11 qualified for the jump off and six managed to have double clears. Conor Swail of Ireland
was 3rd, McLain Ward of the U.S. was 4th and Janne Friederike Meyer of Germany was 5th.
Kent Farrington has recently taken the reins on Blue Angel for Robin
Parsky. Although they are still getting to know each other the mare
seems to be just his ride.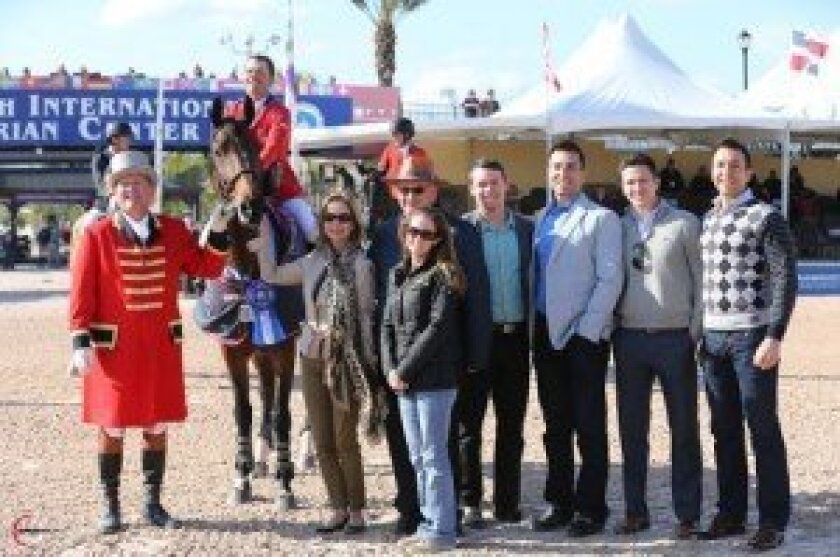 "It's a special horse that's actually the type of horse I grew up riding, a more Thoroughbred-type," said Farrington, of Wellington, Florida. "We had a lot of horses off the racetrack, and I used to race ponies as a kid, so I'm used to riding small, hot horses like that. That's sort of right up my alley."
With a good string of
horses and Blue Angel's help, Farrington has bested all of the international competitors at the Winter Equestrian Festival (WEF) to boost him to the #1 ranked rider for the entire 12-week WEF circuit.
Currently Farrington is also #1 on the Rolex US Show Jumping rankings and #12 on the Rolex World rankings. The dynamic duo will finish in Florida on April 1. They will be competing at Spruce Meadows in Calgary, Canada in June and then onto Europe for the summer to compete on the Global Champions Tour representing the United States.
---