2012 Year in Review: Rancho Santa Fe Society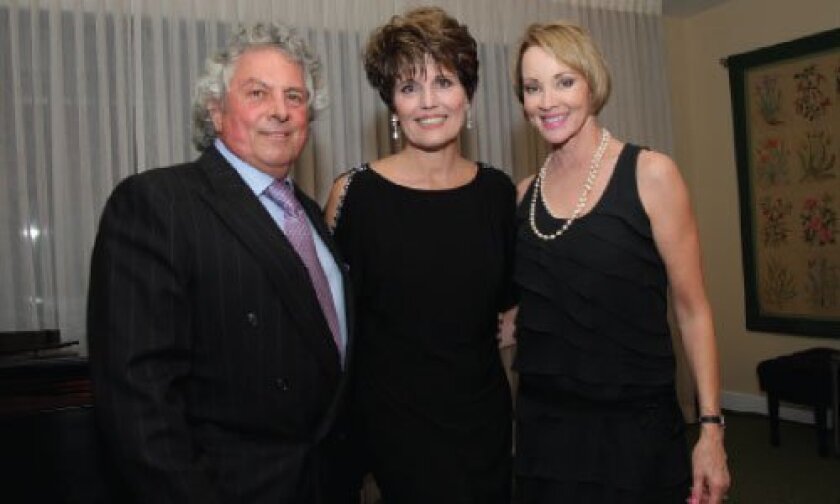 Broadway veteran and Emmy Award-winning actress Lucie Arnaz sang at the "Bow Tie & Pearls" gala celebrating North Coast Repertory Theatre's 30th anniversary. The event was held April 22 at the Rancho Santa Fe Garden Club. Honorary Event Chairs Bertrand and Denise Hug with Lucie Arnaz (center). Photo/Jon Clark
()
Former San Diego Charger Leslie O'Neal takes a swing at Fresh Start Surgical Gifts' 20th annual Celebrity Golf Classic on March 19 at Morgan Run Club & Resort. Photo: Jon Clark
()
The RSF Community Center's annual Gala rocked the house at The Inn at Rancho Santa Fe on May 12. Guests arrived dressed for the occasion and there were sightings of "Elton John," "Nicki Minaj," "Kurt Cobain," and many other look-alikes at the rock-glam event titled "Club 92067." Funds raised from the gala will support the center's ongoing programs for children, adults and families. (Above) Cheryl and Tom Giustiniano, Kim Smart. Photos/Rob McKenzie
()
The Rancho Santa Fe Community Center held its annual Family Lip Sync Show on May 18, showcasing local talent and No. 1 hits of the last 30 years. (Above) Darby, Isabella, Gabriella, Brooke and Mia are ready to perform. Photos: Jon Clark
()
Guests enjoyed an evening of comedy and fundraising at the Rancho Santa Fe Unit of Rady Children's Hospital Auxiliary's 2012 gala benefit held March 3 at The Grand Del Mar. The event featured fabulous cuisine, a silent/live auction, the comedy of Dennis Miller, and dancing until midnight — all in support of Rady Children's Hospital, Peckham Center for Cancer and Blood Disorders. (Above) The Gala Committee of The Rancho Santa Fe Unit of Rady Children's Hospital Auxiliary: (L-R) Tiffany Catledge, Gabrielle Oratz, Kimberly King, Cindy Leonard, Gina Jordan, Michele Stephens, Shaunna Kahn (Gala Chair), Ally Wise Harney, Sandra den Uijl, Roni McGuire, Karen Ventura, Leslie DeGoler, Lesa Thode. Photos/Jon Clark
()
The 2012 Wine, Women & Shoes fundraiser for Voices for Children was held May 12 at the RSF estate of Patricia Brutten. (Above) Kiki Coates and Lamar Rutherford. Photo/Rob McKenzie
()
Las Damas de Fairbanks hosted a Fashion Show on May 18 at the Fairbanks Ranch Country Club. The event included the yearly philanthropic summary and introduction of May Charity Angels Depot, a raffle, boutiques and more. Photo/Jon Clark
()
R. Roger Rowe School students enjoyed another fun-filled Field Day on May 25. Students took part in hurdles, obstacle courses, jumping and throwing events, along with gunnysack races and three-legged partner races. Field Day recognizes students in the area of athletics and gives the opportunity for team play, healthy competition and good outdoor recreation as part of the complete physical education program. (Top) Natalie, Avery, Nina, Cameron. Photos: Jon Clark
()
R. Roger Rowe School held its second annual Latin Festival on March 29 in the school's Performing Arts Center. The event was hosted by the RSF Education Foundation. The purpose of the event is to recognize and celebrate Latin culture as an integral part of the school community. (Left) RiAnna, Sarah, Maria, Natalie and Alanna at the festival. Photo/Jon Clark
()
John Plewes, left, mingles with T. Boone Pickens and Madeleine Pickens, who hosted a fundraiser for the Naval Special Warfare Family Foundation at the Del Mar Country Club on March 24. Photo: Jon Clark
()
Carol Kumlin of C. Kumlin Designs and Kimberly Schnell with Chate, Jackie and Sarah try on some hats during the Rancho Santa Fe Garden Club's 'Rambling thru the Ranch' event May 5. Photo: Rob McKenzie
()
Supporters of Kids Korps USA enjoyed a dazzling evening at the organization's annual Superstar Gala, "A Night at the Royal Ascot," on April 28 at the Del Mar Country Club. Andrea Carrier, Connie McNally, Dana Falk and Jensine Bard.
()
Greeters Julia, Olivia, Jack and Alex. Photos: Jon Clark
()
Former MLB pitcher Jack McDowell was the guest speaker. Photos: Jon Clark
()
Players strut their stuff in the RSF Village during the March 11 Parade of Teams, Opening Day event for Rancho Santa Fe Little League.
()
Debby Syverson, Honorary Event Chair Quentin Jammer and James Monroe at the "Tee It Up For Foster Teens" 8th annual golf tournament, dinner and auction held April 23 at The Santaluz Club. The tournament provides much-needed funds for the foster teens of San Pasqual Academy. Photo/Jon Clark
()
"Toast Your Imagination — A Celebration of Tabletops" was the title of the RSF Community Center's Spring Luncheon held recently at The Inn at Rancho Santa Fe. The annual event promotes a day of creativity and fun as groups of friends decorate their tables with exquisite designs, original arrangements and fanciful themes. (Above, l-r) Shaunna Kahn, Leslie DeGoler, Genta Luddy, Koki Reasons, "Adam," Roni McGuire, Lila Jarvis. Photo: Jon Clark
()
---