Feb. 8: Event briefs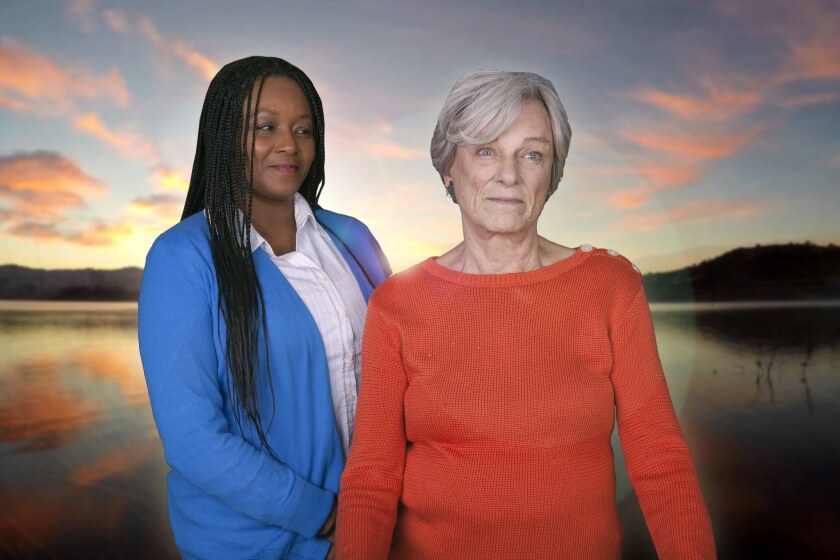 'This Random World' coming to North Coast Rep
North Coast Rep explores the accidental nature of life in the West Coast premiere of "This Random World" by Steven Dietz at the North Coast Rep Feb. 21-March 18.
Through a swirl of nearly missed connections, "This Random World" follows a series of intersecting lives: A mother determined to maintain her independence, a daughter longing for adventure, two sisters seeking common ground, and an internet prank gone awry. Warmly humorous and lyrically bittersweet, this play by Steven Dietz investigates what it is to love, to lose, and be touched by the serendipity of life. It's an evening of theatre that is certain to provoke sweet memories and perhaps some unrecognized yearnings.
Call 858-481-1055 or visit www.northcoastrep.org for more information and to purchase tickets.
North Coast Repertory Theatre is located at 987 Lomas Santa Fe Drive, Ste.D, Solana Beach, 92075
Meditation expert coming to RSF Library
Life in today's world is stressful. People are anxious about their health, their finances, their relationships, their safety and their work. Doctors' and medical practitioners are promoting the benefits of meditation to relieve stress and anxiety. By sitting in meditation, we can calm the body and the mind. Once we connect to a place of happiness and peace within us, we experience a reduction in our anxiety. Meditation helps us replace anxiety with joy and peace. Join Doug Frankel, long-time meditator for this informative lecture at the RSF Library on Saturday, Feb. 24 at 10:30 a.m. There will even be a short meditation sitting.
RSF Library is located at 17040 Avenida de Acacias Rancho Santa Fe, 92067; 858-756-2512 (RSVPs appreciated).
'Oscars in the Ranch --Academy Awards Viewing Party'
San Diego International Film Festival presents "Oscars in the Ranch --Academy Awards Viewing Party" to benefit the nonprofit San Diego Film Foundation. The event will be held Sunday, March 4 at a private estate in Rancho Santa Fe. The event begins at 4:30 p.m. with the Red Carpet arrival of guests, followed by the live broadcast of the Academy Awards, great food and beverages and more.
Learn more/tickets: sdfilmfest.com/oscar-awards-party/
Now in its ninth year, the family and dog-friendly 5K event returns to a pup-ular location, transforming San Diego's stunning bay park into the EmBARKadero. Sunday, March 18, Helen Woodward Animal Center's 9th Annual Puppy Love 5K presented by Blue Buffalo will celebrate San Diego's love for pets and the good fortune of pup-rechauns finding their forever homes. Golden-hearted supporters are forming teams to raise more life-saving "green" than ever before on behalf of orphan pets. The Puppy Love 5K pre-events kick off at 7 a.m. at Embarcadero Marina Park South with runners hitting the course at 7:30 a.m.
The festivities will also feature St. Patrick's Day-themed fun at the "After Paw-ty" in the BARKetplace
For more information or to register, visit animalcenter.org or call 858-756-4117 x 350.
Auditions to be held for 'Little Women'
The Village Church Community Theater in Rancho Santa Fe will hold auditions for its upcoming production of "Little Women" Sunday, Feb. 18, 1-3 p.m., and Monday, Feb.19, 5-7 p.m. Roles for: Girls and women ages 12 through 80, men ages 18-80. Performances will be: Friday through Sunday, April 27, 28 and 29. For more details visit villagechurchcommunitytheater.org
RSF Women's Fund General Meeting Feb. 27
The Rancho Santa Fe Women's Fund will present Ilene Schaffer as the guest speaker for its Membership Meeting Feb. 27, from 10 a.m.- 12 p.m., at the Fairbanks Ranch Country Club.
Schaffer's sweet spot is helping women in transition thrive personally and professionally throughout their various life stages. To learn more, please visit IleneSchaffer.com.
Contact womensfund@rsffoundation.org to register. Guests are always welcome at RSFWF events. Visit rsfwomensfund.org
Puppy Love event at Seaside Bazaar Feb. 11
Just in time for Valentine's Day, the Seaside Bazaar in Encinitas is hosting a pet adoption event Sunday, Feb. 11, from 9 a.m.-4 p.m., with dogs of all shapes sizes and ages. Visit with animal behaviorists, try some doggy massage, get a pet photo of your pooch, shop for cool pet products and enjoy fun activities for the kids.
Come find your new four-legged-love. Downtown Encinitas next to the La Paloma Theater (459 S. Coast Highway 101, Encinitas). Inquiries: 760-753-1611
The Romeros to perform concert in Solana Beach
The Romeros are known to millions as one of history's great musical families, "The Royal Family of the Guitar." The Romeros will make a rare in concert performance benefiting the retirement fund for the Congregation of Jesus and Mary, a group of Catholic priests, who have provided charity work across the U.S. for over 180 years, Sunday, Feb. 25, at 2 p.m., at St. James Catholic Church, 625 South Nardo Avenue, Solana Beach.
Tickets: ($70 adults/$30 children 15 and under): Maria McEneany 858-442-6047 or Debbie Derderian 858-755-2545 (112) or purchase online at: rebrand.ly/romeros
Parent Education Night:'Understanding Childhood Anxiety'
Rancho Encinitas Academy is hosting a parent education night Feb. 21, from 6:30 p.m.-8 p.m., on the topic of childhood anxiety. REA alumni Dr. Jodi Abramowitz returns to her middle school alma mater to talk to parents about how to identify and manage anxiety, which affects approximately 31 percent of adolescents and 1 in 8 children in the United States. The presentation aims to increase participants' understanding of anxiety, its maintenance, and how to best intervene. Abramowitz will be joined by her associate therapist, Melissa Brody, AMFT, who will share insights about anxiety in the context of the family system.
This free event is open to the public on Rancho Encinitas Academy campus located at 910 Encinitas Blvd. just east of the I-5 off the Encinitas Blvd exit.
San Diego Symphony world premiere
San Diego Symphony presents the world premiere of Adam Schoenberg's "Orchard in Fog for Violin and Orchestra" during the Jacobs Masterworks concert Preludes and Premiere, 8 p.m. Saturday, Feb. 10 and 2 p.m. Sunday, Feb. 11 at Symphony Hall, 750 B St., downtown San Diego. Schoenberg, who was inspired in part by a photograph by Massachusetts graphic artist Adam Laipson, wrote this piece specifically for violinist Anne Akiko Meyers, who will perform the work. Tickets from $20. (619) 235-0804. sandiegosymphony.org
Pardee Homes Carmel Valley 5k & Fun Run
The 6th Annual Pardee Homes Carmel Valley 5k & Fun Run is just weeks away. On Sunday March 11, walk, run, skip to the finish line. Participants will start and finish at The Village at Pacific Highlands Ranch in Carmel Valley. The 5k will begin at 7:30 a.m., with a 1k Fun Run starting at 8:30 a.m. All finishers will receive a medal, goody bag, finish line treats and t-shirt. After the race, stay and enjoy the post party celebration. Register today at www.carmelvalley5k.com. At time of registration, chose which local school you would like proceeds to go to.
Guest speakers to discuss 'challenges and success of refugees' at AAUW meeting
The American Association of University Women, Del Mar/Leucadia Branch, as part of its series highlighting important issues in San Diego County, is sponsoring Elaine McLevie of the Episcopal Refugee Network and Donna Duvin, executive director of the International Rescue Committee, who will share their stories of the challenges and success of refugees in this community. Plan to "Be at the Table" for this very timely topic on Saturday, Feb. 10 at 10 a.m. at the Encinitis Community Center, 1140 Oakcrest Park Drive, Encinitas 92024. Members, friends and the public are welcome at the AAUW's free branch meetings.
Volunteer at San Diego Botanic Garden
If you're interested in volunteering at San Diego Botanic Garden, you'll be in good hands. The Botanic Garden has a dedicated and excited team of volunteers who have extensive knowledge and a passion for their Garden. Come find out more at the next orientation on Feb. 9. Your unique skills and interest have a place in our Garden! Info at: https://www.sdbgarden.org/volunteer-2.htm
Friday, Feb. 9, 9:30 a.m. – 12 p.m. San Diego Botanic Garden, Ecke Building. Paperwork and background check ($17) may be completed and orientation.
5K Paw Walk in the Garden
Once a year, San Diego Botanic Garden opens the gate to its furry friends and their families for the
5K Paw Walk in the Garden to be held Saturday, Feb. 17, 8 a.m.-11 a.m. This year the event will be staged at San Dieguito Heritage Museum, 400 Quail Gardens Drive, with the walk commencing through the Garden through a side entrance to Hamilton Children's Garden.
Dogs are encouraged to bring their owners to enjoy the 5K walk as well as pet products, doggie treats, people food and other great items for dog lovers. The walk is limited to two dogs per person. Vaccinated and well-behaved dogs only. No dogs in heat. This event is co-hosted by Rancho Coastal Humane Society, with proceeds going to both nonprofit organizations.
Info: www.sdbgarden.org/pawwalk.htm; 760-436-3036.
North County's Coastal Communities Concert Band will celebrate its 35th anniversary at a special concert at 2 p.m., Feb. 25 at the Carlsbad Community Church, featuring renowned jazz trombonist Harry Watters as guest soloist.
Watters also was featured - to great acclaim - at the band's 27th Anniversary Concert in 2010. He formerly performed regularly on New Orleans' Bourbon Street, and for four years, toured and recorded with the Dukes of Dixieland. He has performed nationally and internationally with well-known musicians such as Doc Severinsen, Al Hirt, Pete Fountain, Erich Kunzel, and Lou Rawls. Advance tickets for the concert can be purchased on the band's website www.cccband.com, or by calling 760-436-6137.
'Understanding Narcissism & What to Do About It' workshop
On Sunday, Feb. 11, from 3 p.m. - 4:30 p.m. Dr. Jane Ilene Cohen will present "Understanding Narcissism & What to Do About It," an interactive mini-workshop for those who think they might be in a relationship with a narcissist, are a narcissist, or wonder if they are -- and wonder what to do about it. Led by Dr. Jane Ilene Cohen, Intuitive & Transformational Counselor, NLP & TimeLine Master Practitioner. Love offerings welcomed. Encinitas. Space limited. RSVP at (760) 753-0733 for address. janecohencounseling.com/events/
Breakfast at Tiffany's to benefit Miracle Babies
Miracle Babies, a nonprofit organization that provides education and financial support to families with babies in the Neonatal Intensive Care Unit, will celebrate the four-year anniversary of the Miracle Circle Auxiliary on Monday, March 5, at La Valencia Hotel in La Jolla. The annual Breakfast at Tiffany's will take place from 10 a.m. to 1 p.m. and will include a breakfast cocktail reception and decadent brunch. Emmy-winning Channel 10 News Anchor Kimberly Hunt, will serve as the emcee. For tickets, visit www.miraclebabies.org
St. Madeleine Sophie's Auxiliary to host Mardi Gras Gala
St. Madeleine Sophie's Auxiliary will host its first Mardi Gras Gala on Saturday, Feb. 17, from 6 p.m. to 11 p.m. at the Marina Village's Seaside Room to benefit St. Madeleine Sophie's Center (SMSC). Ticket prices for the gala cost $55 per person prior to the event or $60 per person at the door.
The gala will feature entertainment by ACME Rhythm & Blues Revue; guest artist Michael Flohr; SMSC student artist, Francisco Rojas; plus, hors d'oeuvres, cocktails, vendors, raffles and a silent auction. Community sponsors include Peter & Mary Ellen Ferrantelli and RezCare Pharmacy.
St. Madeleine Sophie's Auxiliary is a nonprofit organization established to support and raise funds for St. Madeleine Sophie's Center, a nonprofit organization that serves more than 400 adults with developmental disabilities through nationally recognized, innovative programs.
For more information on how to purchase tickets call (619) 504-6675 or visit www.stmsc.org. Checks may be payable to SMS Auxiliary and addressed to SMS Auxiliary, Mardi Gras Fundraiser, P.O. Box 2475, El Cajon, CA 92021.
Solana Beach Library: Professional organizers to offer tips
On Saturday, Feb. 17, from 2-4 p.m., professional organizers Kelly Nolan, April Merritt and Denise Levine will teach event participants how to bring order and efficiency to their lives. The topics included in their presentation are basics of digital organizing, taking control of paper, and favorite organizing products. So if it's time for you to simplify, reduce clutter and bring order to your life, home, or business, please attend the event at the Solana Beach Library, 157 Stevens Ave, Solana Beach, 858-755-1404.
Carmel Valley Library Senior Symposium: 'Understanding and How to Approach Modern Retirement'
If you'd like to refresh your understanding and approach to modern retirement, join Beth Misak of HearthStone Private Wealth Management on Monday, Feb. 12, from 1 p.m. - 3 p.m. at the Senior Symposium at Carmel Valley Library. The Carmel Valley Library is located at 3919 Townsgate Dr., San Diego, 92130. Misak will provide an overview of the four phases of retirement. She'll share the unique issues you might expect in each phase. You'll come away with greater clarity about your own approach to retirement and its transitions. For more information, please contact Carmel Valley Branch Library at (858) 552-1668.
Friends of the Powerhouse Valentine's Day Dinner & Dance
Friends of the Powerhouse is celebrating its 20 years of community participation with a Valentine's Day Dinner & Dance fundraiser on Wednesday, Feb. 14 at 6 p.m. at the Powerhouse. Advance ticket purchase is recommended as there is limited seating. You can purchase the $75 Dinner/Dance ticket at www.friendsofthepowerhouse.org; or mail a check to FOP, P.O. Box 297, Del Mar; or call Jill at 858-755-1641.
All event auction proceeds will be dedicated towards the improvements of the Powerhouse.
Creators of 'The Garden of Peace and Hope' to speak at Del Mar Rose Society meeting
Donald James Malcolm and Laura Eastman Malcolm, creators of "The Garden of Peace and Hope" in Kabul, Afghanistan, will speak at the Del Mar Rose Society meeting Feb. 22 at the Del Mar Powerhouse. A meet and greet begins at 6:30 p.m. and the lecture starts at 7 p.m.
While living in Italy, Donald began to create various gardens with a large emphasis on roses. In 2005, they were invited to Afghanistan by an NGO to assess the possibility of giving hope and help to the war-ravaged people of Kabul. This trip gave birth to the design and the creation of "The Garden of Peace and Hope."
Come learn how and why this magnificent garden still exists and flourishes amidst the challenges of ongoing terrorism in Kabul.
---